JustCall is a cloud telephony system that allows you to set up your online call center within a few minutes without the need for hardware telephony. You can set up your team members and assign the role in JustCall. JustCall provides you with numbers from various countries that have SMS and calling capability.
From Helpwise you can create a shared SMS inbox using a JustCall Number which will allow your team members to collaborate and give support to your customers directly from Helpwise. You can make use of Helpwise's powerful features like automation rules, auto-reply, one-click integration preview, tagging. All you need to do is have a JustCall number which you can use to create an SMS inbox on Helpwise.
How to connect your JustCall number with Helpwise to send and receive SMS directly from Helpwise?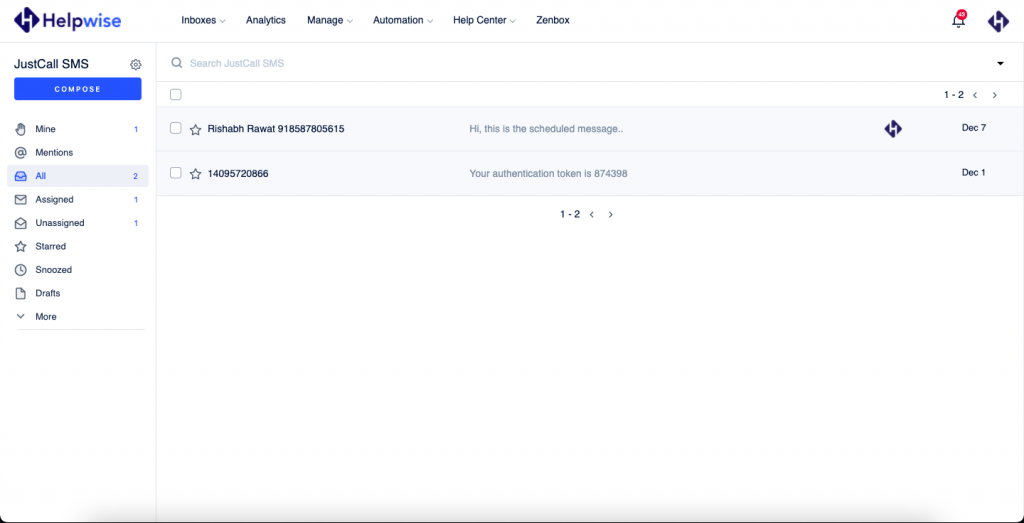 Features of Helpwise JustCall SMS inbox
You can send and receive MMS (Multimedia Messaging Service) directly from Helpwise.
You can also schedule SMS at a specific time.
Realtime send and receive SMS or MMS.
You can check the SMS status in realtime.
Assign SMS thread & conversations to your team members.
Find out who is currently replying to your customer in realtime.
This is a two ways sync integration which means you can send the SMS directly from the JustCall number but in this case, Helpwise will count the account owner as a sender of SMS.
You can also schedule a free demo, to know more about Helpwise and Helpwise JustCall SMS inbox.