Setup Help Center of your company directly on Helpwise. Add helps articles and share with your customer while replying to their emails, SMS or WhatsApp messages.
Help Center is a website that contains information about your Product and helps your customers to find the solution of the Frequently Asked Questions (FAQs).
To create a Help Center in Helpwise, follow this guide: Create a Helpcenter in Helpwise.
Basic Features
These features allows you to setup custom domain, add Google Analytics and link your company's website.
Custom URL: This URL is pre-filled by the name of the Help Center and can be updated.
Custom Domain: You can also point your custom domain open this.
Google Analytics ID: Add your Google Analytics ID and track traffic coming to here.
Homepage URL: Add link to your website by entering it's URL here.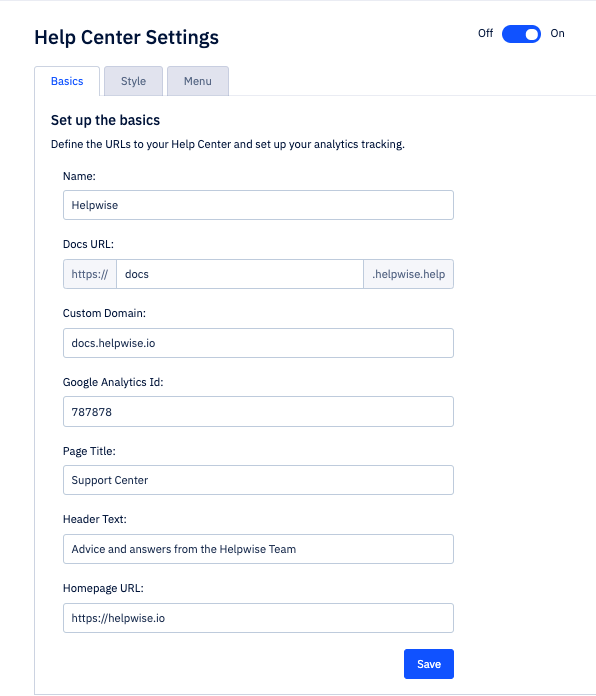 Style
The style tab includes the features to add logo, favicon, banner and other features on your Help Center. This tab includes the following details:
Favicon: This is the website icon which is visible on the tab of the browser. You can add your company's logo here.
Logo: This logo is visible on top of every page.
Color: Set the color of the banner to match it with your company's theme.
Links In Footer: you can add links at the bottom of every page.
Social Media Links: This helps in adding links to your social media profiles on every page.
Custom Scripts: You can add custom js scripts on every page. This helps in putting up any custom tracking code.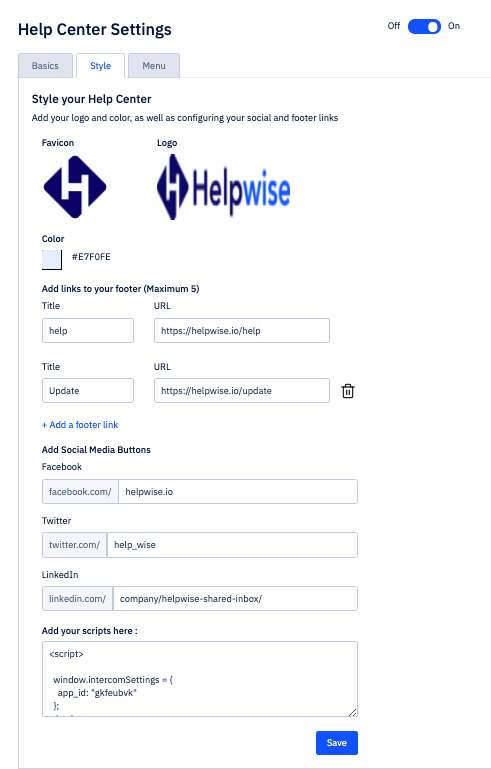 Setup Menu
The Menu tab provides you the facility to add link on the navbar. You can add the menus to navbar by following the below steps:
Fill in the Menu Title in the provided field. You can add a maximum of 3 menus.
Select the option to add submenu or link to the menu from the provided drop-down menu. You can add a maximum of 5 submenus to the menu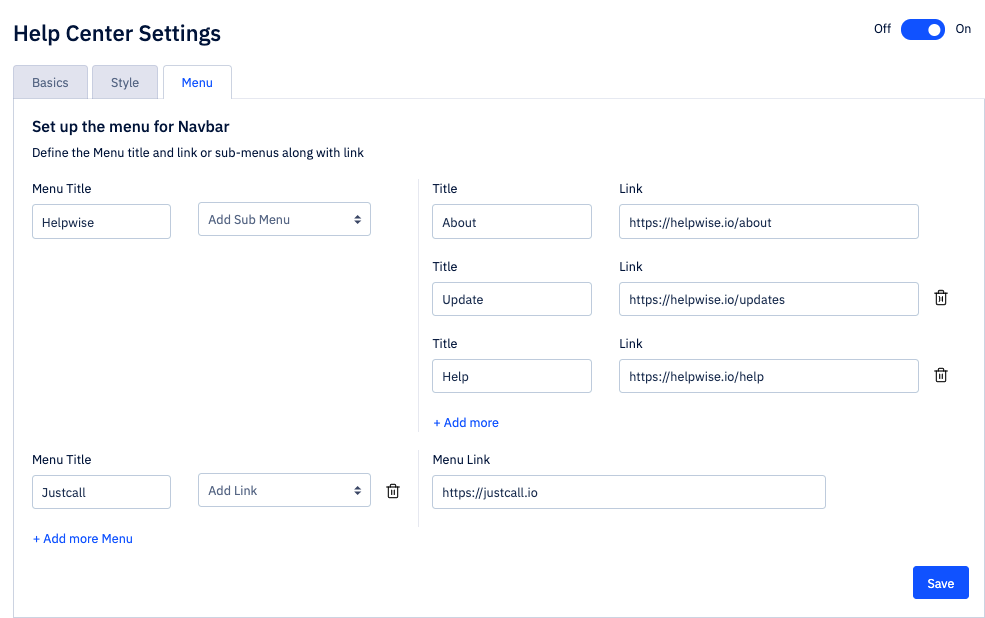 For more information on Helpwise Help Center, book a slot for a free demo with our product expert.