Imagine ordering a pair of sneakers 👟 from an online store only to have the wrong size delivered!
You then try to complain only to notice the store offers Facebook customer service only!
You don't have access to your Facebook account but manage to get a friend to help out only to waste hours with a customer agent who forgets to route your request to the relevant team!
You then wait for a full three days to ask if the right shoe had been sent only for you to discover the delivery team wasn't notified of your complaint!
You're clearly frustrated at this point as you can no longer make the beach party for which you ordered the sneakers!
You feel angry, cheated, and disrespected!
And, you decide not to buy from the online store ever again!
You're not alone as the PwC's future of CX report found that 1 in 3 customers will stop doing business with a brand after just one bad experience. A lousy ecommerce customer service is even more riskier because of industry's high competition.
Just one!
But, the statistics goes up to 92% after two or three poor customer service interactions.
Now, that's huge!
It's obvious that this sorta experience greatly impacts on customer retention vs churn but it's a pity that some eCommerce stores are guilty of this.
The 2019 State of the eCommerce Customer Service Industry Report says 52% of eCommerce Customer Service Teams do not offer 24/7 support even though their store is open round the clock.
Chances are that your eCommerce store faces this issue but the deployment of a customer service software can help!
Such a platform can help in automating tasks such as assigning agents and also help in communicating on multiple support channels.
A customer service software that offers a unified dashboard with a 360-degree view of customer data is needed to help your teams to collaborate better and deliver personalized experiences across various touch points!
But, choosing out of the myriads of help desk solutions can be intimidating but we have done the hard lifting for you. 💪
We have looked at the top 7 customer service tools thoroughly and present our findings to help you choose a customer service software that truly works for your eCommerce business.
Let's delve into the reviews proper without further ado!
The Top 7 Customer Service Tools for Your eCommerce Business
01. Helpwise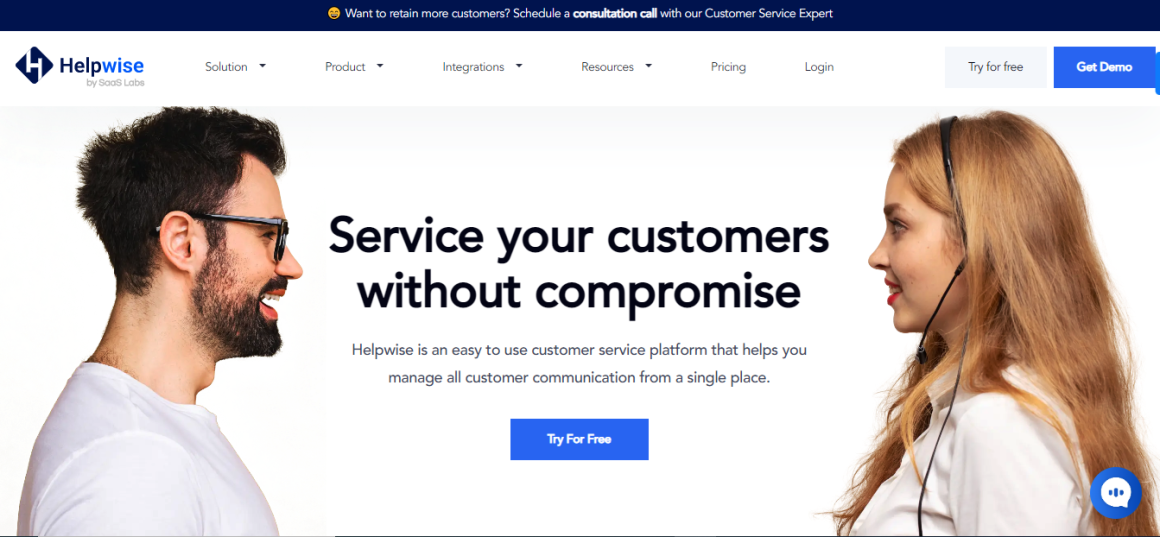 Helpwise is a user-friendly customer service platform to manage your customer service. It's your go-to help desk application if you run a growing eCommerce business.
Helpwise's ability to provide modern and streamlined customer support is hailed by business owners who once tried customer support with email only. It was messy and simply a nightmare!
Masuk Sarker B., a user, called Helpwise "one of the best helpdesk software."
Features
Omnichannel support for your customers through email, live chat, SMS, and social media
Live chat widgets to initiate conversations with visitors to your website
Automated marketing tools to boost your sales through conversations
Automation rules & SLAs & Security
Multiple integrations with other software to fuel your productivity
Mobile apps for iPhone and Android devices to work on the go
Excellent collaboration experience for your customer-facing teams
Gather customer feedback with forms and CSAT
Add a knowledge base of help articles for your customers
Reports & analytics to track the performance of your team members
Pros
Affordable
Easy to use and set up
Top-notch technical support for users
Get your teams on the same page
Automate your customer service
Connect your sales team 24/7 with prospects
Cons
Helpwise works great but could do better with more app integrations
The alerts on an iPhone could also be better
The best part?
Helpwise adds new features on customer request.
Pricing
Helpwise has 4 pricing plans. There's the Standard plan which costs $15 a month while the Premium plan costs $25 a month. The Advanced plan costs $50 a month while the Enterprise plan is based on request. You can try each of the plans for free for 7 days. You can also customize your preferred plan with add-ons like the cherry on top of the cake. To sweeten the deal, you also save 20% of the cost if you opt for annual billing.
02. LiveChat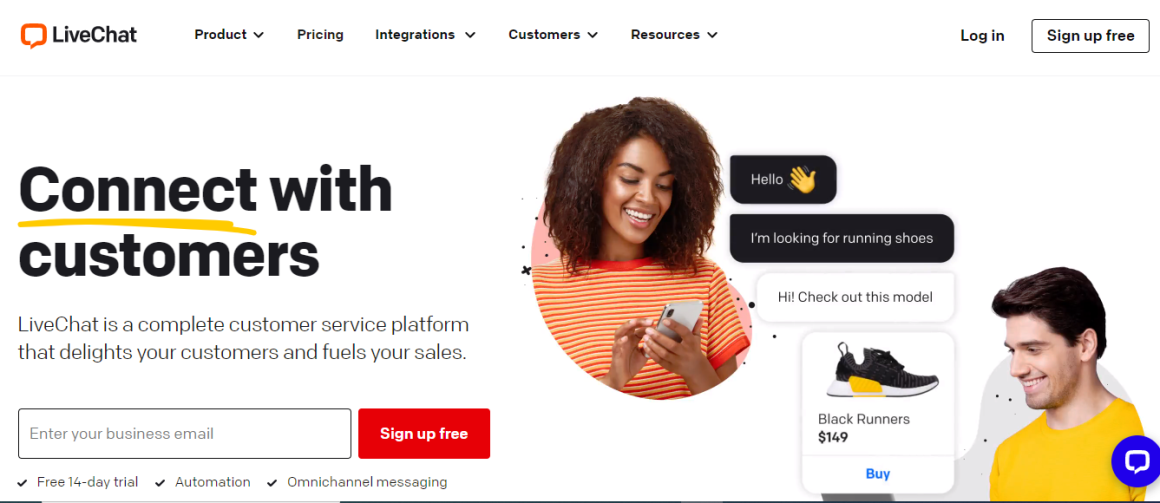 LiveChat is a premium customer service platform that enables both service and sales teams to respond to customer queries promptly.
Features
24/7 support to customers with its live chat support, help desk, and web analytics capabilities
Functional templates to create advanced workflows that fit into your industry
Integrates with Messenger, email, Apple Messages, WhatsApp, SMS, website, and chat
Built-in ticketing system to track customer complaints
Feedback & Email Management Capabilities
Chat Widget Customization Options
Mobile apps for iPhone, iPad, and Android devices to connect with customers on the go
Pros
Easy to set up and use
Free 14-day trial
Engage quickly and easily with customers on your website
Cons
Delay in receiving chat messages sometimes causes problems
Automated spell check not working for agents
Costlier than alternative of Helpwise which has the same features
Pricing
LiveChat is available in 4 plans. There's the Starter plan which costs $20 per seat for a month while the Team plan costs $41 per seat for a month. The Business plan costs $59 per seat for a month while the Enterprise plan requires that you call for pricing details.
03. Vision Helpdesk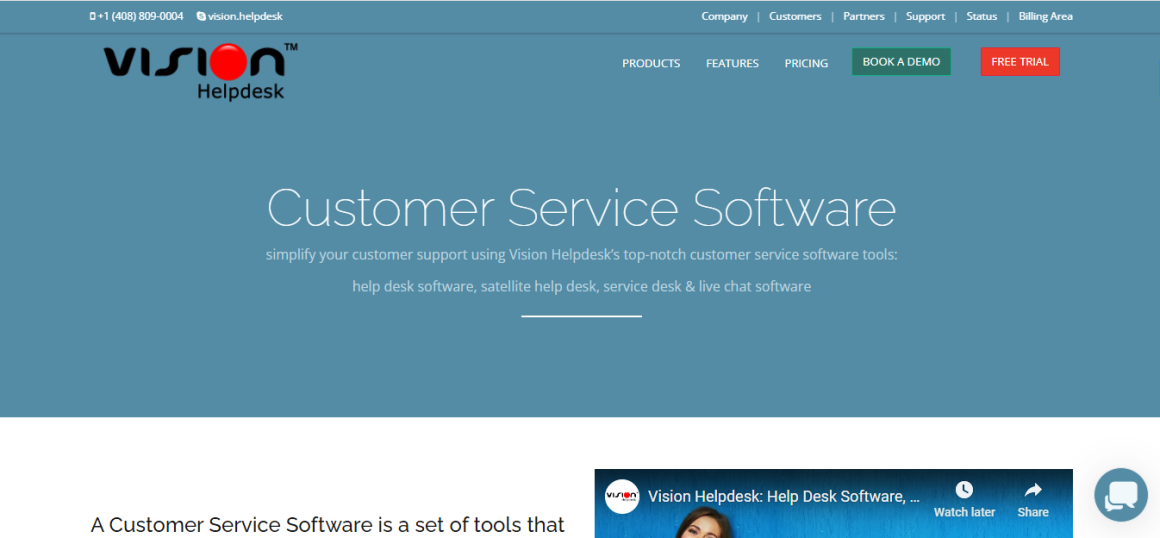 Vision Helpdesk is a suite of customer service and IT support management tools whereas Helpwise is better known as an eCommerce help desk software which has been powering customer service for eCommerce businesses since 2016.
Features
Monitor staff activities
Convert emails into tickets
Power your knowledge base
Android, iPhone, iPad, and Windows phone apps to connect on the move
Engage clients with Live Chat Software
Automate your help desk and SLA
Pros
Excellent support from the technical team
Attractive pricing and easy to customize
Accurate reporting and analytics
Easy integration with Twitter, Facebook, email, live chat, and VOIP to unify multiple communication channels
Cons
The mobile app needs a lot of work to become usable. Until that is fixed, the web browser works fine.
Could do better with more integrations with other software and mobile apps
Pricing
There are 5 plans available. There is the Starter Help Desk plan which goes for $12 per agent for a month while the Pro Help Desk goes for $20 per agent for a month. There is the Satellite Help Desk plan which costs $24 per agent for a month while the Pro Service Desk plan goes for $32. The fifth plan is the Ent. Service Desk which goes for $48 per agent for a month.
Vision Helpdesk offers flexible pricing plans so their services can be used by every business, no matter the size. There is a useful 30-day free trial plan that enables you to test the app before investing in it.
04. LiveAgent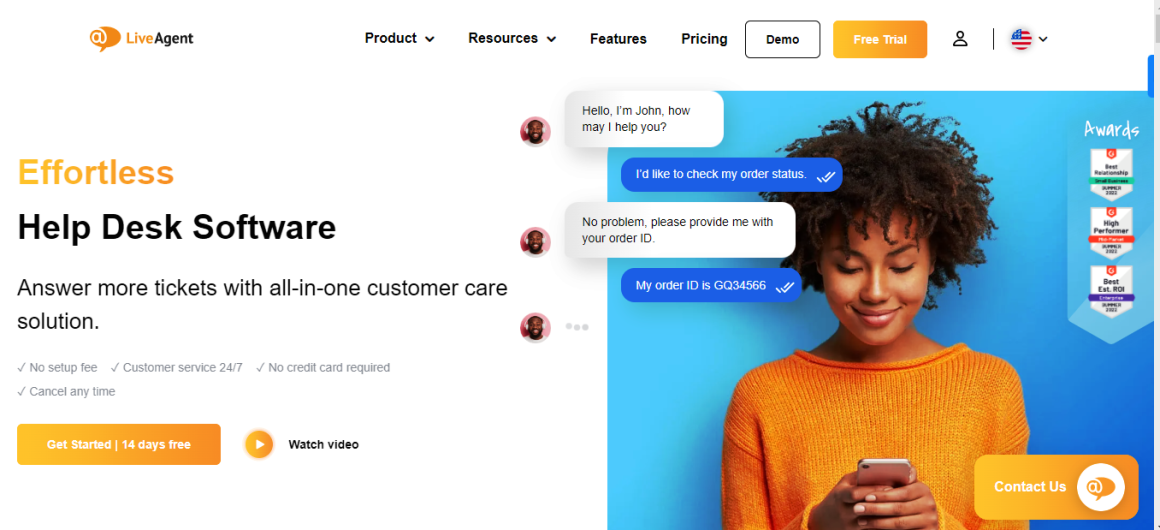 LiveAgent is an all-in-one customer service software for your online store. It's built for one-man operations to large scale businesses.
Features
Live chat software to engage with clients on your website
Ticketing system to oganize and track customer complaints
Automation Rules & SLAs
Call center to make phone and video calls
Social media help desk for easy access to messages
Self-serve portal for customers
Pros
Secure, user-friendly, easy to set up and integrate
Superb anti-spam mechanism that prevents visitors from sending tickets back-to-back
14-day free trial
Cons
You need to manually install SSL if you use a custom domain. This could also be expensive depending on the features you want to use.
LiveAgent has an email ticketing plan which is limiting as omnichannel is the new black in customer service. Businesses are aligning to the changing needs of customers and this can be a downside because it offers different plans for different channels whereas HelpWise got you covered with all the channels.
Pricing
LiveAgent has 4 plans. There's the Forever Free plan which has some limitations while the Ticket plan costs $15 per agent for a month. The Ticket+Chat plan enables you to combine live chat and ticketing to grow your business and it costs $29 per agent for a month while the All-inclusive plan provides a great helpdesk that integrates the different methods of interaction available to customers (on your online store, via a mobile device, or in a physical store, and many more). This plan costs $49 per agent for a month and is the most popular of all their plans.
05. Help Scout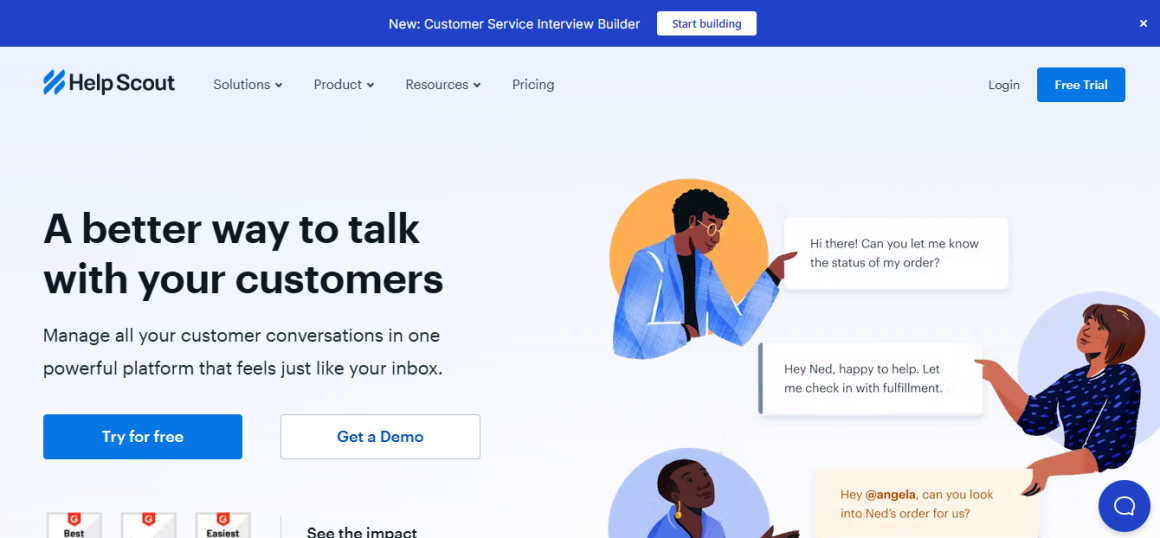 Help Scout is an eCommerce customer service software that enables you organize, automate, amd collaborate. Unlike enterprise help desks that are difficult to set up and manage, Help Scout lets you keep things simple, fast, and focused on satisfying customers.
Features
Shared inboxes
Knowledge base
Live chat
Collaboration tools
Reporting
Integrations
Mobile apps for working on the road
Pros
Provide email, self-service, and live chat support from one great platform that feels just like your inbox
Answer more emails with ease and features like saved replies and automated workflows
Cut down on support requests with a knowledge base that's built for innovation
Cons
Help Scout is an excellent customer service software but can improve on its reporting for growing companies.
Unlike HelpWise which grants you access to Email, SMS, Chat, Socials, and Whatsapp, Help Scout allows you to manage email and chat conversations only.
Pricing
Help Scout has 3 plans. There's the Standard plan which costs $20 per user​​ for a month while the Plus plan costs $40 per user​​ for a month. You can try both plans for free. The Pro plan costs $65 per user for a month and is for large teams.
06. Intercom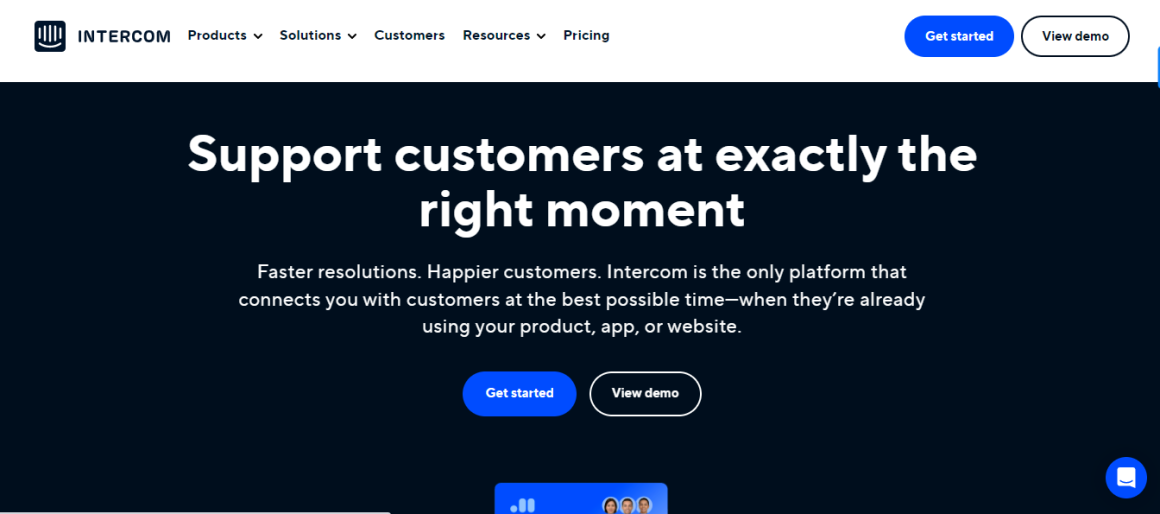 Intercom is a simple inbox that enables you to provide 24/7 chat support on the market. Aside from using the live chat feature to communicate with prospects and customers, you can also use the reporting and metrics features to better understand them. Your customers can also rate your level of support directly on the platform. This helps to evaluate your team and focus on areas of improvement.
Features
AI-powered Inbox
Ticketing System
Automated Workflows
Omnichannel messaging
Team management
Customer data
Mobile apps for working on the go
Pros
Supercharge your customer support on a budget
Provides helpful reports to measure performance
Easy to understand and operate
Cons
Intercom has many features and it takes time to understand them all
Unlike HelpWise which allows you to manage Email, SMS, Chat, Socials, and Whatsapp, Intercom limits users to chat and social conversations only. Email is not included.
Intercom customers don't feel valued for lack of personalized support
Pricing
Intercom has 3 plans. There's the Support plan as well as the Engage plan. The final plan is the Convert plan. The prices are calculated based on the seats and the people reached.
07. Freshdesk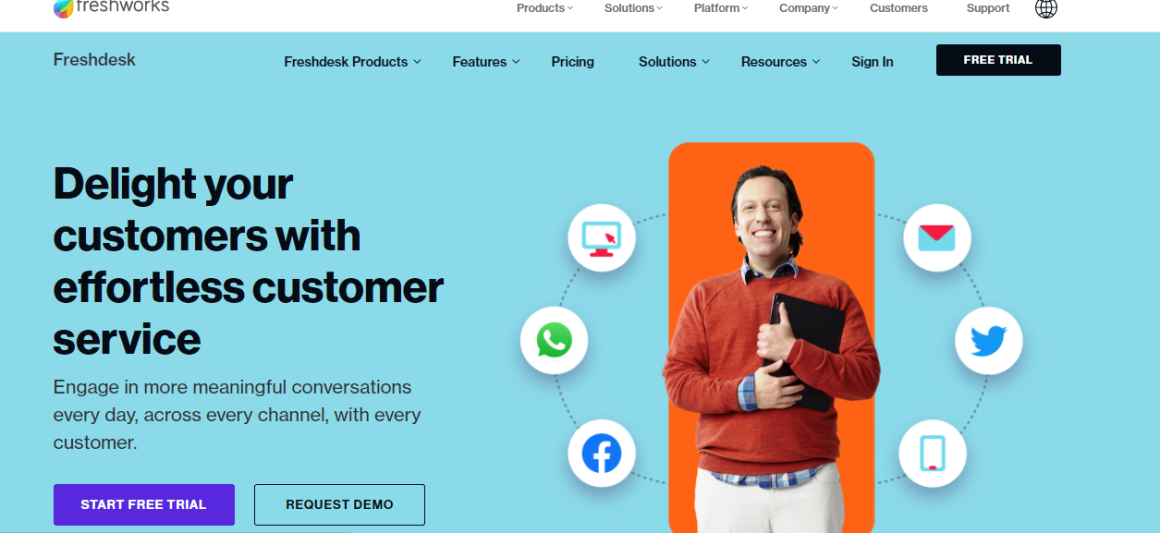 Freshdesk helps you support your clients and manage their issues with ease. You can also track the productivity of support staff by looking at the history and analytics. Previous tickets can also be easily searched by keywords, agents, or time frame. When multiple people are working on one project, it really helps to know who did what and when! It's like your in-house spy on your support team members!
Features
Ticketing System
SLA Management
Omnichannel support and messaging
Self-serve portal
Automation and Customization
Security and Analytics
Pros
Modern, user-friendly, and easy to use
Reliable and feature-rich customer service platform
Easy to integrate with other Freshworks' products
Free plan for new users
Mobile apps for Android and iOS devices to connect with customers on the go
Cons
Freshdesk is great but getting support employees who leave and are archived back onto the platform is awkward. It's doable though.
You need time to figure out all the features
Linking tickets to each other is not automatic
The pricing can also be on the high side for smaller businesses as some of the more advanced features require additional add-ons or integrations. This is unlike HelpWise which has a friendly pricing regime.
Pricing
Freshdesk has 4 plans. There's the Free plan which costs nothing while the Growth plan costs $15 per agent for a month. There's also the ProPOPULAR plan which costs $49 per agent for a month while the Enterprise plan costs $79 per agent for a month.
These are the monthly costs when billed annually. They cost more when billed on a monthly basis. There is a free trial on each plan for users who want to test-run this eCommerce software.
Conclusion
Provide the best eCommerce customer service with any of these tools but Helpwise clearly wins when it comes to affordability and ease of use and setup. It provides unequaled eCommerce support solutions that win the minds and hearts of customers.
Excellent eCommerce customer service begins with inquiries before purchase, issues with orders, returns and exchanges in a situation where a customer is not satisfied. HelpWise has got you covered as it provides omnichannel messaging to engage with your customers wherever they are. And for the right price too!
But, like farmers who dig deep into the soil before planting, you can try each of these eCommerce customer service software to improve your customer service and delight your customers.
Make them ask and pant for more by using any of these eCommerce customer service software. So, which of these eCommerce customer service software are you going to begin with?
Well, begin with Helpwise and we are sure you won't even have to evaluate the other alternatives. Sign up for a free trial here.