When it comes to creating a world-class customer experience, many companies could learn a thing or two from the Happiest Place on Earth – Disney theme parks.
Disney and its theme parks put a high value on customer experience. They do an excellent job of creating an enjoyable, fun, and consistent environment that keeps people coming back. Parks are known for being clean, and employees for being friendly. In fact, Disney calls their employees "cast members" and considers them "on stage" when they're working.
But Disney also empowers its cast members to create "magic" for guests by offering one-time perks. A magical moment can be big or small and range from a free soda or t-shirt to a once-in-a-lifetime experience. No wonder why they have a 70% return rate for first-time visitors.
Now we're not saying you should try to recreate the magic of Disneyland. Not every business has a cultish following of Disney adults who roam the parks with the hope of catching a glimpse of Mickey and Minnie.
So what can you learn from Disney's "magic"? You need to blow the socks off your existing customers and charm them into falling in love with your company so that they'll keep coming back. Again and again.
But here's the thing. You don't need a $5 billion Disney budget to deliver a Walt Disney-level customer experience. The kick? Just keep it simple. To grow your business, along with chasing down new customers, focusing on a customer service-led growth strategy that builds, nurtures, and retains customer relationships is equally imporant. And the deal sweetener? It costs next to nothing. Think of those "magical moments" Disney offers. Most are low-cost ways to make the customer experience more memorable. And repeat customers cost much less than attracting new ones.
This article will discuss what customer service-led growth is and why your business needs it. You'll also learn how to use the customer service-led growth flywheel to set up customer-focused processes that drive customer retention and account expansion.
What Is Customer Service-Led Growth? (CSLG)
Customer service-led growth (or CSLG for short) creates sales by providing the best customer service experience. To provide such an experience, businesses must keep their fingers on the pulse of customer behavior. Support teams should track feedback to find better sales opportunities.
In a nutshell, CSLG means adopting a service-first mindset. With this approach, companies shift from a focus on "sales first" to a model that puts more emphasis on customer experience (CX).
This practice provides a cost-effective acquisition channel. The idea is that providing top-notch customer service helps build customer loyalty, leading to repeat business and long-term customer relationships, further leading to referrals. Thus, CSLG establishes the groundwork for a company's long-term growth with a service-first approach.
Companies who've adopted CSLG
CSLG is not a new or Disney-invented concept, either. It's actually been around a while. Let's take a look at some other companies that do CSLG well:
Nordstrom
To be the greatest, you have to learn from the greatest. And Nordstrom is the Muhammed Ali of customer service. Its customer service is so legendary there's even an entire book about it: "The Nordstrom Way to Customer Service Excellence,"
So what exactly is the Nordstrom Way? Simply put, it's an obsession with every single customer and the customer's complete shopping experience. Going above and beyond to take care of customers is expected, encouraged, and praised above all else.
And no story illustrates Nordstrom's willingness to go above and beyond for its customers more than its Legendary Tire Story. To cut a long (but good) story short, a Nordstrom clerk once let a man return four snow tires. Here's the kick: the store doesn't sell snow tires! The clerk simply accepted the return because that's what the customer wanted.
And while not every business can replicate the tire story, it's an excellent example of how the importance of having a tireless dedication (pun-intended) to your customers' needs and empowering staff to use their discretion in going above and beyond. These actions, when done correctly, create loyalty.
Zappos
Zappos is an online shoe and apparel store, which on its own isn't very exciting. But the company brings happiness to soles and souls by being a customer-obsessed company that focuses on delivering a WOW experience.
And what's more WOW than spending ten hours on the phone with a customer? That's exactly what a Zappos Customer Loyalty Team member did. He clocked in just under ten and a half hours on the phone with a customer, not addressing a product issue or taking an order but chatting about living in Las Vegas. The Zappos rep explains, "Sometimes people just need to call and talk…We don't judge. We just want to help."
Your company's customer service reps don't have to spend 10 hours chatting up a customer on the phone. But you can find other small ways to wow your customers with a thoughtful customer service experience that considers each customer as an individual when it comes to delivering the right kind of customer service. Give them a unique experience, and you'll be sure to reap benefits for years.
What drives CSLG?
What brands like Disney, Zappos, and Nordstrom show is that customer experience is the name of the game. A customer service led-growth strategy allows businesses to switch from measuring ROI to ROX (Return on experience). This involves selling experiences rather than selling a stand-alone product.
Switching up your strategy will help you get more value from your marketing budget and waste less time pursuing potential leads. To learn how to grow your business by leveraging customer service, let's deep dive into the CSLG flywheel.
What is the customer-service-led growth flywheel?
Did you know the sales funnel was developed in 1898? That means companies today still use a 19th-century sales model for their customer journey. Apart from being older than sliced bread, which was first sold in 1928, the main problem with the sales funnel is that it views customers as an afterthought. The end goal is the purchase. Once the purchase is complete, poof, they drop out of the funnel, never to be seen again. The company then starts all over again with a new prospect.
If your aim is to create a kick-ass customer experience, then the sales funnel just won't cut it. The funnel looks at customers through a sales-first lens. Instead, you need a framework that helps your business interact with customers in a service-first manner. That's where the customer-service-led growth flywheel comes in.
The flywheel is a continuous strategy that helps businesses set up customer-focused processes that drive customer retention and account expansion. It requires collaboration between both the customer support/service and customer success functions. For example, the customer success team focuses on customer growth and expansion and then feeds the new users to the service team, which resolves customer issues.
As the service and success teams work together to serve the customers better, they gain insights that further improve not just the support but also the product and services provided by the company. For this reason, the insights from a customer service-led growth strategy can also complement other growth models, such as a product-led growth model. It's not an either/or model.
The CSLG Flywheel (In-Depth View)
This flywheel continues in a cycle of five steps that can be applied to any growth model.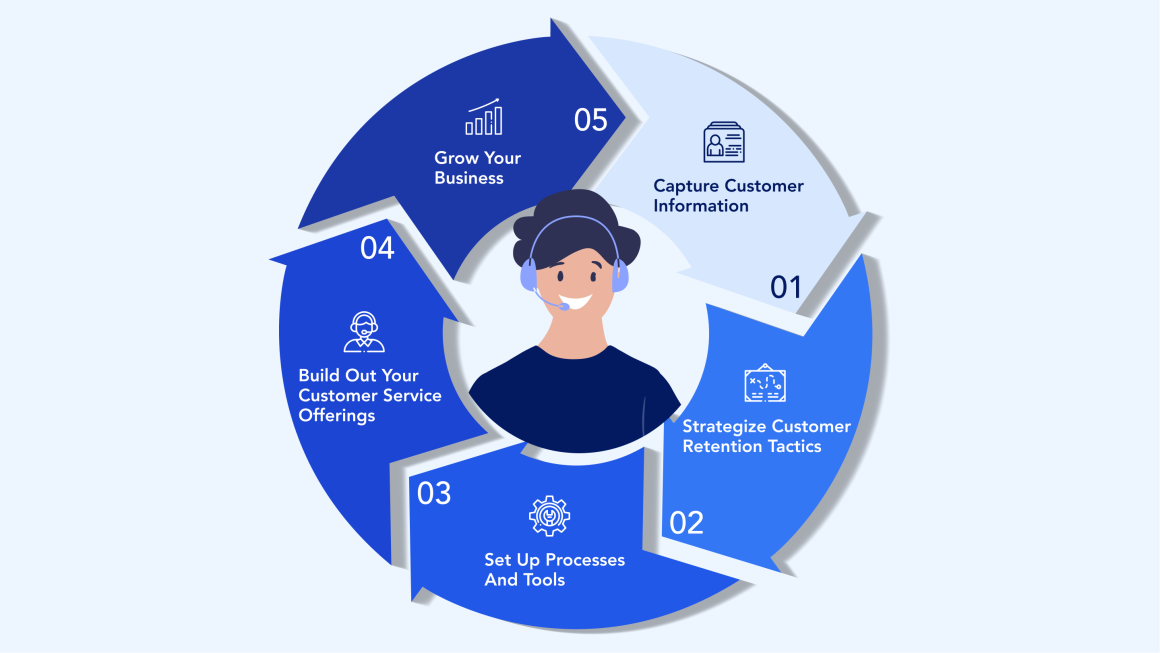 Capture customer information
Strategize customer retention tactics
Set up processes and tools
Build out your customer service offerings
Grow your business
Step 1: Capture information about your customers and their issues
Because customer service-led growth is customer-centric, step numero uno involves collecting as much data as possible about your customers. This key information will help you set a baseline for your strategy and give you a good understanding of where the business stands regarding the quality and level of service that customers expect.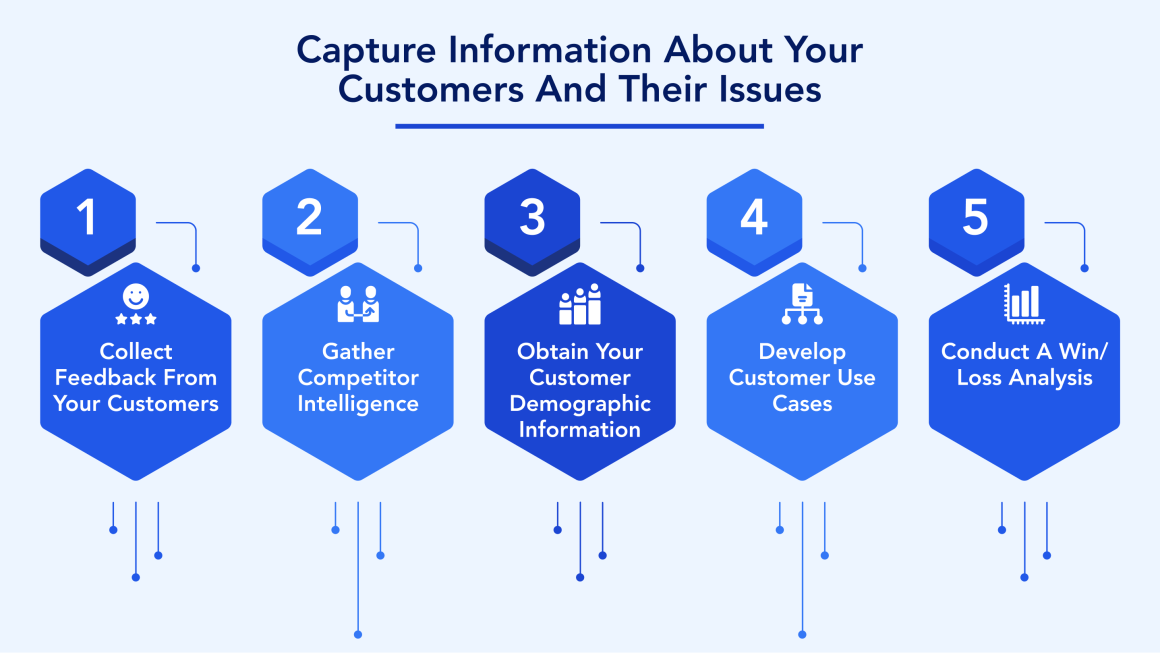 A. Collect feedback from your customers
Customer feedback is key to providing a world-class customer service experience. A clear understanding of what your customers expect from you and your services will help you better define your customer service objectives.
B. Gather competitor intelligence
Speaking to your customers only gets you so far. So you'll also need to spy on your competitors. Legally, of course. Competitive intelligence helps you tackle comparison-based questions in your customer conversations more strategically and help you devise an appropriate customer service strategy that surpasses that of your competitors.
C. Obtain your customer demographic information
Customer demographics describe your customers' characteristics and help you understand your audience and customize your customer service strategy.
D. Develop customer use cases
Articulating how customers will interact with a product or service will help you understand what problems they are trying to solve and how you can provide a customer experience that solves these issues.
E. Conduct a win/loss analysis
A win/loss analysis evaluates past customer transactions to help you identify patterns behind the customers you won and lost so that you can improve your future customer service processes.
Step 2: Strategize
The next step involves strategizing and devising plans to help you bridge the gap between your current customer service processes and the ideal state. Let's dive right in.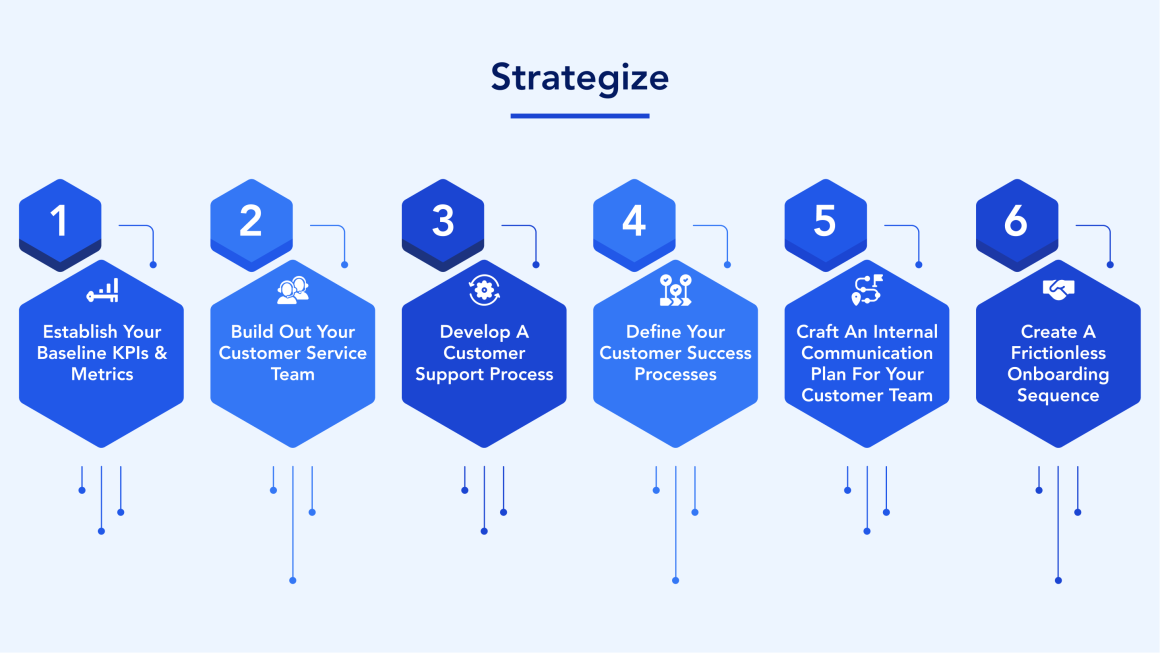 A. Establish your baseline KPIs & metrics
To ensure your customer service-led growth strategy hits the mark, set metrics that allow you to track progress and uncover the kinds of problems customers usually face.
B. Build out your customer service team
Your customer service and support teams are the face of the company. They play a critical part in implementing your customer service-led growth strategy, so it's essential to define the key roles that will make up your team.
C. Develop a customer support process
Efficient customer support processes play an essential role in lowering customer dissatisfaction and churn rates — a study found that 70% of unhappy customers would return to a company that successfully resolved their issues. So it pays to develop a system for smooth and faster resolutions to questions, concerns, or complaints.
D. Define your customer success processes
When anticipating customer problems and recognizing customer needs, your business has a better chance of retaining them. So you'll need processes for proactive help and support you'll provide your customers when using your product or service.
E. Craft an internal communication plan for your customer team
Good internal communication plays a crucial role in developing a customer-centric company culture and enables everyone to work together toward customer satisfaction. Additionally, internal communication guidelines foster a smooth collaboration process between agents and help solve customer queries faster.
F. Create a frictionless onboarding sequence
An excellent onboarding sequence helps your new customers experience the full value of your product. This is a critical step in product adoption and customer satisfaction. As you build a positive relationship with them, you'll increase the likelihood that they will stick around.
Step 3: Set up CLSG process and tools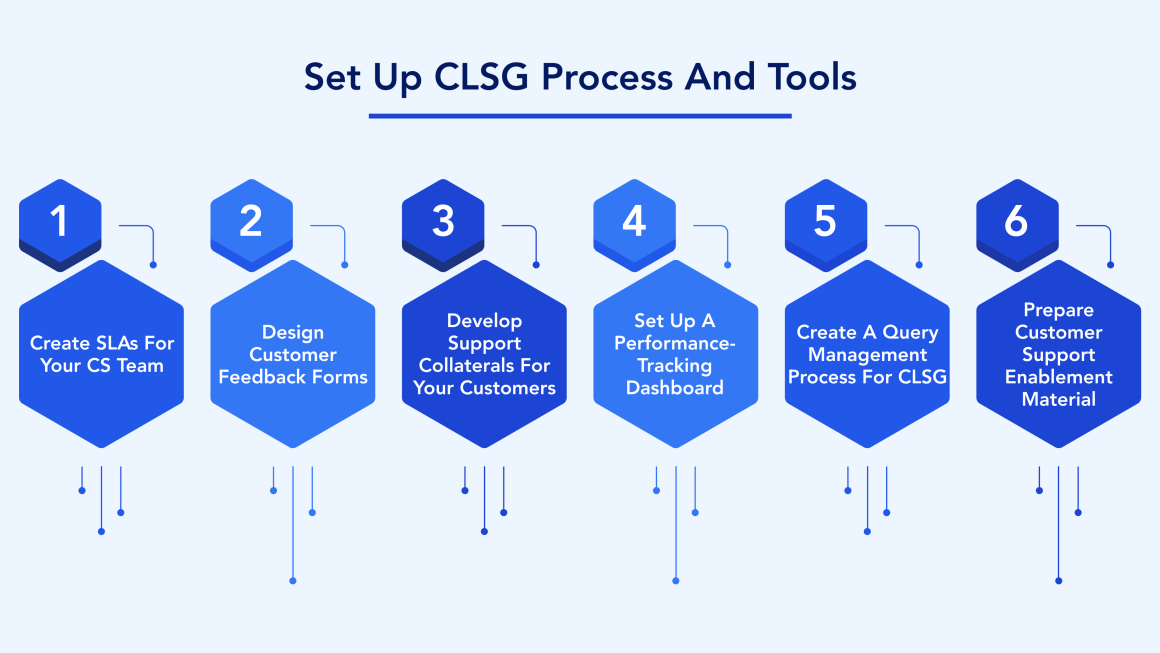 A good soldier knows what kind of tool to use and when to use it to defeat an enemy effectively and efficiently. Just like you wouldn't go into battle without ammunition, you can't go into a customer-service-led growth strategy without the the two right Ps – people and processes including the right tools. Setting up tools and processes that help reduce workload, measure performance and execute goals with a plan will help your CS team streamline data collection, performance measurement, and service execution.
A. Create SLAs for your CS team
Holding agents accountable to specific standards goes a looooong way towards creating more satisfied customers. An SLA, or service-level agreement, defines standards for your customer support. It usually includes policies regarding the quality, availability, or timeliness of your customer service.
B. Design customer feedback forms
A feedback form collects customer opinions about your company's service. The goal is to gain a better understanding of the overall customer experience so you can identify areas for improvement.
C. Develop support collaterals for your customers
Customer service support collateral helps provide product guidance to the customer. For example, help centers, knowledge base articles, or a customer onboarding/support kit that includes how-tos and welcome guides.
D. Set up a performance-tracking dashboard
A dashboard that allows team leads and managers to measure the performance of each agent is crucial for maintaining the quality of customer service. This includes analyzing individual response times, CSAT scores, and responsiveness scores.
In addition to individual performance, the dashboard can also provide insights into the overall health of customer interactions taking place. This comprehensive view ensures that all aspects of customer service are optimized with ease.
E. Create a query management process for CLSG
A comprehensive process for your customer query management ensures that all customer queries are captured, escalated, and actioned efficiently. This goes a long way toward creating satisfied and loyal customers.
F. Prepare customer support enablement material
Customer support enablement gives customers the tools, training, and resources they need to quickly ramp up your products or services. A thoughtful approach to customer enablement helps secure customer satisfaction and paves the way for customer loyalty.
Step 4: Build out your customer service offerings
Next, you need some TLC in your CSLG. Customers need to be handled with Tender Loving Care. The following types of services ensure that you prioritize their needs, personalize their experiences, and solve issues for them before they arise.
Predictive Service anticipates customers' issues and provides them with support before the problem even occurs.
Self-Service helps customers resolve their own issues through chatbots, popup notifications, knowledge centers, and FAQ pages.
Personalized Services provide customer experiences tailored to the individual's needs and preferences, especially for VIP customers or customers with complex problems.
Customer Training gives employees the knowledge and skills they need to create excellent customer service experiences.
Step 5: Grow your business using CSLG
Running a business is a lot like gardening. In gardening, you can't just plant some seeds and then expect them to grow into a full-fledged garden on their own. You need to nurture your plants constantly, water them, tend to the soil, guard against pests, etc.
The same can be said for this last stage of the flywheel. Following steps 1-4 alone and then calling it a day won't help your business grow. You need to constantly optimize your customer experience and analyze the data to see what works and what doesn't, and then keep on iterating and improving your interactions with customers. Only by doing this will you drive revenue and retain customers.
Become customer obsessed
Jeff Bezos put it best when asked about a key aspect of Amazon's philosophy: "We're customer obsessed. We start with the customer, and we work backwards."
The key to developing a successful customer service-led growth strategy is to be equally customer-obsessed.
At the end of the day, while acquiring new customers is important to growth, it's maintaining them with a customer service-led strategy that truly drives your company's revenue. Book a free 14-day trial with Helpwise and learn how we can turn your support team into key revenue driver.