Missive has carved its niche as an email and chat app, streamlining inbox management and team collaboration. But what if you're on the hunt for a fresh perspective?
Perhaps you're eyeing enhanced features, a more competitive pricing model, or a refreshing user interface. Or, maybe it's just that itch to explore what's beyond the horizon.
Good news: the digital landscape brims with Missive alternative tools, some even outshining it in specific areas, while others stand out for their sheer adaptability. 
In this guide, we'll navigate you through the top contenders vying for Missive's spot. But before we begin,
How well do you know Missive?
Missive is a shared inbox and team chat tool for businesses. CEO Philippe Lehoux and his team of three co-founders created it while brainstorming for ConferenceBadge.com. They saw a need for collaborative email drafting. The app offers a sleek interface, friendly support, and features like keyboard shortcuts and inbox rules. It keeps improving and costs less than many other tools.
Missive is massive, but…
It's not perfect. Admins often find themselves restricted, with certain tasks reserved solely for the account owner. The platform's quick responses can appear cluttered compared to the organized folders of its competitors.
Some users even report challenges in sending emails to key contacts, a significant concern for businesses. Moreover, outgoing communication can be tricky, especially with major clients.
And for many, the sheer volume of features and settings in Missive becomes overwhelming, hindering efficient task execution.
Top 10 Missive Alternative Options 
If Missive is not cutting it for you, then you're not getting value for your money. Therefore, you need something more valuable and flexible. We've found some awesome Missive alternative options that you might like even more.
1. Helpwise
Helpwise boasts a strong 4.6/5 rating on G2, making many wonder why it stands out. Unlike other communication tools, it fills gaps you might see in platforms like Missive.
Helpwise gives you a unified experience across channels like Email, SMS, WhatsApp, and Messenger. It has AI tools like predictive responses, smart sorting, and chatbots. These tools help you work smarter. Plus, their automation and collaboration tools make teamwork smooth. And for a personal touch, Helpwise offers chat popups and bulk mailers.
Pricing: Starting with the 'Standard' plan at $15/user/month, it's perfect for budding teams. And if you're a larger enterprise with unique needs, the 'Enterprise' tier is tailored just for you.
Strengths: Imagine a platform where every customer feels valued. That's Helpwise for you, with its multi-channel support and top-notch automation tools.
Shortfalls: Helpwise doesn't have a desktop app yet. A few bugs here and there, and some features like contact mapping could use a touch-up.
Ever felt Missive could offer a bit more? Like advanced AI tools or more personalized engagement options? That's where Helpwise comes in. It's designed to help your agents collaborate, engage with and support your customers, analyse the customer service operations and automate repetitive tasks like agent assignment.
With Helpwise, you're not just communicating; you're making an impact on your customers.
2. Zendesk Support Suite
With a cloud-based architecture, Zendesk Support Suite takes a leap beyond standard communication tools. Its strength lies in its omnichannel support, ensuring no customer query goes unanswered, whether it's via email, SMS, or social media.
Zendesk's AI tools, such as predictive responses and smart sorting, make customer interactions smoother and more intuitive. And for support agents, the unified workspace is a game-changer, streamlining interactions across channels.
Pricing: It starts at $19 per agent/month. For startups, the 'Suite Team' plan is a fit at $55 per agent/month. Larger enterprises can explore the 'Suite Enterprise Plus' is custom.
Strengths: Zendesk goes beyond just resolving issues; it anticipates them. This proactive approach ensures that customers always feel heard and valued.
Shortfalls: While Zendesk is feature-rich, it might stretch the budget for small businesses. Some users wish for deeper customization in the base plan and more advanced analytical tools.
In essence, Zendesk amplifies communication through its AI insights and comprehensive omnichannel support. While it comes at a premium and might have customization limits, those seeking a forward-thinking approach to customer engagement might find Zendesk the perfect step up from Missive.
3. Front
Front App steps up the game in team collaboration. It distinguishes itself with a robust mobile app for both iOS and Android, ensuring you have all desktop features on the go. It also offers invaluable analytics and a wide range of integrations.
Add to that an intuitive team inbox, omnichannel communications, and automation templates, and you have a platform that truly empowers teams.
Pricing: The 'Starter' plan, ideal for small teams, is $19 per user/month. For more advanced needs, 'Growth' and 'Scale' plans are available at $59 and $99 per user/month, respectively.
Strengths: Front goes beyond emails, optimizing every interaction with features like its mobile app, analytics, and integrations.
Shortfalls: Some users find Front's higher-tier plans pricey and suggest enhancements in its basic email functionalities.
Front offers a holistic communication experience, from its mobile capabilities to its integrations. If you're aiming for seamless team collaboration and communication, Front could be the step forward from Missive and the good missive alternative you've been looking for.
4. Zoho Desk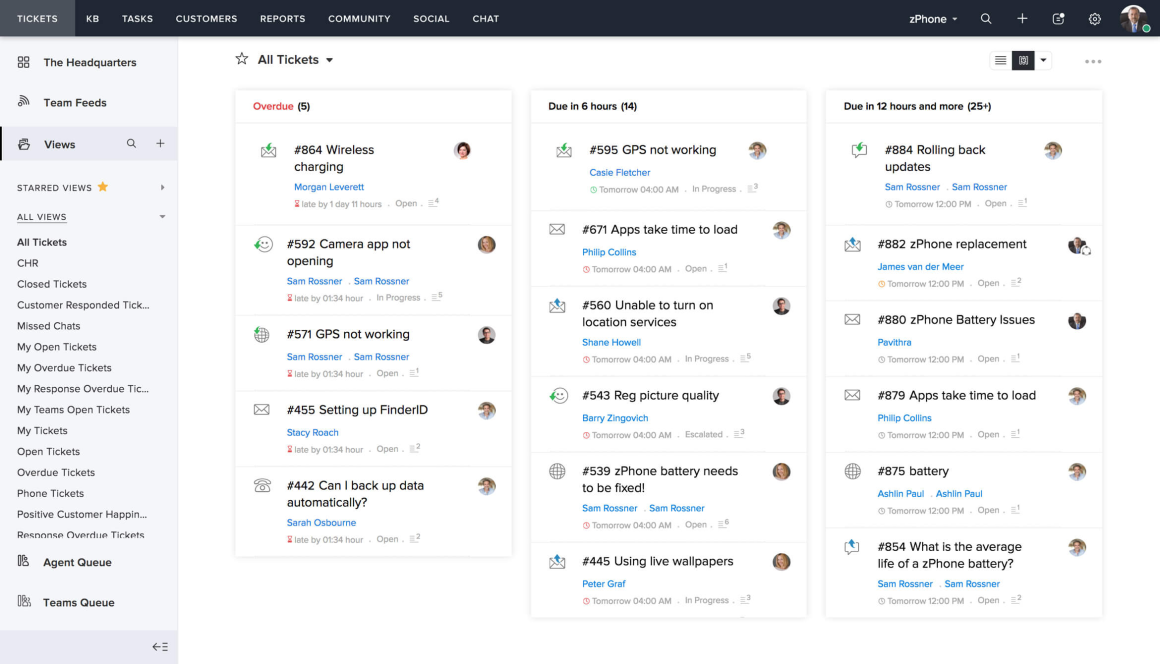 Zoho Desk goes beyond traditional help desk solutions, offering a dynamic platform tailored for businesses that aim to excel in customer service. Its versatility shines with its CRM integration, unified ticket management from various channels, and advanced AI capabilities.
Pricing: Zoho Desk's free plan caters to basic needs. For advanced features, plans range from $20 to $50 per user/month.
Strengths: It combines CRM, omnichannel management, and AI, making it a powerhouse in customer service.
Shortfalls: There's a learning curve for newcomers. Some users have noted speed issues and suggested ticketing system enhancements.
Zoho Desk offers a holistic approach to customer service, integrating CRM and AI tools seamlessly. If you're aiming to enhance customer interactions and streamline service, Zoho Desk could be the Missive alternative upgrade you've been seeking.
5. Salesforce Service Cloud
Salesforce Service Cloud transforms the landscape of customer service, delivering a tailored experience that stands out. This platform shines with its versatility, seamlessly integrating communication channels from email to social media.
Its AI-driven tools, enhanced by natural language processing, offer agents real-time reply suggestions. Moreover, the Omni-Channel feature ensures all support channels are unified, streamlining agent workflows.
Pricing: Options start at $25 USD/user/month for the 'Starter' edition, scaling up to the comprehensive 'Unlimited' edition at $300 USD/user/month.
Strengths: Beyond its vast communication tools, Salesforce Service Cloud's AI insights and Omni-Channel integration set it apart, ensuring top-tier customer support.
Shortfalls: While powerful, the platform's intricacy can be a hurdle for some. And while it's packed with features, some advanced functionalities come with additional costs.
With its depth in features and focus on personalized support, Salesforce Service Cloud offers a holistic approach to customer service. For those ready to invest in an all-encompassing solution, it presents a compelling Missive alternative.
6. HubSpot Service Hub
Dive into HubSpot Service Hub, and you'll discover a realm where customer service isn't just a task but an art. At its heart, HubSpot champions multi-channel communication. Whether it's a chat, an email, or a phone call, it ensures no customer waits.
Its automated ticketing system isn't just about tracking issues; it's about resolving them efficiently. And with intelligent ticketing, it smartly categorizes tickets, ensuring the right team handles the right query.
Pricing: For those just starting, the 'Starter' plan at $20 per month is a fit. But if you're a business giant looking for the full arsenal, the 'Enterprise' tier awaits at $1,200 per month.
Strengths: HubSpot isn't just about solving problems; it's about building relationships. It fosters team collaboration and scales up customer relationship efforts.
Shortfalls: Enterprise pricing might raise eyebrows. Its customization feels a tad restricted, and for some, there's a bit to learn before mastering.
If you've ever felt the need to not just answer your customers but to engage them, HubSpot offers that fresh perspective. It's not just another tool; it's a paradigm shift from platforms like Missive.
7. Help Scout
When it comes to dedicated customer service, Help Scout stands tall. It's not about juggling countless features; it's about mastering the art of client communication.
Help Scout's essence is its shared inbox, designed for teams to collaborate seamlessly. It prioritizes client queries, ensuring none fall through the cracks. While Missive might be the jack of all trades, Help Scout specializes, offering tools like ticket organization and a dedicated email support system.
Pricing: Choose the 'Standard' plan at $20 USD/user/month (annually) or elevate with the 'Plus' at $40 USD/user/month (annually).
Strengths: Help Scout is straightforward and efficient. It's the go-to for teams valuing clear client communication and easy collaboration.
Shortfalls: It could use more integrations and a touch of customization flair. Some also find its messaging a bit on the pricier side.
If you're after a tool that's laser-focused on customer service, Help Scout is your answer. It's the specialist that emphasizes niche supporr, ensuring every client interaction is nothing short of exceptional.
8. Intercom
Step into the world of Intercom, and you'll quickly realize it's not just about communication; it's about meaningful conversations. While Missive provides a robust communication foundation, Intercom reshapes the narrative, focusing on customer engagement.
At the core is its value-based pricing. You're not just paying for features; you're investing in value. And speaking of features, the Fin AI bot, real-time reporting, and Salesforce Sandbox integration stand out, offering businesses an edge in customer interactions.
Pricing: Intercom's 'Starter' plan, ideal for essentials, is priced at $74 per month. For those seeking a comprehensive solution, the 'Premium' is custom.
Strengths: Intercom isn't just a tool; it's a strategy. It empowers businesses to not just respond but to anticipate and shape customer conversations.
Shortfalls: It comes with a price tag that might be steep for some. The initial setup can be a tad complex, and the software could benefit from more integrations.
Looking for more than just a communication tool? Intercom offers a dynamic platform that goes beyond mere interactions, ensuring every conversation is a step towards building stronger customer relationships.
9. Hiver
Hiver isn't just an add-on; it's a game-changer for Gmail enthusiasts. Imagine turning your Gmail into a customer service command center. With Hiver, that's reality.
Directly from your inbox, you can manage queries, delegate tasks, and team up without missing a beat. It's Gmail, but on steroids. And the cherry on top is that there's no new platform to learn, just enhanced Gmail magic.
Pricing: The 'Lite' plan starts at a modest $15/user/month. For those seeking the pinnacle of features, 'Elite' stands tall at $59/user/month.
Strengths: Hiver's brilliance lies in its deep Gmail integration. Assigning tasks feels intuitive, and their support team is a chat away, ready to help.
Shortfalls: Hiver's analytics might feel basic for data aficionados. A few hiccups like occasional lags and ticketing limited to emails have been noted.
For the Gmail loyalists seeking more from their inbox, Hiver is the answer. It doesn't just enhance Gmail; it transforms it into a customer service dynamo. A laudable Missive alternative.
10. Freshdesk
Freshdesk stands as a beacon in the cloud-based customer service landscape. For businesses accustomed to Missive, Freshdesk offers a refreshing shift, seamlessly turning every interaction, be it through email, chat, phone, or social, into a manageable ticket.
Beyond just ticketing, Freshdesk equips teams with potent automation capabilities, a self-service portal, and a comprehensive knowledge base, ensuring that every customer touchpoint is an avenue for enriched engagement.
Pricing: The 'Growth' plan, priced at $15 agent/month, is tailored for emerging teams. For businesses with expansive needs, the 'Enterprise' package at $79/agent/month offers a plethora of advanced features.
Strengths: Freshdesk consistently updates its features, ensuring it remains a top-tier choice. Its adaptability shines, especially with its diverse integrations and functionalities. Notably, Freshdesk stands out as a self-contained platform, hosting its own FAQs and information.
Shortfalls: Its premium packages might strain some budgets. Customization, particularly for the customer portal, has room for improvement, and the mobile app experience could benefit from some enhancements.
Although Missive excels in customer support, Freshdesk shines in its commitment to a holistic customer support experience. Its emphasis on multi-channel support ensures comprehensive coverage, and its automation prowess lets teams prioritize relationship-building over mundane tasks.
Which Missive alternative is perfect for you? 
Based on the analysis above, our recommendations are:
Most affordable: Helpwise (starting at $15 per user per month)
Best for Gmail integration: Hiver (designed to work seamlessly with Gmail)
Best for large enterprises: Zendesk (robust feature set and integration capabilities)
Best for customer support: Helpwise (boasting several customer support features)
Best for Zoho products integration: Zoho Desk (integrates with other Zoho products)
Most scalable: Helpwise (suitable for all business sizes)
Best for HubSpot CRM integration: HubSpot Service Hub (provides seamless integration with HubSpot CRM)
As evident, the overall best Missive alternative is Helpwise, as it offers the lowest price, the highest scalability, some of the best customer support features, and a range of integrations that can meet the needs of most businesses.
Getting started with Helpwise
Missive offers a platform where teams and clients collaborate seamlessly. While it boasts a range of features at an affordable price, some might find them challenging to navigate. Its sleek interface is inviting, but when it comes to practicality, there are hitches, like restricted admin access, hindering smooth collaboration.
For those seeking a top-tier Missive alternative, Helpwise is the answer, especially for small to medium businesses. It prioritizes team efficiency, arming you with robust tools to address customer concerns swiftly. Setting up Helpwise is straightforward, and its value-for-money pricing is hard to beat. Give our 7-day free trial a shot, and you might just find your perfect match.
FAQs
What are some alternatives to using Missive for email and team collaboration?
Alternatives to using Missive for email and team collaboration include Helpwise, Zoho, Front, Intercom, and Zendesk Support Suite.
Are there any free alternatives to Missive that offer similar features?
Yes. Some of Missive's alternatives, like Helpwise, have some decent features on free trial. However, like Missive, these features come with their limitations.
Which Missive alternative offers the best integration with other productivity tools?
Software like Helpwise, Zendesk and HubSpot offers an inexhaustible amount of integrations with their productivity tool to help businesses in different industries. 
Are there any Missive alternatives specifically designed for small businesses?
Yes. Most Missive alternatives work well for all kinds of businesses, but if you are starting out, you should try Helpwise.
What are the main differences between Missive and its alternative user interface and functionality?
Missive user interface is difficult to understand and lacks some important functionalities crucial to workflow. Helpwise, Front, Salesforce, and other alternatives are easy to understand and set up.