As a small business owner, you know that acquiring new customers is only half the battle. The real challenge lies in keeping them happy and engaged with your product or service. Read on the following and say whether it sounds familiar to you. "You have customers coming in from multiple sources like email, social media, and the phone, asking about product availability, shipping terms, and return policies. On top of that, you must deal with accounting, team management, and so on and so forth."
Can you relate? And you're not alone! Many small businesses face the same challenges. And this is where customer service platforms can make all the difference as they help you manage and centralize communication with customers across different channels, reduce churn, and provide top-notch customer service. With that, one person can handle all customer inquiries while you'll take care of growing your business.
So what customer service platform should you choose?
In this article, we'll take a look at the nitty-gritty of the top 5 customer success platforms for small businesses. You'll also find a side-by-side comparison to ease the choice. Let's get started.
The 5 Best Customer Service Software For Small Businesses
In this chapter, we'll dive into the key features and pricing of each customer service platform to help you make an informed decision about which one is the best fit for your business.
Upfront, here are our top picks for customer service software:
Helpwise
Zendesk
Freshdesk
Gladly
Help Scout
Let's learn what's in each tool!
1. Helpwise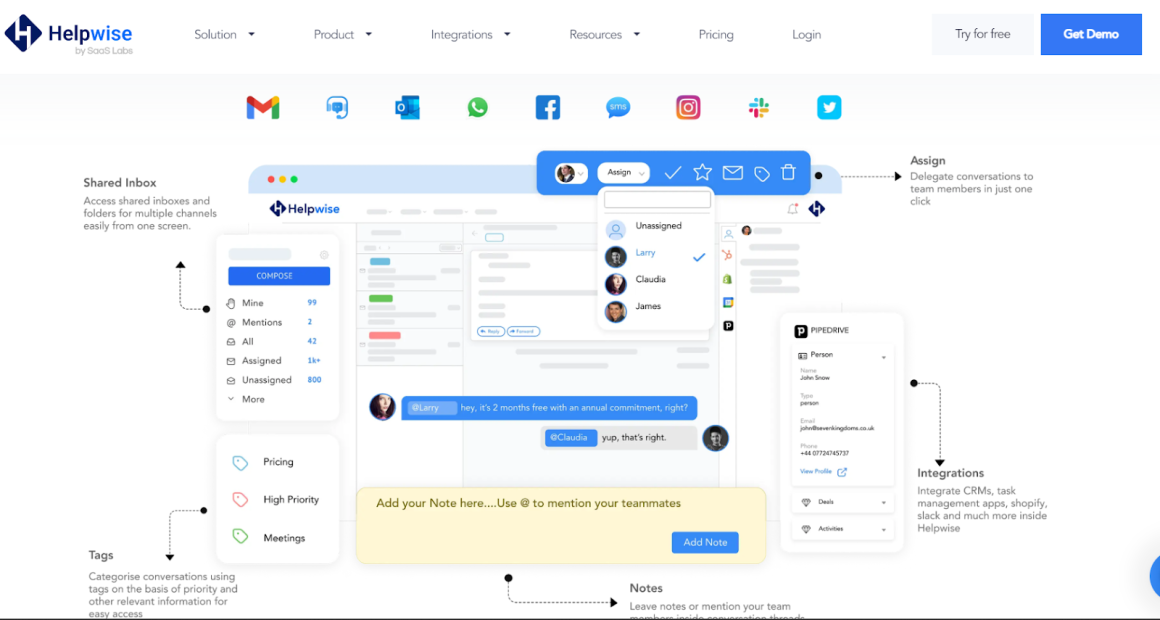 Helpwise is a customer service platform designed specifically for small businesses. It has a super intuitive interface, 50+ integrations, and a robust feature set. All that makes it easy for you to manage customer inquiries, organize your team, and correspond with clients in one centralized place. Here are four undeniably helpful Helpwise features.
Universal Inboxes is one of the standout features of Helpwise. It allows you to manage customer inquiries from multiple channels, including email, live chat, calls, Instagram, Facebook, WhatsApp, SMS, and more, all in one view. With this feature, you'll reduce response times and provide a more organized and streamlined approach to customer service.
"Fantastic solution to managing multiple inboxes within a team", — Jack Y, website coordinator.
Live Chat: With Helpwise's live chat widget, you can engage with customers in real time and provide instant assistance. It's vital to your small business since 33% of customers are most frustrated by having to wait too long, according to HubSpot research.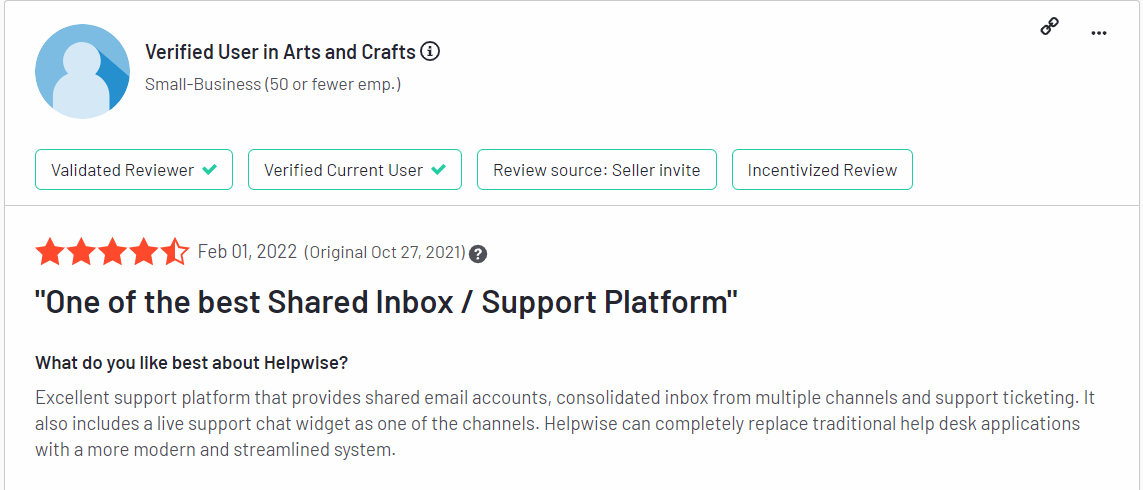 Source: G2
Collaboration and Team Management: Helpwise's collaboration features allow your team to work together to resolve customer issues more efficiently. You can assign conversations to specific team members, add internal notes, and track progress all in one place. This makes it easier to ensure that nothing falls through the cracks and that your customers receive the prompt attention they deserve.
Another research revealed that 33% of customers are most frustrated by having to repeat themselves to multiple support agents. With the Collision Detection feature, you eliminate that issue.
Automation Rules: Set up custom triggers and actions to automate everything from email responses and ticket assignments to internal notifications and follow-up tasks. For example, if you receive a refund request, you can automatically assign this conversation to an employee responsible for refunds based on the keyword "Refund."
Likewise, you can send personalized auto-replies by a predefined set of rules and tag customers with certain labels, like VIP, to assign allocated managers who handle premium support.
Pricing:
A 7-day free trial for all plans.
Starts at $15 user/month. You'll have 5 shared inboxes, 15 automation rules, the NPS and Live Chat widgets, and auto-assignment.
Book a personal demo to see all features in action!
Best for: Must-have for small business owners, startups, and teams looking to centralize their customer communications and provide top-notch customer service.
2. Zendesk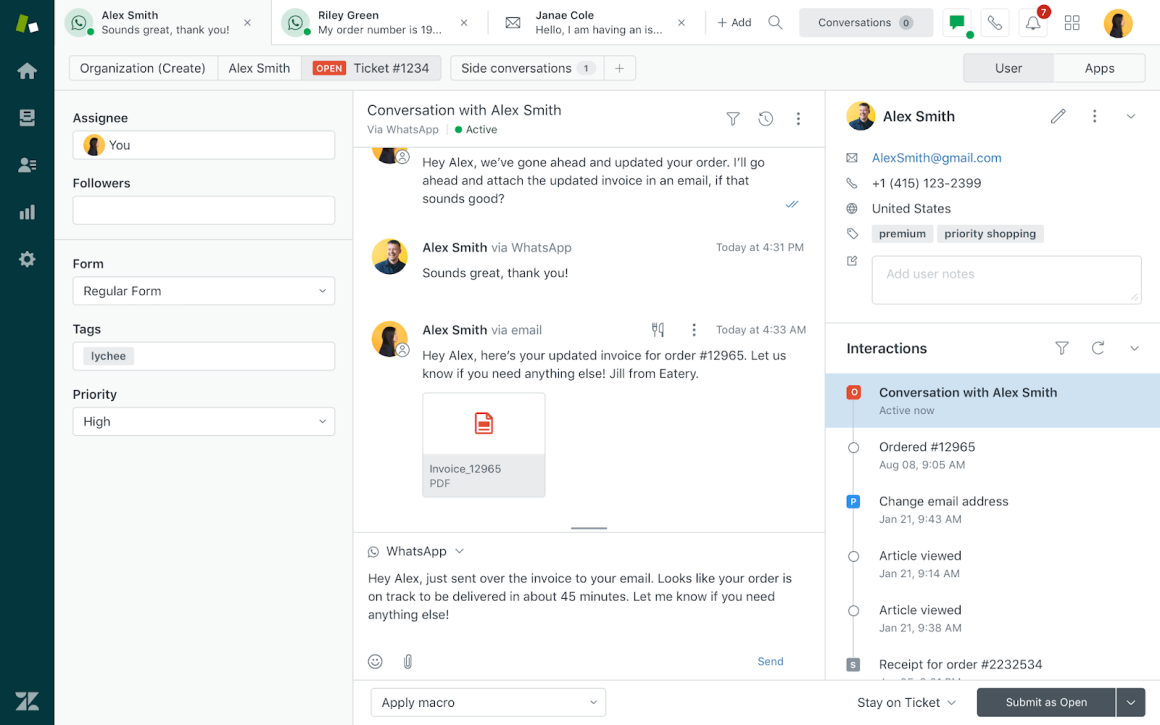 Zendesk is a versatile platform for customer service and sales that provides a lot of value to small and mid-market businesses looking to improve their customer service operations. Like Helpwise, it also has a centralized workspace for storing and managing customer conversations and offers intelligent auto-replies triggered by certain actions or keywords.
Note: While platforms like Helpwise, Gladly, or Intercom offer seamless integration and exceptional user experience, Zendesk may fall short in these areas. However, it's worth noting that each platform has its unique strengths and weaknesses, and what works best for one organization may not necessarily work for another.
Other Zendesk features are:
Customizable Help Center: Customers prefer knowledge bases over all other self-service channels. Zendesk provides a customer self-service portal that allows customers to quickly find answers to frequently asked questions or troubleshoot product issues on their own. With that, your customers get instant help, which leads to improved customer satisfaction.
Routing and Intelligence: Zendesk's customer service routing feature allows CS teams to automatically route customer queries to the right support agent based on customer feedback, language, location, customer history, and other factors. This ensures the smoothest path to customer request resolution.
Pricing:
A free 14-day trial is available
Start at $59 agent/month
Best for: Zendesk is good for enterprise and mid-market customers, but their pricing doesn't scale efficiently for SMBs. Moreover, the product has an abundance of enterprise features where you can easily get lost. Plus, you'll pay for those you end up not using.
3. Freshdesk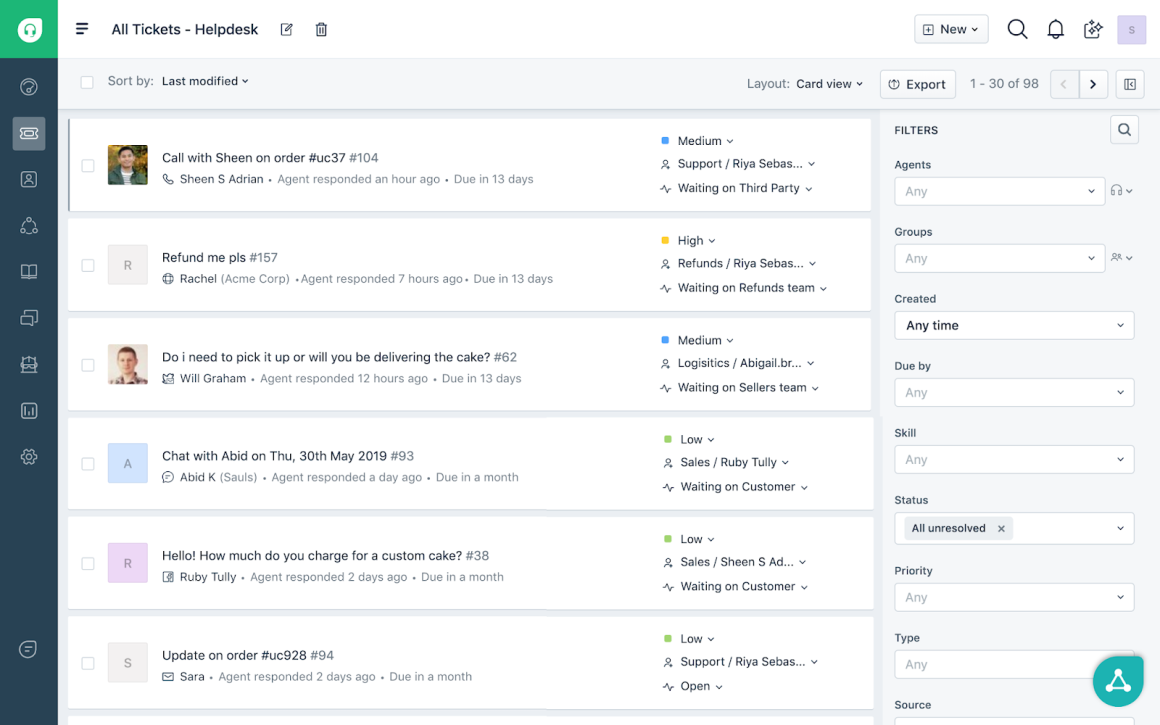 Freshdesk is another popular customer service platform that also caters to small businesses. It offers a wide range of features to manage customer inquiries in one place. Here are three noteworthy features that set Freshdesk apart from the competition.
Gamification: Freshdesk has a unique gamification feature that allows you to incentivize your customer support team by rewarding them for resolving customer inquiries quickly and efficiently. Boost morale and improve your team's performance with charts and rewards.
Even though this feature sounds innovative and nice to have, realistically, small businesses don't use it because there's no competition in a team of 1 or 2. Gamification comes in handy for enterprise-level companies with at least 10+ employees in the CS team.
Knowledge Base: Create a library of articles, tutorials, and resources for your customers to access 24/7. Reduce support ticket volume with self-service options and respond to customer inquiries quickly by navigating users to the right tutorial in your knowledge base.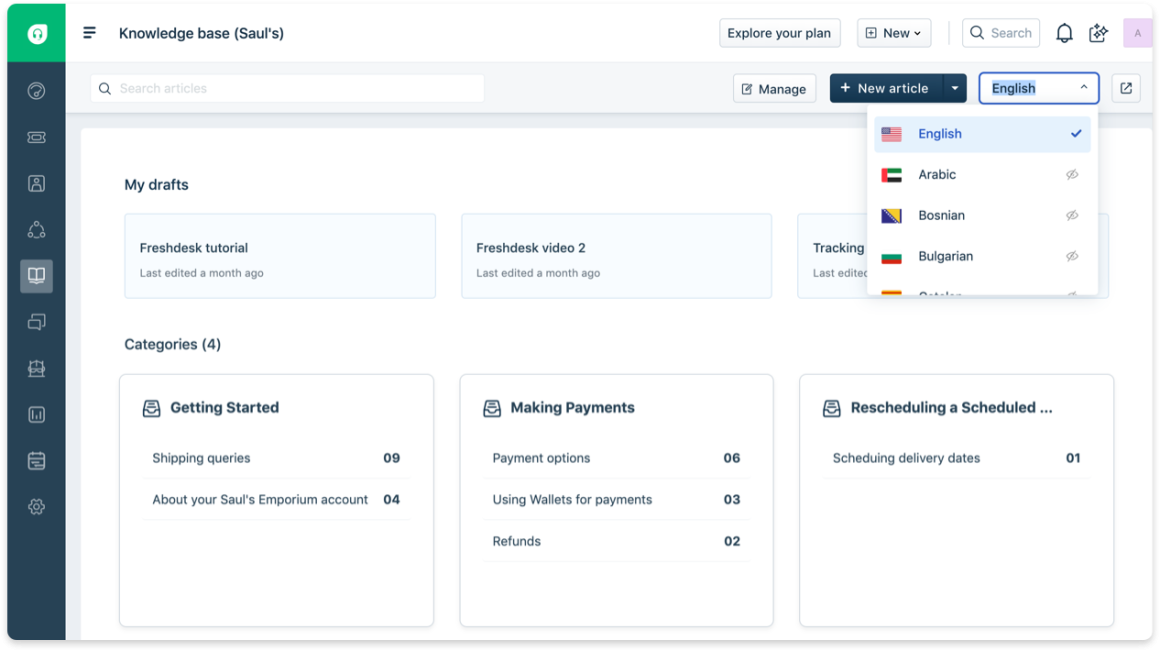 Satisfaction Surveys: Gather feedback from your customers after each interaction to gauge customer satisfaction. Make improvements to your support process based on customer feedback.
Pricing: The final price depends on the selected products. As such, you can start from a freemium plan for a support desk with up to 10 users. The minimal cost for a paid plan starts at $15 user/month for ticketing, reporting, and self-service features.
📣Note: Freshdesk doesn't offer chat widgets, automation workflows, universal inboxes, etc. All you get is ticketing customer support. Meaning you'll chat with customers via email only. In contrast, other products in this comparison offer omnichannel functionality.
Best for: Small businesses with a low volume of customer inquiries and one channel for contacting.
4. Gladly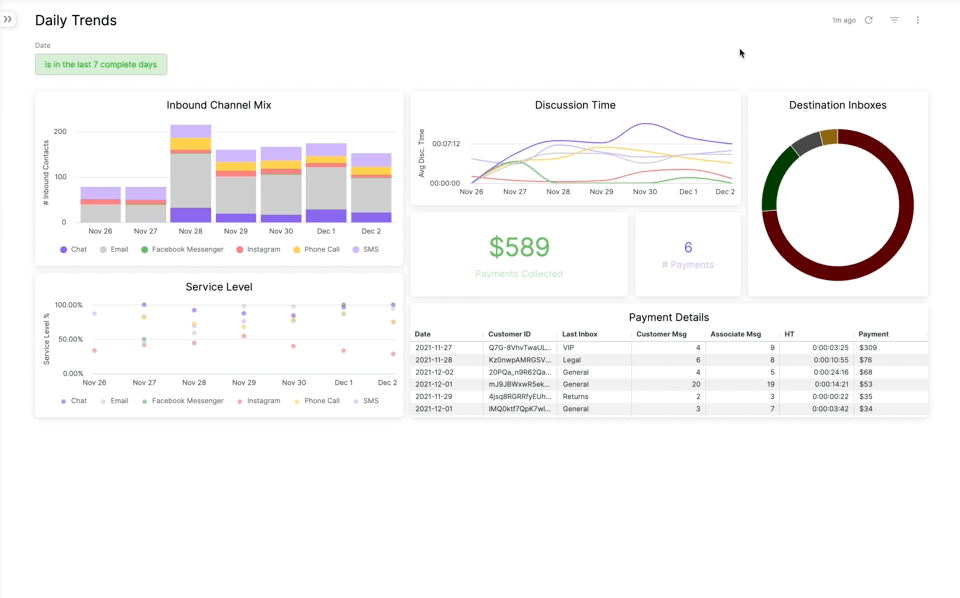 Gladly is a customer service platform that takes a more personal approach to customer interactions. Like all other customer service software, Gladly links all social media, SMS, and emails so you can access them in one hub. What's more?
Smart Replies: This feature uses AI to suggest relevant and personal responses to customer inquiries. You can quickly choose the best response and send it to the customer, providing faster and more accurate support. This feature is of great help for mid-sized and enterprise businesses to scale up the throughput per CS agent.
Omnichannel Support: Gladly provides a truly omnichannel support experience, allowing customers to reach out to your business through their preferred channel. You can switch between channels mid-conversation, providing a seamless experience for your customers and allowing you to handle inquiries more efficiently.
However, to access this feature, you'll have to fork out $1,800 per seat and buy at least 10 seats. For SMBs is rather a huge waste of money since they don't have dozens of thousands of inquiries every day across various channels.
Proactive Voice: This is a way for businesses to proactively reach out to customers through phone, email, or live chat rather than waiting for customers to reach out to you. The feature works by using machine learning algorithms to identify customers who may need help based on their previous interactions, behavior, and purchase history. This helps businesses to take a more personalized approach to customer service, which can lead to higher customer satisfaction, closed deals, and loyalty.
Pricing: Gladly starts at $150 user/month, billed annually. 10 seats minimum. With that, your minimum spending goes up to a whopping $18,000.
Best for: Mid-sized and enterprise-level companies with at least 10 customer success agents on board.
5. Help Scout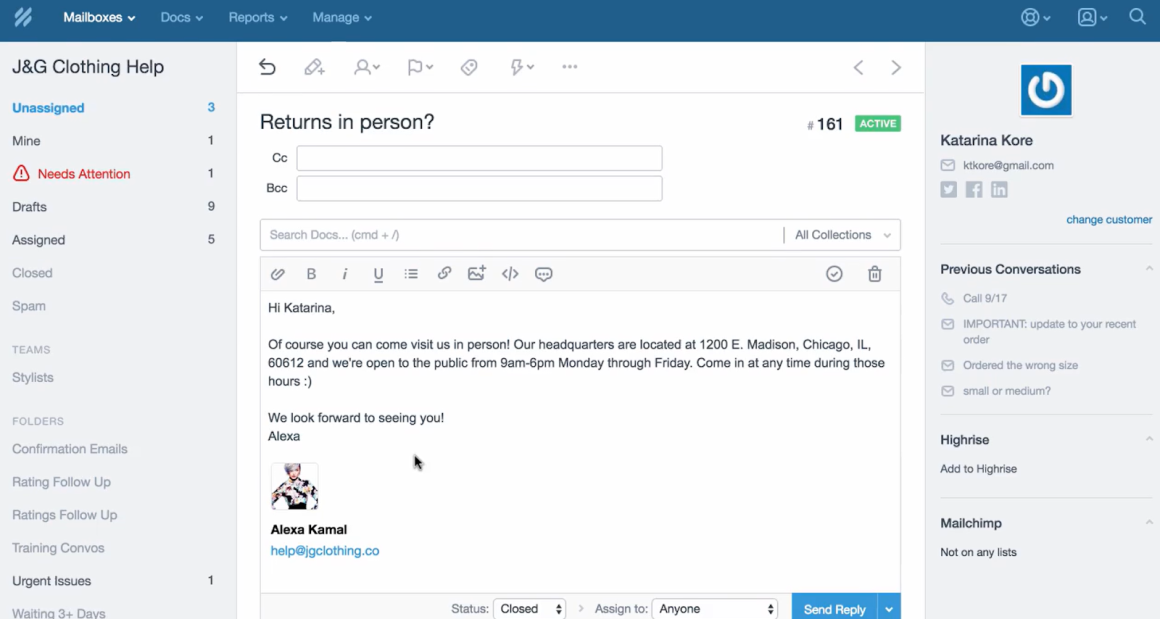 HelpScout is a customer service platform catered to help small businesses simplify and streamline their customer service operations. Like Helpwise, it offers an array of features for managing customer inquiries, support tickets, and live chats in one central location.
Beacon: Create a smart knowledge base with HelpScout's Beacon feature and provide customers with instant answers to their questions without the need for live support. Design an FAQ section for your website, add articles, and use AI-powered search to help customers promptly find the information they need.
Reporting: Access in-depth insights into your customer service team efficiency. Track key metrics, identify areas for improvement, and measure your team's performance. You can view custom reports, filter data by date range and team member, and export the data to a CSV file for further analysis.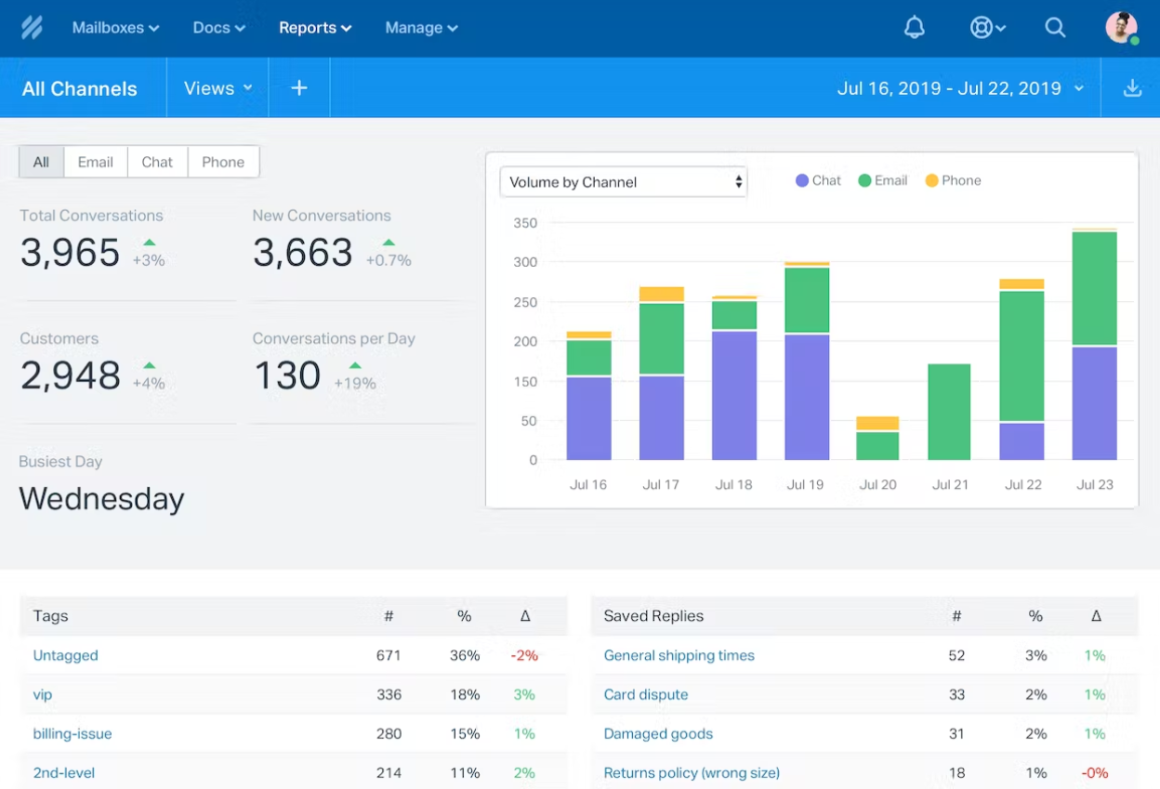 Automated Workflows: Set up rules that automatically assign customer conversations to specific team members based on the type of request. Or set up custom triggers to send automated replies to common inquiries.
Pricing:
A 15-day free trial.
Paid plans start at $25 user/month.
Best for: Small businesses that don't want to dig down into customer analytics and have no need for omnichannel inboxes, as HelpScout doesn't offer either of these.
Even after learning the key features of each platform, the question "Which one should I choose?" still lingers. Head over to the next chapter and find a complete comparison of features in a table view to guide your choice.
Customer Service Software For Small Businesses: A Side-By-Side Comparison
Helpwise, Helpdesk, Gladly, HelpScout, and Freshdesk — all of them have unique features and pretty identical ones like shared inboxes. Which tool would be the best choice for small businesses, taking into account their needs and budget constraints?
First, let's identify what tasks should solve a customer service platform for small businesses. For example, you don't need fancy integrations and intelligent routing just because the volume of customers doesn't require this.
In turn, small businesses will benefit the most from:
Universal inboxes
Live chat
Simple automation rules
Team management features
NPS and CSAT surveys to gauge customer loyalty
Reporting and analytics
A cost-effective solution
A super user-friendly interface and customer support
Which tool ticks all the boxes?
Below is a breakdown of features available for the cheapest monthly plans of customer service software.
| | | | | | |
| --- | --- | --- | --- | --- | --- |
| | Helpwise | Zendesk | Freshdesk | Gladly | HelpScout |
| Cost per user per month | $15 | $49 | $18 | $150 | $25 |
| The number of seats | Unlimited | Unlimited | Unlimited | From 10 seats | Up to 25 seats |
| Live chat | ✅ | ✅ | ⛔ | ✅ | ✅ |
| Universal inboxes | Only email & live chat. Universal inboxes start at $25/month | ✅ | ⛔ | ✅ | ⛔ |
| Reporting | ✅ | ✅ | ✅ | ✅ | ✅ |
| Automated workflows | ✅ | ✅ | ✅ | ✅ | ✅ |
| Team management | ✅ | ✅ | ✅ | ✅ | N/A |
| CSAT & NPS | ✅ | ⛔ | ⛔ | ⛔ | ⛔ |
| Team collaboration: notes, tags. Shared drafts | ✅ | ✅ | ✅ | ✅ | ⛔ |
| Support | Email | Email | Email, phone | Email | Email |
With that, Helpwise and Zendesk go neck and neck features-wise, while Helpwise offers more cost-effective and ultimate solutions for small businesses with a more user-friendly interface. HelpScout, in turn, also comes with a suite of tools for small businesses and an affordable price.
Choosing The Right Customer Service Platform
Lastly, find quick tips on how to pick the best customer service solution for your business.
First, list all your business needs and the type of support you want to provide for your customers. Second, sign up for a trial period for each platform and test them out. Focus on how easy it is to navigate and get your jobs done from the get-go.
Evaluate the support by contacting CS agents. See how quickly you were able to reach an agent and if they were able to effectively answer your questions. Were you fully satisfied with that experience? What did you like/dislike?
Finally, take your budget into consideration.
Want to get started with Helpwise? Get a personal demo to address all your questions!