It's All About Customers These Days
So, you are building a thriving business and are moving mountains to serve your clients in the best way possible. You treat them like kings/queens and offering superb customer service to meet their wants and needs at every step of the journey.
Or so you believe…
So how can you know if your customer service strategies are bearing fruits? How do you know if your offerings are satitating customers? What do they like and dislike about your services/products? More importantly, how can you best keep pace with their ever-evolving demands?
Multiple such questions, one single answer: Customer Feedback!
Importance of Customer Feedback
Michael Dell once quoted, "If we have 99% [market] share of Ford Company, the question to us is 'How do we improve the customer satisfaction in order to get that additional 1% share?"
Happy customers not only increase your bank balance but also become your biggest brand advocates. While businesses considerably focus on attracting new customers and retaining existing ones, they do not have a clear vision of how their customers define "happy." They read blogs, execute programs, and experiment with new customer services strategies, but it does not fit the bill.
Do you know that 4 out of 5 (loyal) customers will leave a brand after facing inept customer experience (CX) even twice or thrice?
No matter if you are a just-launched startup or a Fortune 500 firm, collecting and examining customer feedback is quintessential.
Why?
Let's take Apple's example. The tech giant sends out customer survey emails after customers buy an Apple product to measure their satisfaction levels. This enables Apple to enhance its customer service interactions – pivotal in overall customer satisfaction.
No wonder Apple leads the pack when it comes to Net Promoter Score (explained later). The company notched up an NPS score of 60 in 2022, putting it at the top of its industry.
Whether you're building a new offering or reinventing an existing one, collecting customer feedback is critical to striking the right chord with your target audience and users.
In a nutshell, if you want to win over customers, you need to up your customer service game – especially in these uncertain times.
7 Important Types of Customer Feedback
Now that we know the why, let's dig into how to collect customer feedback effectively.
01. Customer Satisfaction Surveys
Customer satisfaction (CSAT) surveys cover how people feel about a brand and its offerings. This type of customer feedback offers a view of what customers think about your support team, and eventually your business. Usually, they contain simple multiple-choice questions (MCQ) asking customers about how satisfied they are with customer support quality.
More the CSAT score, happier the customers. You can leverage these insights to improve upon your service quality, remove loopholes, and innovate within your field. That way, you can enjoy long-lasting customer stickiness while hooking more and more people into your orbit.
As sugar on top, you can reward/promote agents hitting higher CSAT score, while conduct training sessions for those failing to reach the quality benchmark.
Furthermore, CSAT surveys help determine how you can specifically provide proactive support and find cracks in what could be missing.
But remember, do not get carried away and ask too many or irrelevant questions. Ensure these surveys are quick and easy to fill, and always word them in a manner that offers the most crucial details for your business.
For instance, if you are polling a customer who has just subscribed to your paid package, there is no point asking them if they will recommend the service to others. Your only intention should be to understand how the onboarding process was and if there is any scope for improvement.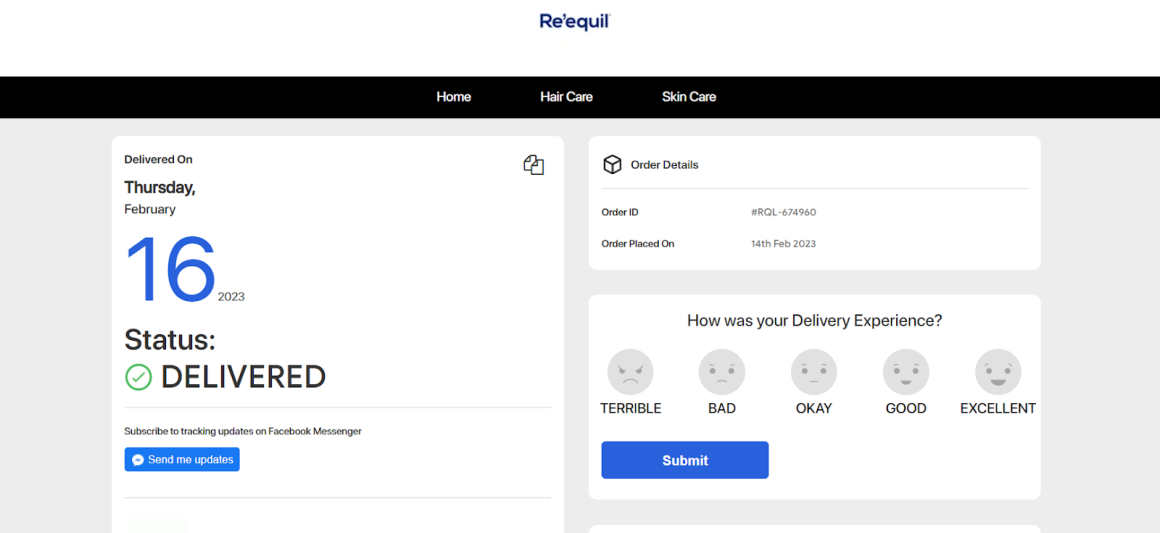 In the survey above, Re'equil asks one simple question: "How was your delivery experience?" Sometimes, that is really all you need.
02. Net Promoter Score
Net promoter score (NPS) is a one-question response to gauge customer loyalty and satisfaction. This customer feedback category reflects people's willingness to promote (via word of mouth) a particular customer service.
NPS responses bank on a single question:
"How likely are you to recommend our services/products/brand to others?"
Responses range on a number scale of 0-10, with promoters (regulars) responding with 9-10. Those scoring your business between 7-8 are passives who will not churn quickly yet find your offerings mediocre. Furthermore, respondents putting you in the 0-6 range are detractors – unhappy customers who have had a negative experience with your brand and will likely drag you through the mud.
If your NPS is low, implement aggressive, corporate-wide strategies to improve customer service experience. If your brand lies in a mid-range score, assess NPS scores of industry leaders to determine how they are able to maintain such a high rating. Set internal benchmark goals to mimic their strategies and apply them in your internal operations.
03. Feature Requests
Perhaps one of the most vital types of customer feedback comes from feature requests.
Why? A feature request helps you learn what your customers feel is missing in your product/service and what they want to see more of or would like to be improved. This customer feedback category is as straightforward as it gets: you do not need extensive decoding or assessment to work with feature requests.
While feature requests generally stem from a pain point, they also let you tackle obstacles now, as well as road-mapping where to head forward. You can invite this customer feedback via surveys inside your platform, app, or website.
Additionally, you can host a feature request section in your community forum if you have one. That said, make sure the feature requests are clear, crisp and to the point. Eliminate all the fluff as it is distracting and difficult to understand.
04. Online Reviews
Thinking online reviews got buried within all the Internet noise? Think again. About half of the customers trust online business reviews as much as personal recommendations. Moreover, 4 out of 5 customers always or regularly read feedback on review sites.
Customer reviews show what your customers like and dislike about your after-sales services. At the same time, they help potential users get a gist about the product and make purchase decisions accordingly.
Beyond that, this type of customer feedback helps you publicly address them in feedback forums, fix them, and respond to feedback. Giving customers the attention they deserve will keep you in their good books.
Look at Aircall's response to a user who recently left a review complaining about the product and customer support.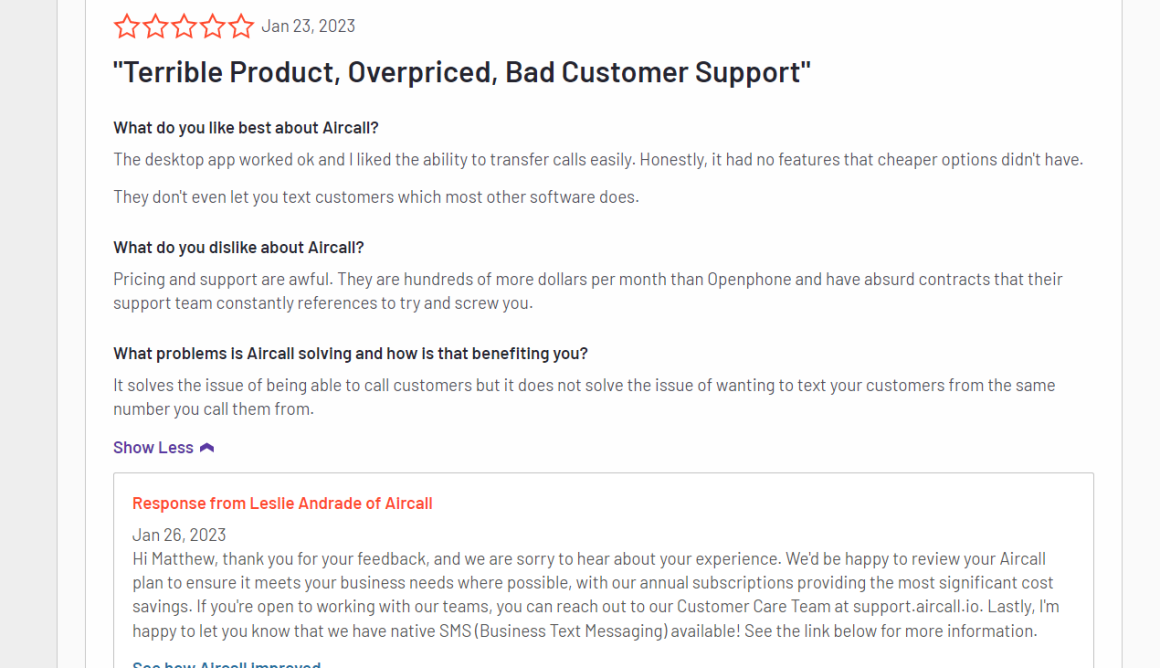 For negative feedback, go beyond saying "sorry" by elaborating on what you can and will do to resolve their issues.
05. Bug Reports and Complaints
Bugs are imminent. If left unattended, they result in poor customer experience and churn. A buggy product is a big no-no.
First and foremost, handling complaints requires a troubleshooting mindset. Do not view a complaint as an insult but as an opportunity to tweak your offering.
While complaints and bug reports might well underline something that is not working, they also inform you about how your customers engage with your offering. This holds particularly true if you run an online business with a digital product, for instance, SaaS.
Besides, this type of customer feedback helps convey that you are proactive and dedicated to enhancing your customer's experience.
06. Interviews
If you genuinely want to understand someone, you will have to approach them. Interviews open up conversations that otherwise would not happen. Listening to a person's voice and tone helps understand customer sentiments about your offerings.
Qualitative stories from customers add color and nuance to quantitative feedback – data. Besides, conducting customer interviews empowers you to challenge false assumptions that formed over time.
The key here is that you should show true interest in understanding people's problems and offer them solutions. Do not call customers just for the sake of it. Reach out to them because you care. Remember, this is not a sales call.
07. Engagement on Social Media Platforms
Social listening lets you access an otherwise untapped reservoir of candid customer feedback. Apart from direct company mentions or customer comments on social media platforms, you can turn to built-in polling tools several apps offer.
Polls are an excellent way to drive engagement on your business's social media handles and help dive into how your focus group perceives your brand. Consequently, you can align your marketing strategy with your customers' behaviors and preferences.
Look at this quick poll on LinkedIn: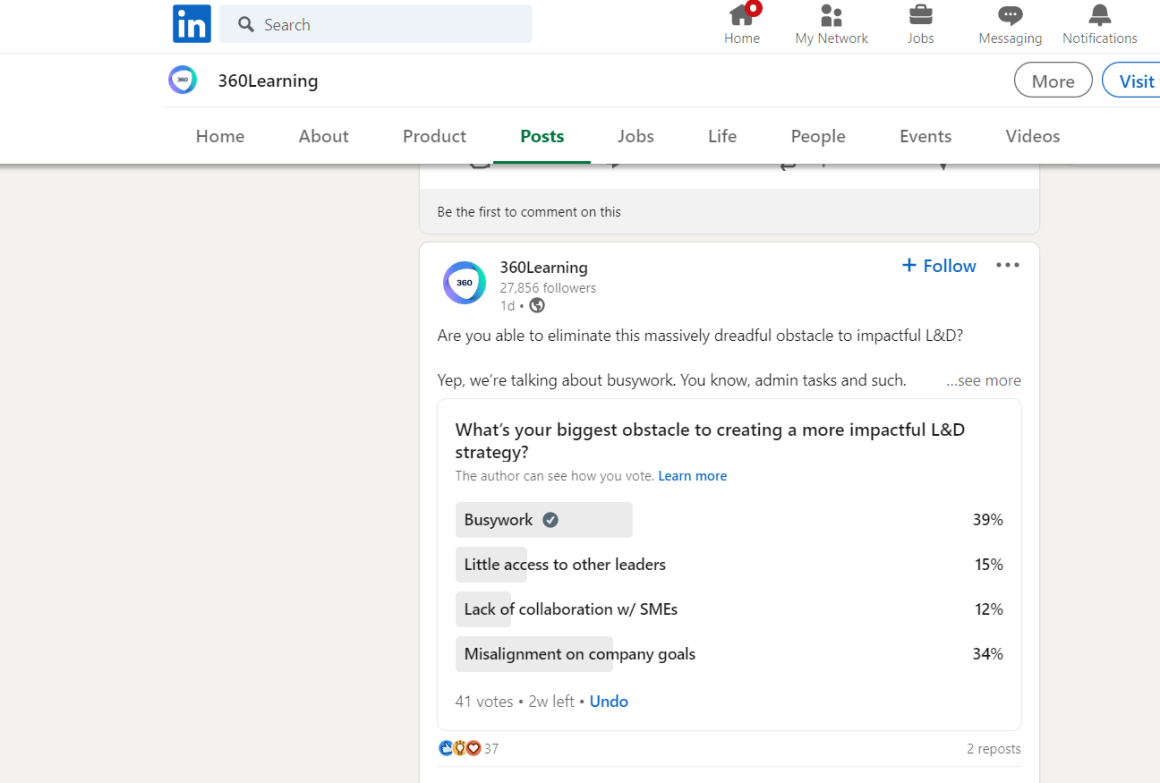 360Learning created a survey about learning and development (L&D) strategy and measured whether its LinkedIn audience was engaging with it.
7 Must-have Questions in your Customer Service Surveys
Customers will not always come running to you to share their views; you have to seek their feedback actively.
But what questions should you ask? Which ones will bring you the most valuable insights? Most importantly, how do you ask for customer feedback in the first place?
Fret not!
Here are seven vital brand survey questions to get started.
01. How did you hear about us?
While web analytics data help understand incoming traffic on a macro level, it cannot identify what drove someone to type your business site's name into the URL bar. Hence, this question helps you single out the best digital channels to invest your marketing budget in.
02. How likely are you to recommend (your company) to a family member, friend or colleague?
In a hyper-connected economy, word-of-mouth marketing still ranks among the most cost-efficient forms of customer acquisition. If your customers love your offerings, they are more likely to recommend them to their family and friends.
03. What made you choose us over others?
What makes you shine in the marketplace?
Here, you ask for information to analyze how you are faring against your market rivals in your customers' minds on service, price, and features. You might even find out a competitive advantage you were unaware of.
You want to know what tilted the scales in your favor.
04. What are the 3 most important features/products we're missing?
Answers to this question help you identify what is most important to your customers. Also, it provides you with ideas to outsmart the competition when it comes to new and better offers that can boost your customer retention and acquisition.
05. If there is ONE thing our product does better than others, what is it?
While most businesses try to define their unique selling proposition (USP), their definition can differ from that of their customers. So, use this question to determine your USP – what makes your brand and offerings unique and sought-after for your audience.
06. Did you find what you were looking for on our website?
Place this question on your most critical web pages, such as the homepage, FAQs page, and features page. You will figure out if your web pages are user-friendly and insightful. This helps you detect any oddities that might be elevating your bounce rates.
07. Based on your recent support call, how difficult or easy was it to communicate with our agent?
This question helps you understand how well your customer service personnel are doing in addressing user concerns. Moreover, it is a potential indicator of the efficiency of channels used for the communication.
6 Ways to Use Customer Feedback
Customer feedback is a goldmine of insights – if you know how to gather and leverage it effectively. Otherwise, you are missing out on a lucrative opportunity.
Do not start celebrating when your customers praise your brand on online platforms. That is half the job done. The remaining half – and more significant – is incorporating customer feedback into your support interactions.
Let's see how you can tease the maximum value out of the collected customer feedback.
01. Make your Product more Consumer-centric
It does not matter how you perceive your brand but how your customers perceive it.
Case in point, if you are a snacks maker, you might associate your brand with taste, convenience, and hunger.
However, your consumers may buy your products because they associate your brand with health, clean label, and organic. So, you should rethink your marketing according to those values too.
Your customer support team can answer many of these probing questions for you. Instead of spending money and time surveying consumers continuously, your support team can just ask these questions while talking to customers. Their responses will offer you valuable insights into improving your products, marketing, goals, and employee training.
02. Spot Areas of Improvement
Often, your loyal customers are well-versed in your product features. Some of them might understand your offerings as well as your product managers do.
Brainstorming sessions can only take you so far – the raw information comes from those who use your product regularly. This is the feedback you must get wise to.
So, start focusing on the suggestions your customers provide to you. As sugar on top, inform those customers that you acknowledge their feedback and have taken steps to improve.
Willingness to hear and consider customers' ideas will not only garner their appreciation but will also help turn them into brand advocates.
03. Train Support Teams to Better Answer Customer Queries
Customer-facing incteractions help you understand what exactly your customers are looking for all over the Internet.
Suppose a majority of your customer base faces difficulties while using your new product. You can take note of this input and team up with your support crew to create how-to guides to answer customer queries at length. 
04. Personalize Customer-facing Conversations
Imagine you are a barista at a small-scale café. You know the names of every single person who orders coffee from your establishment. Sounds personal, right?
Now, picture yourself knowing which coffee flavor each one loves, the amount of sugar, and the strength of caffeine they want. You understand their accent and language and the offers that excite them.
Thanks to customer feedback, you can achieve this scale of personalization without needing perfect memory. Having all these insights on your customers empowers your support staff to personalize omnichannel conversation based on the receiver's needs, wants, and desires.
So, every once in a while, you can reach out to your customers and inform them about new product/feature launches and ongoing deals you know they actually like.
05. Filter out Irrelevant Channels
Another aspect customer feedback uncovers is where your focus groups are most available. Emails? Phone calls? Live chats?
Do not toy with your customer service budget. Have patience and let customer feedback convey your prospect's preferred channels, then reach out to them via those chanels.
06. Nurture Customers into Brand Patrons 
It is not always about addressing issues. Customer feedback can also help you identify your happiest customers and discover potential advocates.
Make your customers enthusiastic enough to heap praises on your product (s) and recommend them to their acquaintances. Their authentic opinions and reviews act as magnets for new users. The idea is that your customer acquisition strengthens when your current customers spread the positive word about your brand.
So, walk the extra mile for your all your customers, and check if they would be willing to recommend your brand to their family, friends, or colleagues.
Always Listen to your Customers for Long-term Success
The lifeblood of your business is not the services or products you sell – it is your customers. Be it a 5-star review or an anger-filled complaint, customer feedback is invaluable for business owners wanting to outclass their existing customer service strategies. No matter how you look upon customer feedback, you cannot deny the value it can bring to your business.
You can launch the most leading-edge product in the market. But without excellent customer service, your business will suffer as negative experiences will taint your reputation.
So, if you want to get on the gravy train, never ignore your customers' voices. Else, they will find one of your hungry competitors striving to capture the value at stake.
Peek into their brains and use those sentiments across all corporate levels and departments, from product development to marketing strategies.
Once you master analyzing customer feedback, success is just a hop, skip, and jump away.
Use Helpwise to gather customer feedback and decode questions like: Why are customers leaving unsatisfied remarks after interacting with our support staff? Where and how can our customer service department improve?