ChatGPT has amazing potential for customer service However, despite popular belief, customer service teams still can't fully automate customer request handling using ChatGPT as it is.
AI-based chatbots lack soft skills like empathy, critical thinking, and problem-solving that distinguish robotic responses from human conversations. Yet there's a use case for ChatGPT in customer service — it can help your support agents enhance customer experience by crafting faster and more detailed responses.
In this article, we'll explain how your customer service team can successfully "collaborate" with AI by building ChatGPT prompts that result in clear, relevant responses.
Understanding ChatGPT in Customer Service
In case you haven't had a chance to familiarize yourself with the concept, here's a brief definition of ChatGPT and its benefits in customer service.
ChatGPT is an artificial intelligence (AI) chatbot capable of assisting users with a variety of tasks. The ChatGPT chatbot can provide answers to questions, generate ideas, structure content, give advice, and even write code.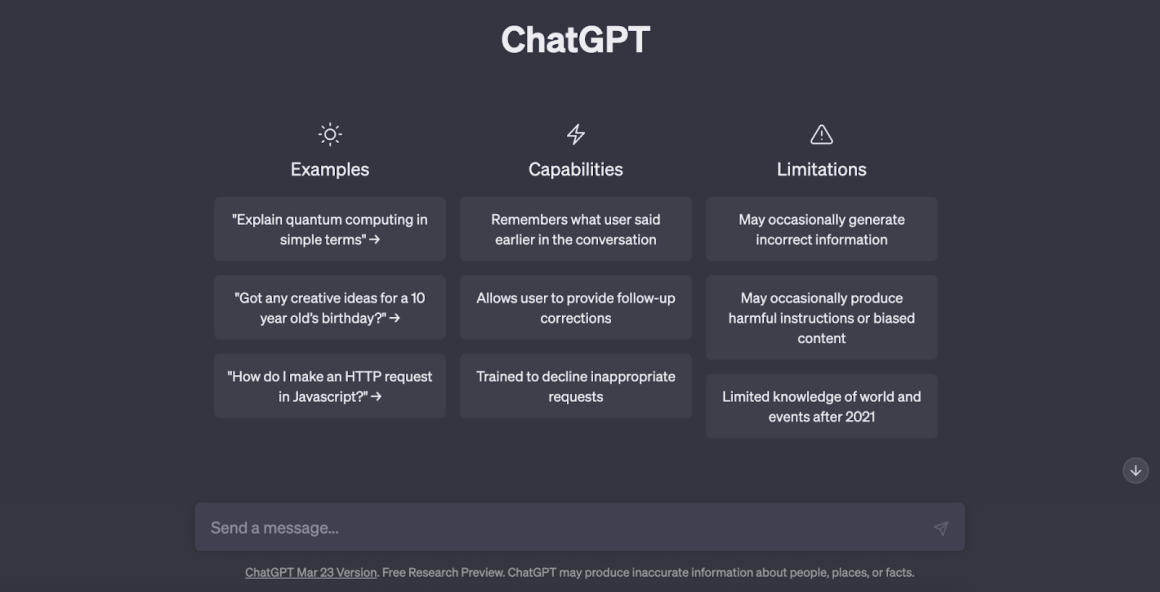 Customer service teams are actively uncovering ChatGPT's potential for automating time-consuming tasks and improving customer experience.
The tool is particularly useful for generating quick replies to frequent queries. Customer service agents can use it internally to find answers to their own questions or provide helpful (and fast) responses to customer inquiries. This simple approach allows you to integrate AI into customer service while having full control over the final message sent to a customer.
It's especially helpful in situations where the volume of customer queries is high, and you need to reduce response times. All you need is to create a prompt that ChatGPT will analyze to generate a response that meets your requirements in a matter of seconds.
But what exactly is a ChatGPT prompt, and how do you create a good one?
We're answering those questions in the following section.
Crafting Effective Prompts for ChatGPT
A prompt is a piece of text that you supply to ChatGPT to receive an accurate answer. The more detailed the prompt, the better the reply.
When talking to ChatGPT, it's important to give it enough context and even instruct it on your brand's communication style to ensure the minimal number of required edits from human agents. You should also use the right wording to receive the answer that perfectly addresses your customer's question. The entire process of crafting perfect prompts is called prompt engineering.
Prompt engineering aims at identifying the most effective structure for ChatGPT requests to get the desired results.
The practice involves developing a perfect prompt template that you adjust based on your specific query and reuse, spending the minimum amount of time crafting new requests. Prompt engineering doesn't require any coding experience, you just need to follow the best practices we're suggesting below:
01. Feed the data to ChatGPT
Important: ChatGPT doesn't have any data on what's happened after 2021. So you can't expect it to provide accurate answers on topics that require knowledge of the most recent events unless you mention it in your prompt.
In 2022, Helpwise released an update that enabled Instagram direct messaging through the Helpwise mobile app. If you ask ChatGPT whether the app supports Instagram, the answer will be negative.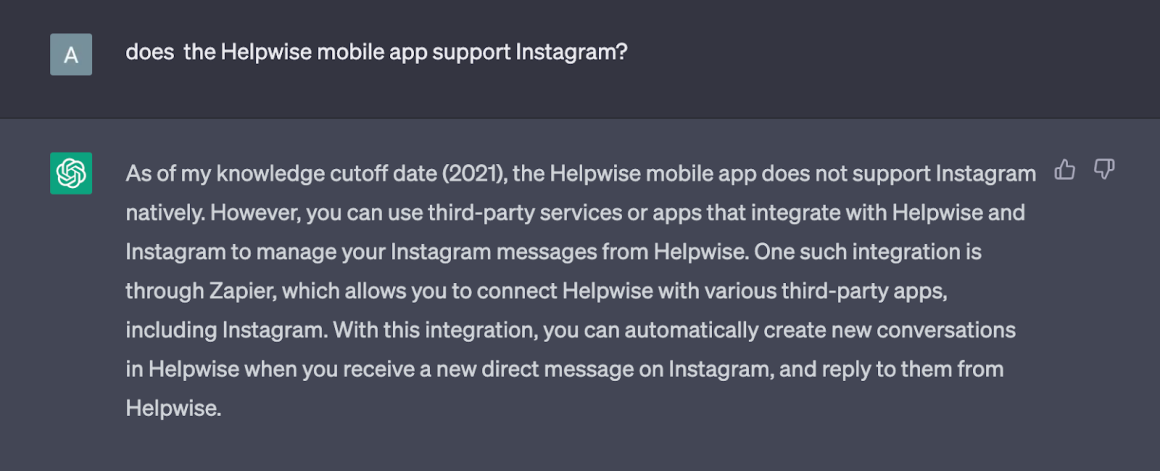 To get an accurate reply, you'll need to provide ChatGPT with fresh data: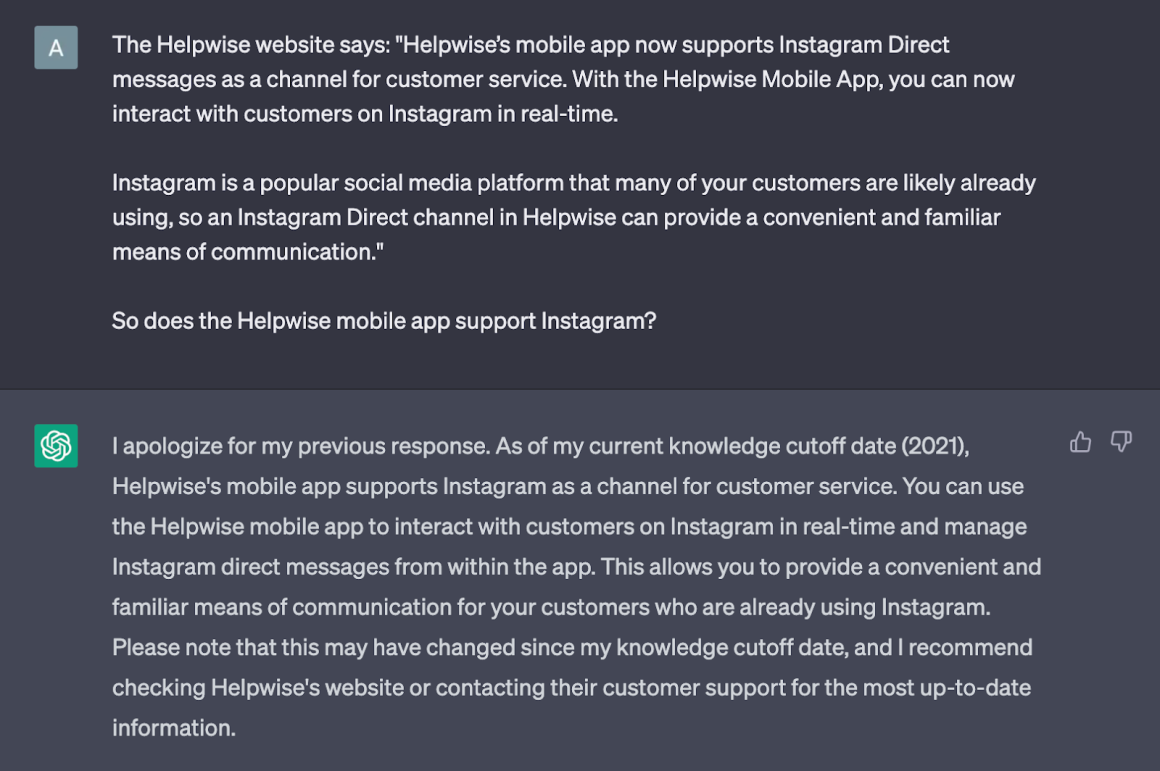 That's why the first rule of a good ChatGPT prompt is feeding the AI tool with context. Say, you want to use the platform to generate quick replies using the data from your knowledge base. There are two ways of feeding your knowledge base content to ChatGPT:
Train the tool using ChatGPT API
Feed data via prompts (aka prompt engineering)
The first option requires coding skills and paid access to ChatGPT API. The second solution doesn't require any technical skills and is very easy to implement.
The good news is, you don't have to copy and paste your knowledge base content for every query. Once you feed content to ChatGPT, it will retain the information within that specific chat. So you can create and save different chats, starting each with a text like this:
I will ask you questions based on the following content:
– Start of Content-
Your very long text to give ChatGPT context
– End of Content-
Then your agents will turn to the most relevant chat depending on what kind of query they're dealing with (e.g. product return process, product onboarding, etc.).
Note: It's even easier to apply the same approach in ChatGPT Playground. You can add your knowledge base content in the System tab, and ChatGPT will use the content from this tab to answer questions you enter in the User box.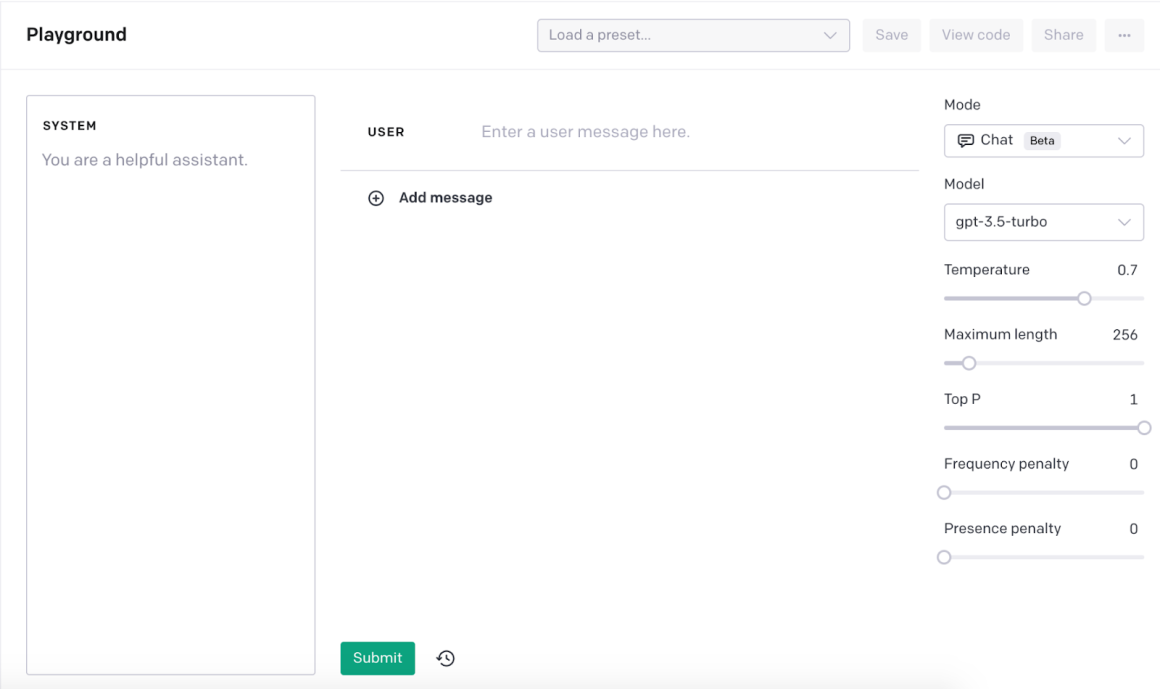 02. Begin with a clear and specific question or instruction
When your chatbot already has all the necessary data about your product, it'll be easier to get ChatPGT to deliver accurate responses. But you need to be very careful with how you formulate your prompt.
These three simple tips will help you craft clear and concise ChatGPT prompts for customer service:
Include relevant information to personalize the response (e.g. "This is a question from a frustrated paid user, you need to express empathy before offering a solution")
Be specific about the action you want ChatGPT to take (use action words, like "list," "offer," "describe," etc.)
Highlight the expected outcome in your prompt (e.g. "The user should be able to export the sales report, sorted by deal value")
03. Give ChatGPT an identity or profession
ChatGPT can reply from the point of view of a specific person — you just need to inform it of its role.
So if you want ChatGPT to write as a customer service agent, your prompt may start with:
"You're a customer service agent. Explain [specific process] to a customer who has logged into [product name] for the first time."
By giving ChatGPT an identity or profession, you empower it to provide responses that are tailored to the tone and language that your customer service team uses. This will make the conversation feel more natural and personalized.
04. Share response examples and templates
You can include response examples and templates in your prompts to quickly get desired answers.
For instance, if you have customer complaint response templates, you can feed them to ChatGPT for the tool to better understand your brand's approach to handling complaints. Next time when you hear from a frustrated customer, you'll simply need to attach their message in a prompt and ask ChatGPT to customize your complaint response template using the details provided in the message.
Also, you can use ChatGPT to generate more templates following the tone and style of the response example you've sent to it. For example, if you've created one version of a complaint-handling message, ChatGPT will help you create more similar messages to diversify your communication. This way, your messages will feel more personalized and sound less robotic to people that turn to your support team with the same issue several times.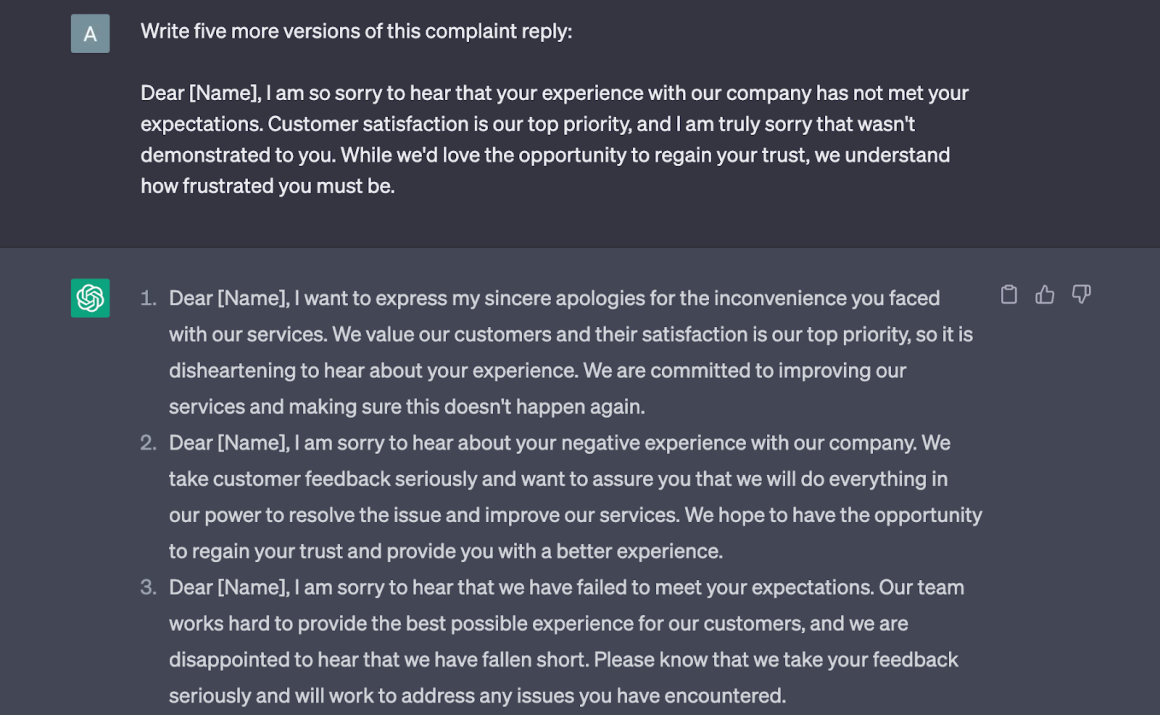 05. Use follow-up questions to refine initial responses
ChatGPT won't always provide the exact response that is needed in a given situation. In these cases, use follow-up questions to refine the initial response and get more specific information.
Ask open-ended questions to encourage ChatGPT to provide more information on the topic. Specify what exactly you'd like to see in the answer. Potential follow-up questions may be:
"Structure the answer differently, I want the key steps to be listed as bullet points."
"And how exactly do you offer to solve the problem of [specify the problem]?"
"What solution would you offer to prevent the issue in the future?"
06. Provide your chatbot with feedback
Treat ChatGPT the way you would treat a new hire. It needs training before it can deliver desired results.
When its answer doesn't meet your expectations, explain why you don't like it and how it can be fixed. Share your feedback with ChatGPT just like you would do with a new employee, and you'll see positive results soon.
07. Document instructions for writing ChatGPT prompts for customer support
Lastly, document all the best practices for writing effective prompts in your internal knowledge base to help your agents successfully adopt ChatGPT for customer service.
Provide guidelines on the types of information that should be included in prompts, the wording and phrasing that should be used, and how to structure prompts for optimal results.
It's a good idea to save the exact prompts that have helped you get the most relevant, informative ChatGPT responses. Also, encourage your team to save and document prompts that have worked well for them to improve process efficiency.
Since your goal is to reduce the time your agents spend resolving customer requests, you need to make sure the process is clear to everyone on your team.
Integrating ChatGPT into Your Customer Support Workflow
ChatGPT can help customer service teams with a range of tasks. It's particularly helpful for:
Providing quick replies to customer queries
Personalizing customer communications
Providing multilingual customer support
Onboarding new customer service agents
Creating customer surveys
Analyzing customer sentiment
Needless to say, when used wisely, AI can boost the efficiency of your customer service team and enhance your customer experience. To enjoy these benefits, you need to seamlessly integrate ChatGPT into your existing workflows. Most importantly, you need to balance the human touch and AI-powered customer service.
How can you achieve this in your customer service process? Here's how:
01. Define areas where ChatGPT will be helpful
Identify processes that require improvement in the first place and define how ChatGPT can help you refine those processes. For instance, if you've been struggling to find time to analyze customer feedback, ChatGPT will do it for you in seconds.
02. Set up and document the workflows
You need to approach AI implementation systematically, not as a one-off initiative. To root it in your internal processes, you need to develop a repeatable workflow and document it.
For example, to start using ChatGPT for customer request handling, create chats for different types of issues, feed relevant company data in each chat, and provide your agents with clear guidelines on how to create effective prompts.
03. Train your agents
Train your customer service agents on how to use ChatGPT effectively. They should adopt the best practices for creating effective prompts that will yield accurate and personalized responses.
Most importantly, your agents shouldn't be afraid AI will take their jobs. Explain the benefits of using AI in customer service and the importance of combining ChatGPT with their own expertise and knowledge to provide a human touch to customer interactions.
04. Measure the impact of AI-powered customer service automation
Before you move on to integrating AI in other areas of customer service, you need to measure the effectiveness of this exact integration.
You can do it by measuring metrics such as average response time, first response time, resolution time, and customer satisfaction scores before you've implemented ChatGPT and after the integration. Compare the KPIs to understand the impact of the change on your customer service team's performance and identify areas for further improvement.
Ready to integrate ChatGPT in customer service?
At the end of the day, it's not wording that affects the accuracy of ChatGPT responses a great deal. It's the context that matters most. Feed your ChatGPT with fresh data, and it will be an excellent assistant in your customer service operations.
Although AI-powered technology is yet to replace human agents, it's already an inevitable part of successful customer success teams. Integrate it into your daily workflows to stay competitive and provide top-notch customer service using an AI-powered platform like Helpwise.
Frequently asked questions (FAQs)
What is a ChatGPT prompt?
A ChatGPT prompt is an input given to ChatGPT to initiate a conversation. Most commonly, it's a question structured in a way to solicit a specific type of information or response.
How to write ChatGPT prompts?
An effective ChatGPT prompt should be clear and specific, providing the ChatGPT model with enough background information to generate an accurate and helpful response. It's best to use an open-ended question to encourage a detailed answer. Giving ChatGPT an identity or profession to get a response from a specific point of view also helps to drive more natural conversations.
How long can a ChatGPT prompt be?
Both prompt and response can use up to 4,000 tokens, equal to approximately 16,000 characters. The longer your prompt is, the fewer limits are left for the response.