Are your customer service representatives feeling intimidated by ChatGPT and fearing for their jobs?
By now, we all know about ChatGPT and the remarkable capabilities of generative AI. And from here, It is only going to learn and evolve.
While the speculations of AI taking over jobs aren't new, the unbelievable human-like responses this AI language model generates have strengthened the fear. In fact, some job roles have already started to see the effects.
So, you can't deny the fact that if that happened at the mass level, the customer service profile is one of the first ones to be replaced by AI.
As a customer service manager, what can you do about it?
Well, ChatGPT is at your disposal if you use it right. You can train your team on the ways to use the AI tool as a virtual assistant and up their customer service game, making them indispensable.
However strong the speculation, generative AI tools like ChatGPT still lack empathy and emotional intelligence. The quicker your team will learn to use it as a tool and upgrade themselves with ever-evolving AI technology, the better.
Besides, human interactions are invaluable. So, if you tap into that potential efficiently, no advanced machine can replace you.
If you don't know where to start, we have curated 50 ChatGPT prompts for customer service that will help your team leverage the power of AI to its best and tackle various customer service challenges effectively.
What is a ChatGPT Prompt, And How Does It Work?
ChatGPT has already taken the world by storm in a few months.
This revolutionary AI language model is capable of understanding sentiments and context. And it can produce accurate and relevant responses based on the inputs you feed it. These inputs are called ChatGPT prompts.
In simpler words, ChatGPT prompts are simply questions to ask ChatGPT. These prompts facilitate conversations between the generative AI and humans. The more elaborate and contextual the prompt is, the better the result.
Hence, you can use this tool to train your agents and equip them with exceptional expertise on how to deal with customer issues and recurring customer queries in a considerate and graceful manner.
The best thing is, ChatGPT can be used in real-time. So, if any of your agents are stuck in a situation, they can immediately feed a prompt to the AI tool and have a solution ready. This method can increase the resolution rate and decrease the average handling time significantly.
Besides, the real-time application of ChatGPT, when used right, can increase your team's productivity and result in a higher customer satisfaction rating.
50 ChatGPT Prompts For Customer Support Challenges
General ChatGPT Customer Service Prompts
These prompts will give you solutions for general customer service scenarios.
Generate 5 variations of call openings for customer service representatives of [company name]. The customers call in for various queries and issues related to our [products] they have bought. The greetings should be polite and empathetic.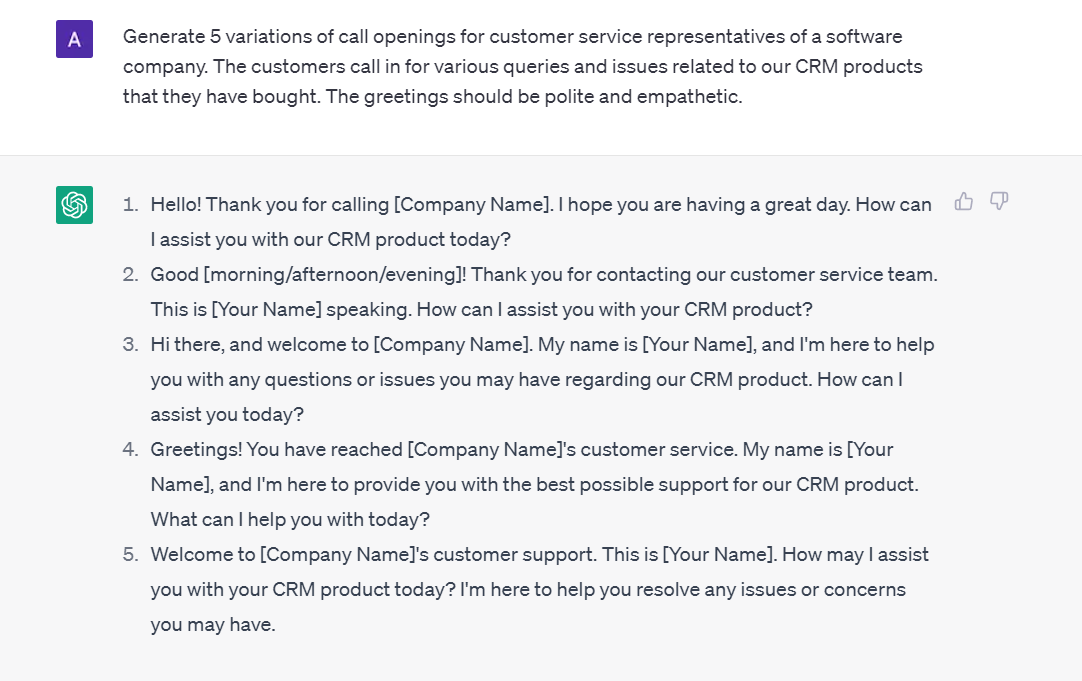 Act as a customer service rep in [Your Company Name]. Now share some examples of how you would open a call/ chat to address an irate customer.
Generate a call script to build rapport with a caller who is a potential customer and is curious about our products/services. Be polite and persuasive, but do not sound aggressively salesy.
Imagine you are a customer support representative at [your company name], and a customer has called you regarding an issue with our software subscription they have purchased. Connect with the customer while you troubleshoot their issues, and build rapport.
We are a company that [enter what your company does]. Suppose you are a customer support executive. You need to gather essential information from our customers to suggest the most suitable solutions [that cater to their needs]. How would you do it?
One of the prominent features of ChatGPT for customer service is that it remembers the previous conversation with a user and builds on it. So, if you need further info or suggestions on the answer it offered, you can ask in the next prompt. For example, your customer may or may not like the solutions your agent offered. You can ask ChatGPT about what it would do in such a situation.
What if the customer doesn't like the solution you provided and asks for other options in the above scenario?
ChatGPT Prompts for Customer Support Handling Product or Service Inquiries
A potential customer has called in to inquire about [Your product] and its capabilities. [ Explain a little more about your product]. How would you handle the call as a trained and persuasive customer service agent? You need to try and convert the caller.
Act as a technical support executive in [Your company]. An existing customer has approached you regarding [a product/service your company offers] and shares an additional feature/idea for the product. You cannot promise the execution of the request or make the decision immediately, but you have to honor the customer's efforts. Generate an exemplary conversation.
Act as a customer service agent for [Company Name]. Our [Software Product] currently has a bug that causes it to crash upon opening. Many people who bought the product cannot currently use it. Many want to return the product, but we want customers to wait. You, as a customer service agent, should understand customers' frustrations and politely encourage them to wait as the team works on a fix. The response should reflect empathy.
A customer reaches out to us to inquire about our product and asks how it differs from other similar products in the market. As a diligent and persuasive customer service agent, provide the customer with relevant and satisfactory information. [add a brief about your product]
We are a service provider. We offer fixed packages with fixed pricing. A customer wants to create their own package to make the service suitable to their needs. As a solution-oriented customer support agent, how would you deal with this situation? We are customer-centric and allow personalization on special requests occasionally.
For other challenges, tweak these AI customer service prompts and generate scripts for your agents in real time.
ChatGPT Prompts to Manage Complaints and Issues
We are a [Industry name] brand. Act as a customer service representative for us. One of our customers placed an order, and it shows that the product was delivered. However, the customer claims that they didn't receive it. Assist the customer, and offer resolution.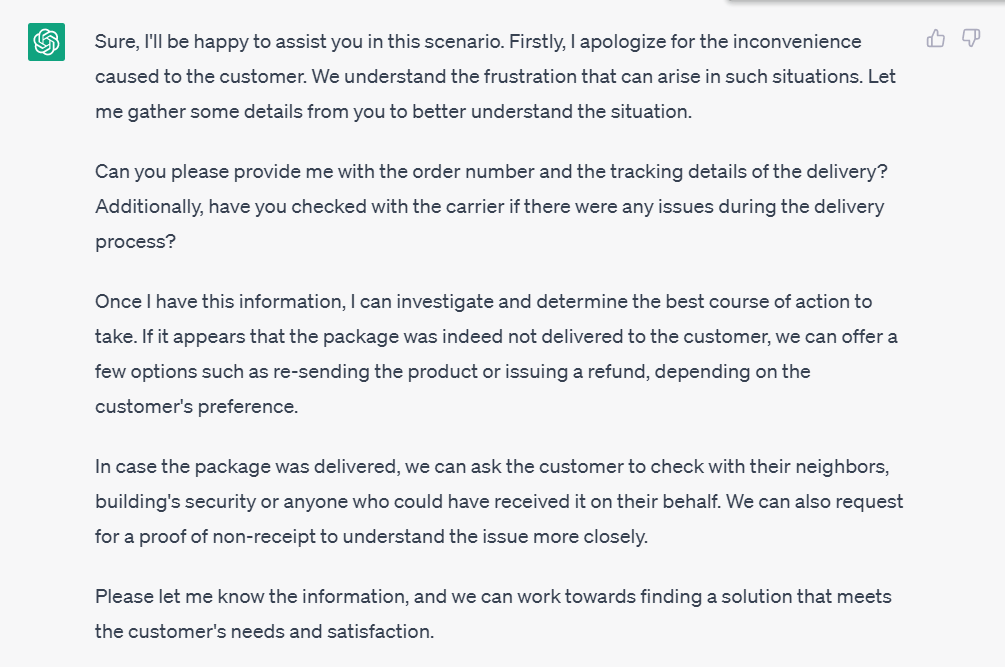 Can you offer an exemplary response as a customer service agent to a customer, who is inquiring about the benefits of our [your product] in French? [ Explain a little about your product and its key features.]
Act as a customer support executive for our product-based company. The customer contacts you and tells you that they placed an order and paid online but haven't received an order ID. You have to probe the issues and offer possible solutions.
A customer has purchased a [Product] from our website. But they received a damaged product. As per our policy, we entertain product replacement or return only when it is delivered damaged and is reported within 7 days. The customer called on the 10th day. Assist the customer as our customer service representative. Be polite and empathetic, and offer a solution.
A customer wants to speak to senior management since they have been complaining about [state the issue clearly]. The customer is very upset. Try to resolve the issue on your end as a customer service rep, but if the customer is adamant, ask for contact details to schedule a callback. Create an exemplary conversation.
ChatGPT Prompts to Assist With Billing And Payment Queries
To create a prompt for billing and payment inquiries, brief the issue, along with a little explanation of your company's billing or payment policy, and ask ChatGPT chatbot to generate a response.
We are a service-based company and charge [your billing model] for subscriptions. The customer contacts our support team to inquire about the billing cycle and the total amount that will be deducted every month. Act as a customer service agent and assist the customer.
A customer claims that their previous bill is still showing due. However, they made the payment last week. You, as a customer support executive, assist the customer with the bill payment history and resolve the issue.
A Customer needs to update their payment information on their account so that their next payment goes smoothly for their subscription to our service. You can help the customer update their payment information by sending them an encrypted form to fill in the details that directly get into the system without any third-party interference. Act as a customer service representative and assist the customer.
A potential customer is interested in our product [Product Name]. We offer [Mention the product category] products and post-purchase services. As our customer service agent, explain to the customer our pricing, upfront charges, and recurring fees during the course of their using the product.
ChatGPT Prompts to Help Navigate Account-Related Queries
ChatGPT is already aware of many general processes to solve account-related issues.
Imagine you are our customer service agent who is diligent and polite. One customer needs help setting up their account and creating a profile on our app. Our product is [brief what your app is about]. Guide and help the customer on call.
When you begin to type questions to ask ChatGPT, you can command the roleplay first and then proceed to explain the scenario, like this:
Act as a customer service agent for [Company name]. Consider the below scenario and generate a sample conversation where you guide the customer:
One of our clients has purchased a team version of our software and needs help setting up different profiles under the admin account. Our software allows custom feature allocation to different people based on their designation in the organization.
Act as a customer service agent for our software company. A client has purchased a multiuser package of the product. However, a few of the users have forgotten their passwords. Probe the issue and guide the client with the password restoration process on the admin panel.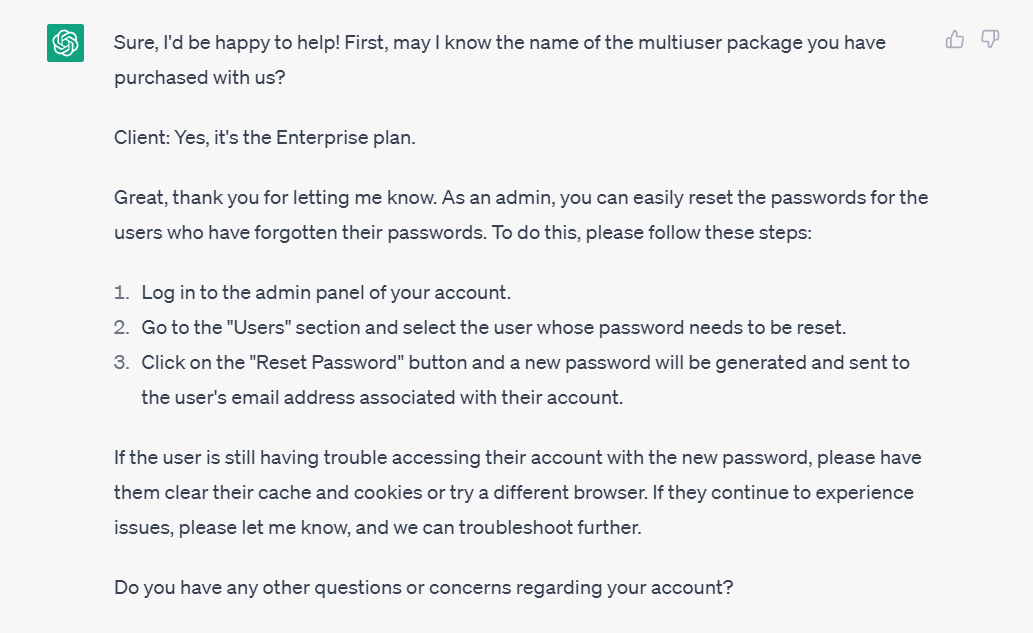 Take the role of a customer service agent for our company [Company name]. We run an e-commerce store [or specifics about your company]. The username of one of our business partners has been deactivated since they were inactive for a long time. Assist the customer in restoring their username and reusing the account.
A customer calls in to report an issue with login. They are trying to get into their account on our app. Assist the customer with their login issue as a concerned customer support agent.
ChatGPT Chatbot Prompts to Provide Technical Support
You might need to brief the course of action in the prompts to let the AI generate an actionable response.
One of our customers is not able to log in to their account since it is showing some error. Ours is a software service company, and the customer has bought a subscription to one of our apps. Act as a technical support agent and assist the customer with their login issue.
There is some glitch in our website. Due to this, customers are unable to place orders, view recent orders, or track the order status. Generate 3 variations of an empathetic script for our customer service agents to deal with anxious and impatient customer queries regarding the issue.
A customer needs assistance with the technical process behind how our software works. Summarize the following knowledge base article to give step-by-step instructions that customer service agents can use to guide the customers. [Insert the article's link]
We sell [product type] through our app and website. A customer has reached out to complain about some technical issues with their [product]. Act as our technical support executive and assist the customer by troubleshooting their issue.
Generate a polite and clear script to guide customers toward the self-help knowledge base and chatbot for their generic queries and issues.
Imagine you are a technical support agent for [Company name]. A customer calls in and complains that one of the most important features of the software is not working. You checked and found out that it's an issue on the customer's end. Generate an exemplary conversation where you guide and assist them in troubleshooting the problem while maintaining empathy and patience.
ChatGPT Prompts to Handle Shipping and Delivery Concerns
You can use customer self-service software and link it in the ChatGPT prompt to turn it into an actionable guide for relevant queries.
Our company recently held a sale which led to a huge amount of orders, due to which the order processing took time, and we could not ship many of the orders on time. Generate script for handling frustrated and confused customers to help them understand the reason behind the delay and assure delivery.
A customer contacts us to ask for a concession in shipping charges. We cannot reduce the shipping charges since it is an international delivery, and charges are non-negotiable. Act as a calm and empathetic customer service agent and convince the customer that the charges are reasonable.
A customer ordered from our [e-commerce website/online store], but didn't receive the tracking info yet. It's been more than 24 hours. The customer contacts you, our customer support agent, to inquire about the same. Please assist the customer.
A customer's order was delivered, but one item is missing from the package. The customer calls in to inquire about the same. You, a customer service representative, assist the customer with their issue. [If the item was shipped separately, add the info in the prompt].
One customer wants to return an item that was delivered recently. Our customer service team is required to encourage exchange in place of returns. Act as a customer service representative and probe the reason for the return. Suggest exchanging with another item. If the customer rejects it, assist with the return process.
ChatGPT Prompts to Manage Cancellations and Refunds
The first response to a cancellation request should always be retention. When you write ChatGPT prompts for customer support when they are asking for cancellation, add "try to retain" in the prompt. A subtle effort into probing why the customer wants to cancel and offering a solution instead, may help you keep from losing a valuable customer.
We are a service-based company and charge monthly for subscriptions. The customer had set auto-renewal of subscription every month. They want to cancel it. Act as a customer service agent, who is empathetic and persuasive, and try to retain the customer
As per our cancellation policy, a customer has to cancel a [purchase/subscription] before the [order is shipped/ renewal of subscription]. A customer contacts us and asks to cancel the product while the shipment is halfway through/ after renewal. Act as a customer support agent and assist the customer.
A customer has purchased a non-returnable item. However, they received the damaged product. The customer contacts us to request a refund since the product is useless for them now. Proceed to assist them in this scenario as a customer service executive
How will you deal if the customer is adamant about receiving a refund? We do make exceptions if it comes to losing a loyal customer.
AI Customer Service Prompts to Close the Conversation on A Good Note
The conversation closing script should also make the customer feel valued and welcomed. Furthermore, the agent's tone must carry a hint of excitement to leave the customers feeling happy when the conversation ends.
Ask the customer if they are satisfied with the resolution provided by you, as a customer service agent, today. If they say yes, proceed to close the call. Generate an exemplary conversation.
Generate 5 variations of closing calls with customers who are not satisfied with the solution you, as a customer service representative, provided. You should sound empathetic and willing to offer further assistance.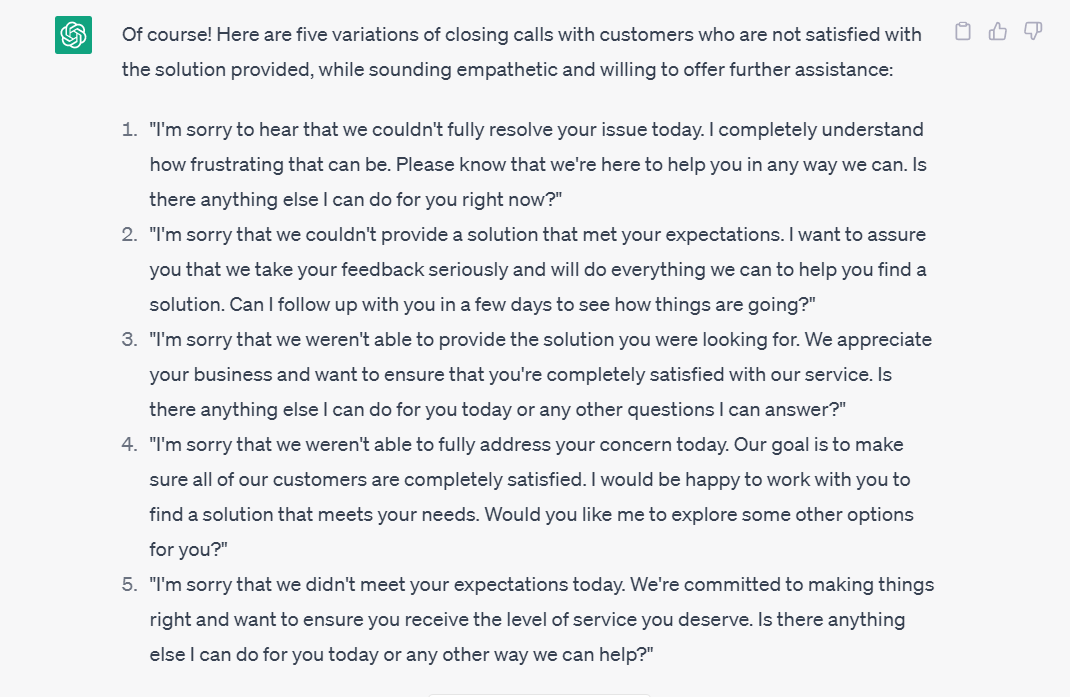 Generate a few variations of personalized thank-you emails to send to customers after a purchase. Ensure to include a coupon code as a token of appreciation for future purchases.
Close a conversation with a customer on a friendly and polite note as a customer support executive. Also, educate the customer about our self-help resources for future reference and encourage them to leave feedback based on their experience with customer service today.
ChatGPT Prompts Asking for Customer Feedback
You can use ChatGPT customer service prompts to create feedback forms and relevant feedback questions or integrate feedback surveys with thank-you notes.
What questions should be included in a customer feedback form for their interaction with the customer service team?
Could you please generate 5 variations of customer feedback survey templates to be sent to customers after their interaction with the customer service team?
Please create 5 variations of a nice thank you note to be sent along with the feedback survey form after customers' interactions with our customer support team.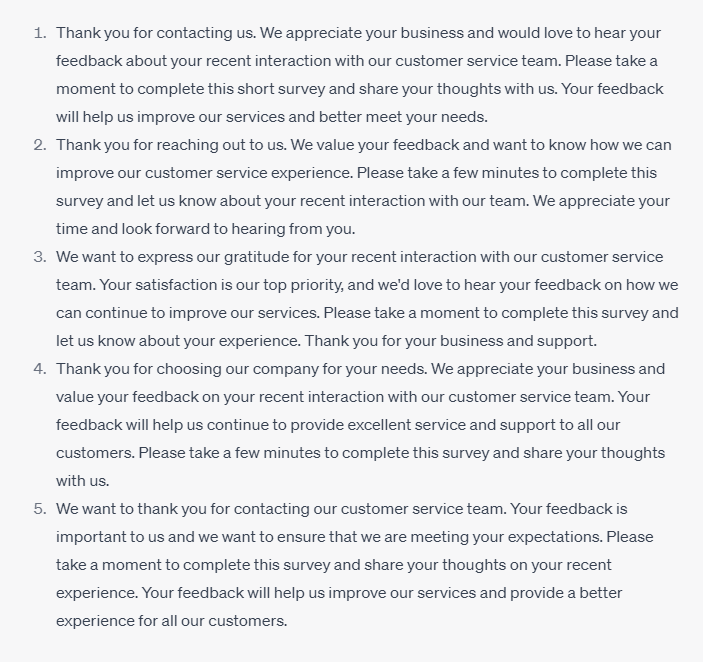 ChatGPT Prompts for Customer Service Dealing With a Disgruntled Customer
A customer's project is hindered due to a glitch in the software they have paid for. They are extremely angry to the point that they are disrespecting you- a customer service representative. Be empathetic, and patient, and handle the situation in a way that we don't lose the customer. You have to probe the issue and provide an apt solution too. Generate an exemplary conversation.
A customer is getting angry upon being notified about the violation of service terms. Act as a customer service agent and explain to the customer the limitations of their package. Suggest that they upgrade the plan according to their needs. Be empathetic and polite despite the rude tone the customer may be using.
An irate customer calls in and is very frustrated. Instead of speaking about the issue, they are just rambling. You are a polite and empathetic customer service agent. You have to calm the customer down and probe the issue. Assist accordingly.
Conclusion
Dealing with a variety of issues and customer concerns daily is tricky, which is why the team needs additional support, technical aid, and training. Effective communication and problem-solving skills are crucial for any customer service representative to provide exceptional service to their customers.
ChatGPT can be a valuable tool to help you with quick and accurate responses to customers, resolving their issues and improving overall satisfaction. With the help of the 50 expert-approved ChatGPT prompts for customer service mentioned in this article, your customer service agents can tackle any customer service challenge with confidence and efficiency.
You can further modify these prompts as per your needs and incorporate them into your workflow to accelerate your business and foster long-lasting relationships with your customers.
You can also incorporate standalone customer service software into your existing system to manage all customer conversations from a single platform and deliver an excellent customer service experience.
Helpwise is one of the leading customer service platforms designed for the unique needs of the customer support domain, with exceptional features like workflow automation, shared inbox, and a customizable self-service segment. Sign up here for a 14-day free trial.
---
Frequently Asked Questions (FAQs)
Q: What is ChatGPT?
A: ChatGPT is an AI language model trained by OpenAI. The tool is based on the GPT-3.5 architecture. It can assist with generating responses to customer service inquiries to help you handle a variety of customer service challenges.
Q: What are customer service prompts?
A: ChatGPT Customer service prompts are inputs that you as a user type in the ChatGPT window, in response to which it generates answers. These predefined prompts can be used to save time and ensure consistency in customer service interactions.
Q: How can ChatGPT help with customer service?
A: ChatGPT can generate contextual responses to different customer service prompts. It helps customer service representatives overcome various customer service challenges, including handling angry customers, managing returns and cancellations, and more.
Q: Are the ChatGPT prompts customizable?
A: Yes, the ChatGPT chatbot prompts can be customized to fit the specific needs and tone of your business.
Q: Is ChatGPT suitable for small businesses?
A: Yes, ChatGPT can be a valuable tool for small businesses looking to improve their customer service operations. It can save time and resources by providing scripted responses to common customer inquiries.