Think of the last time you reached out to a company through a chatbox to only receive an automatic reply that has nothing to do with your issue. On a scale from one to five, how irritated were you? Perhaps, six?
AI-powered chatbots have earned a doubtful reputation among customers and companies. They still tend to provide incorrect, irrelevant answers from time to time, which leads to poor customer experience.
But in this article, we're going to introduce you to a revolutionary solution in the world of AI. ChatGPT is more than a conventional chatbot. It's a new-generation natural language processing tool that will bring your customer service to the next level.
Read on to figure out whether ChatGPT is the right solution for your company, how exactly the tool can be used by customer service teams, and how to integrate it with your customer support system.
First, what's ChatGPT?
ChatGPT is an open-source chatbot framework powered by the GPT-3 language model.
Say what?
In simple terms, ChatGPT is an AI-powered bot that answers questions and generates texts based on the specs you feed it.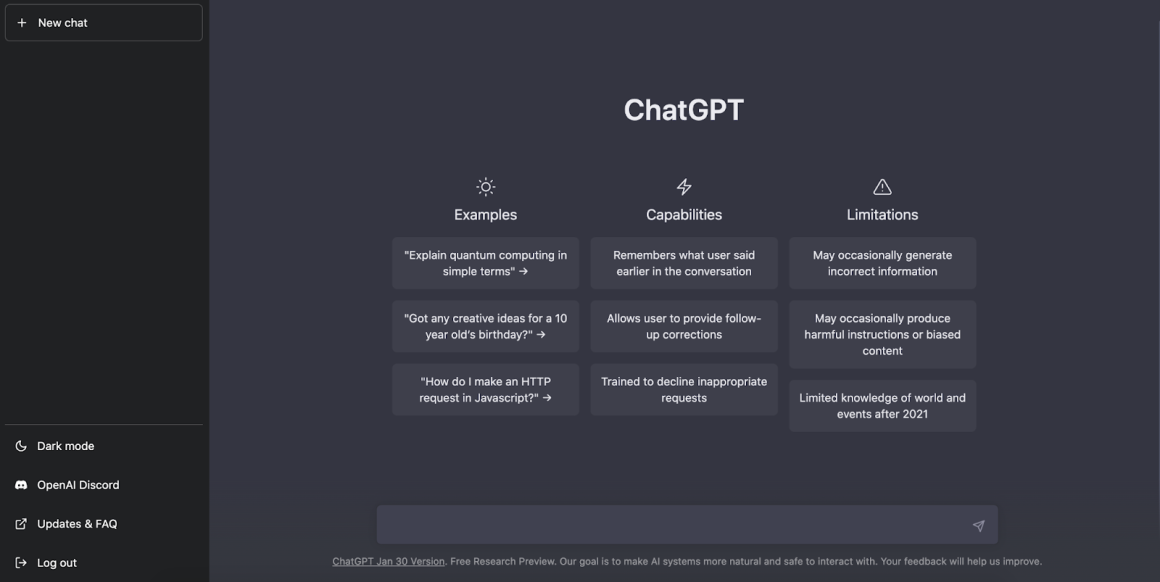 Since its release in November 2022, ChatGPT has got the tech world talking. Although there's still a lot of room for improvement, the tool has shown performance no other AI-based solution had achieved so far.
The app is multipurpose — developers use it to debug their code, marketers use it to generate ad copy, business owners conduct market research with its help, and so on.
In customer support, ChatGPT helps companies quickly create engaging and natural conversations with their customers, without involving human agents in these chats.
To uncover the potential of implementing ChatGPT in customer support and give you a better idea of how it can be useful for your specific case, we'll explore its best use cases for support teams.
6 Use cases of ChatGPT for customer support
Where can a customer support team implement ChatGPT? Let's go through the six use cases of ChatGPT that will increase your team's efficiency.
Answering frequently asked questions
You can use ChatGPT to automate the answering of the most frequent questions, freeing up support team resources to focus on more complex issues. To ensure the app provides correct answers, you may want to train it on the FAQs in advance.
Triage and information collection
Perhaps you don't want to fully rely on a chatbot (and you're right) but use it to gather information about users and route conversations to the agent that's most knowledgeable in the issue. ChatGPT can triage incoming requests, prioritize them based on the issue type, product, or customer information, and assign them to the most relevant reps.
Supporting customers outside of business hours
ChatGPT can provide support to your customers outside of your normal business hours, helping to improve customer satisfaction and reduce the volume of requests for support teams. Now, instead of spending time resolving outstanding inquiries when they get back to work, your agents can focus on real-time conversations.
Multilingual support
ChatGPT speaks multiple languages, making it easy for your to support a global customer base. If you don't have a multilingual support team but want to offer services in multiple languages, implementing ChatGPT is a perfect workaround.
Providing agents with quick replies
There's one more way to use ChatGPT — and you don't even need to have it interact with your customers directly. Let your support agents use the tool internally to generate quick responses to customer queries. In most cases, the app will craft detailed answers in seconds, saving your agents precious time to handle more important conversations.
Also, it's a way to reduce response time and increase your agents' productivity. As fast resolutions continue to be the top priority for 73% of customers, providing quick replies is a way for you to increase customer satisfaction (without overworking).
Onboarding customer support agents
You've got us right — you can use ChatGPT to improve your employee onboarding process. Introduce new hires to the tool so that they can find answers to their questions without wading through your internal documentation.
Instead of having to read through pages of documentation or attend lengthy training sessions, new agents can simply ask ChatGPT any questions and receive immediate, accurate responses. For example, new agents can get instant recommendations on how to handle specific customer inquiries, which can help them provide better support from day one.
Why use ChatGPT?
Implementing an AI-based solution and training it to deliver consistent results takes time. But it's worth every minute you spend on it. Here's why.
Reduced first response time
Ideally, your support agents should be able to reply to customer requests within one minute. Can they always do it? We doubt it. And this is where a conversational chatbot comes in handy.
Reduced first reply time is one of the major benefits of using ChatGPT for customer support.
After you implement ChatGPT, customers won't need to wait until a human agent resolves all the previous conversations and gets back to them. The tool will welcome users and start the conversation immediately.
Conversation prioritization
Prioritizing conversations is one of the main struggles for support teams because it's hard to get all the necessary information to fully understand the urgency and impact of a conversation, especially when having dozens of requests in a queue.
Since ChatGPT integrates with your existing customer service systems, it helps support agents with conversation prioritization on many levels.
First of all, ChatGPT can assist the team with the initial triage of incoming requests, helping to categorize and prioritize them based on a set of predefined rules and criteria.
Next, it can gather information about the request, such as the customer's issue and the impact it is having, to help support teams make informed decisions about prioritization.
Furthermore, by automating routine tasks, such as answering frequently asked questions, ChatGPT can free up support team resources to focus on more complex and high-priority chats.
And lastly, the tool can route and escalate conversations automatically based on the data it collected from the user.
Personalized customer experiences
Your customer support agents can't remember the entire conversation history with every user, but ChatGPT can.
The tool remembers every conversation and can connect new requests from users they've already interacted with to earlier chats. With this information, ChatGPT can provide relevant information and suggestions based on the customer's previous interactions, making the support experience faster and more efficient.
Additionally, ChatGPT's ability to remember previous interactions helps to build trust and rapport with customers, making them feel more valued.
Cost savings
Handling all customer support inquiries manually creates a huge workload on your agents. The bigger your company gets, the more reps you'll need to hire (and the faster your headcount expenses will grow).
AI-powered solutions help to prevent it and save you money. By automating routine tasks and assisting with triage and information gathering, ChatGPT reduces the number of support staff required to handle high volumes of requests and helps to spend resources more effectively.
Although ChatGPT is perhaps the most sophisticated AI chatbot today, it's not flawless (yet). Alongside numerous advantages, it has drawbacks customer support teams should be ready to face.
ChatGPT limitations
Let's talk about the limitations of ChatGPT before you decide to implement it in your customer support strategy:
Wrong answers
"ChatGPT sometimes writes plausible-sounding but incorrect or nonsensical answers," warns the ChatGPT team. The bot is prone to mistakes, and there's no opportunity to fix it in the nearest future.
Inability to solve complex or technical issues
ChatGPT may fail to handle complex or technical issues that require the expertise of a human support agent. You should build flows that hand over complex conversations to human agents for resolution.
Limited empathy
A bot isn't a human. It lacks human empathy and is limited to its training data.
ChatGPT is guilty of providing impersonal, robotic responses that fail to fully address the customer's needs or concerns.
Integration requires technical knowledge
Integrating ChatGPT with your customer support system won't be an easy task. You need to have at least some basic coding skills to connect the systems and customize ChatGPT functions using RESTl APIs.
How to integrate ChatGPT into your customer support system
Unfortunately, ChatGPT has no ready-to-use chatbot interface that you can implement on your website. You'll need some technical skills to connect ChatGPT to your customer support system using Open AI API.
Fun fact: we used ChatGPT to generate the instruction below, and it worked. See for yourself.
Integrating ChatGPT with your existing customer support system typically involves the following steps:
Set up a chat interface: You'll need to create a chat interface where users can interact with ChatGPT. This can be a web-based chat widget, a chatbot on a messaging platform like Facebook Messenger, or a custom chat application (or Helpwise!).
Connect ChatGPT to your chat interface: You'll need to use the OpenAI API to connect ChatGPT to your chat interface. This will allow ChatGPT to receive and respond to messages in real-time.
Train ChatGPT: To ensure that ChatGPT provides accurate and relevant responses to your customers, you'll need to fine-tune the model using a large dataset of customer support interactions. You can either use a pre-existing dataset or collect your own data.
Integrate with your customer support system: You'll need to integrate ChatGPT with your existing customer support system so that it can access relevant information and perform actions on behalf of the customer. This could include accessing customer information, creating support tasks, or providing information from your FAQ database.
Monitor and evaluate: Finally, you'll need to monitor and evaluate the performance of ChatGPT to ensure that it is providing accurate and helpful responses to customers. You may need to make adjustments to the model or the integration based on feedback from customers and your customer support team.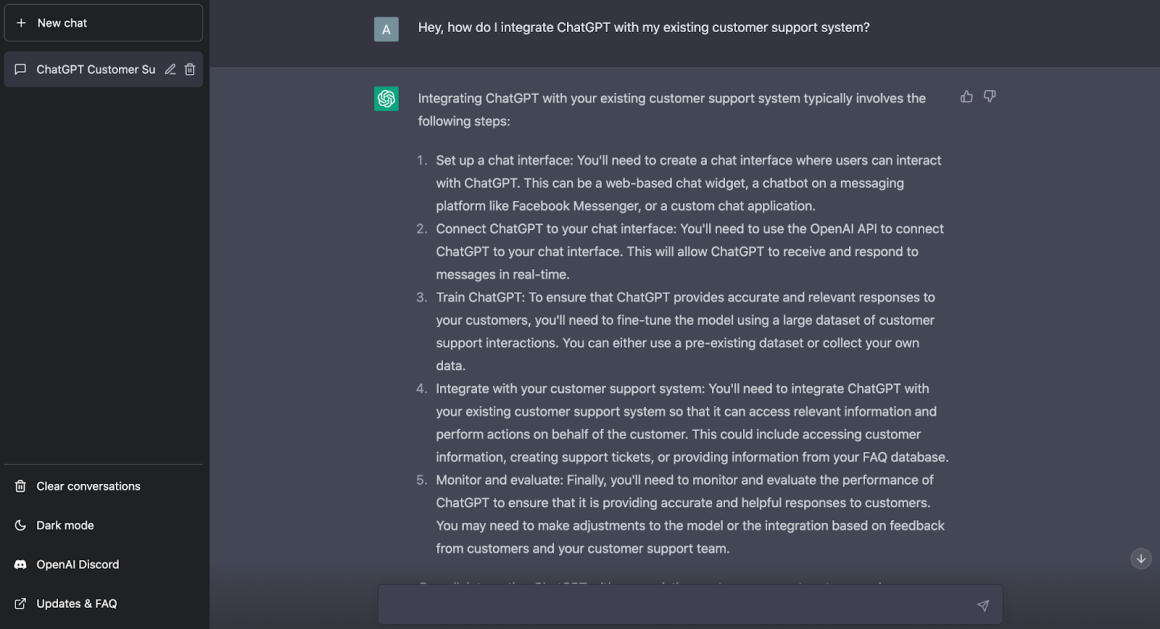 The complexity of the setup will depend on a number of factors, including the specific customer support system being used, the level of customization required, and the level of technical expertise available within your organization.
In general, integrating ChatGPT with a customer support system typically involves setting up an API connection and configuring the chatbot to work with the system's existing workflows and processes. This may involve some custom coding and integration work, especially if the customer support system isn't designed to work with chatbots.
Tip: You can integrate ChatGPT with Helpwise to maximize customer satisfaction with the help of conversational intelligence. Access our REST API documentation here.
ChatGPT best practices
ChatGPT can greatly improve your customer support strategy if you just follow these three best practices:
Clearly define the scope of ChatGPT's role
Decide what types of inquiries ChatGPT will handle, such as frequently asked questions, basic troubleshooting, or triage and information gathering. It'll take time and effort to define all the rules and scenarios, but it's worth it.
Don't skip the training process
When you connect ChatGPT to your existing system, train it on relevant data, including your company's FAQs, product information, and common customer inquiries. This will help you deliver a more personalized customer experience and improve the accuracy and relevance of ChatGPT's responses.
Combine human and artificial intelligence
Note that ChatGPT isn't a replacement for human support and there may still be situations where a customer's issue cannot be resolved by the AI-powered bot.
Considering the above-mentioned limitations of using ChatGPT, you should complement artificial intelligence with human support to provide the best possible support experience for your customers.
It's up to you to determine how much you want to rely on AI in customer communications, but it's critical that there are human agents supervising all customer interactions. They should be there not only to take over complex conversations but also to monitor the application's performance to adjust the training data and improve its accuracy.
Tip: don't forget to establish a clear process for customers to transition from ChatGPT to human support if the bot can't resolve their issue.
Should you implement ChatGPT for customer service?
Whether or not you should rely on ChatGPT for customer support depends on several factors, including the size of your company, its needs, the complexity of its products, and the expectations of your customers.
Using ChatGPT for customer support has multiple benefits, including higher team efficiency, improved customer experience, and lower overhead costs. Yet you shouldn't overly rely on this solution but consider its limitations. Similar to other AI-powered solutions, the tool still lacks empathy, requires comprehensive training, and is prone to mistakes.
With that in mind, combining human agents and artificial intelligence is the best approach for maximizing your customer support efficiency. Spice it up with a great customer service system (check out Helpwise), and you get all you need to deliver an exceptional customer experience.