Adding a contact form on your website is good, but it's not enough if you want to provide exceptional customer service. Your target audience expects a smooth omnichannel customer service experience.
Customers spend 20 to 40 percent more with companies that respond to customer service requests on social media. Want to increase your profits? Then you need to master social media customer service.
In this guide, you'll learn how to provide top-notch support on your audience's favorite social media channels and create an exceptional customer experience without increasing your headcount.
What customer service on social media looks like
What does it mean to provide customer support on social media? There are at least three ways you can make social media customer service work for you:
Handling customer requests in direct messages. You should definitely let your audience interact with your customer service agents through direct messages on your chosen social media platform(s).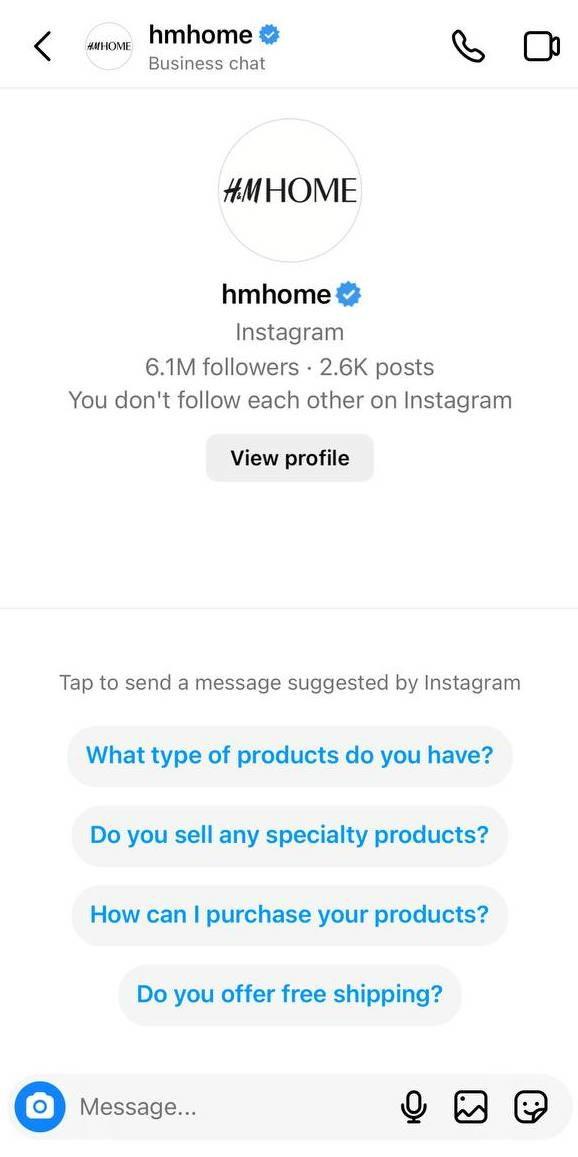 Forwarding requests to a customer support channel. Oftentimes, businesses use social media to offer basic support with frequently asked questions and then forward customers with more complex queries to a dedicated customer service channel.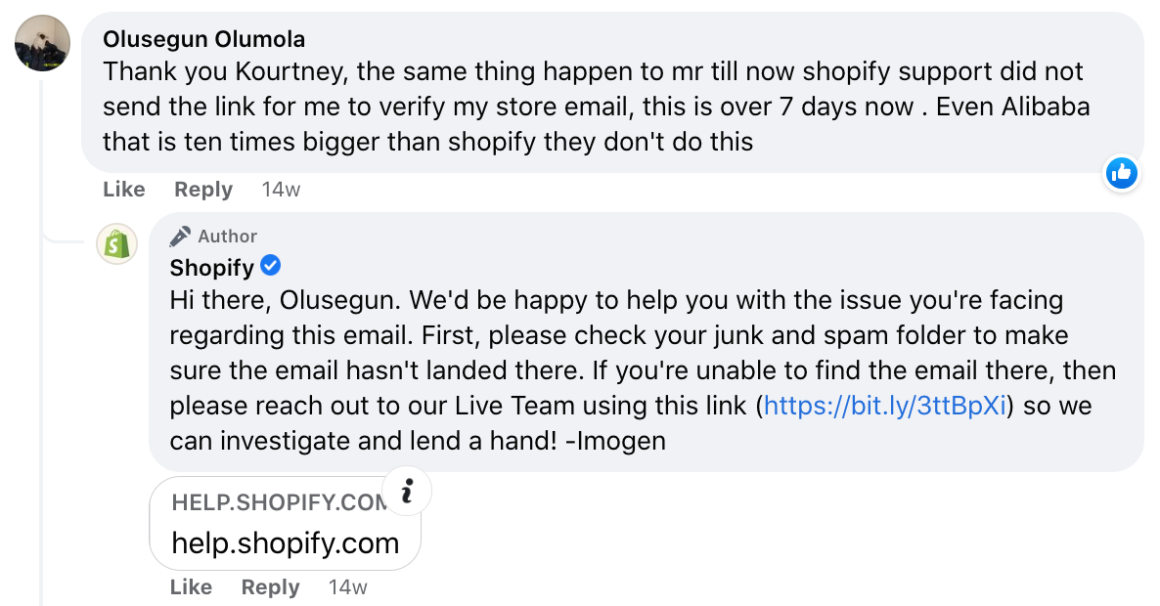 Replying to customer feedback. Your customer service team should also watch out for negative and positive feedback customers leave on your social media page. By replying to customers' comments, you'll create a more positive brand image and get a chance to fix bad customer experiences.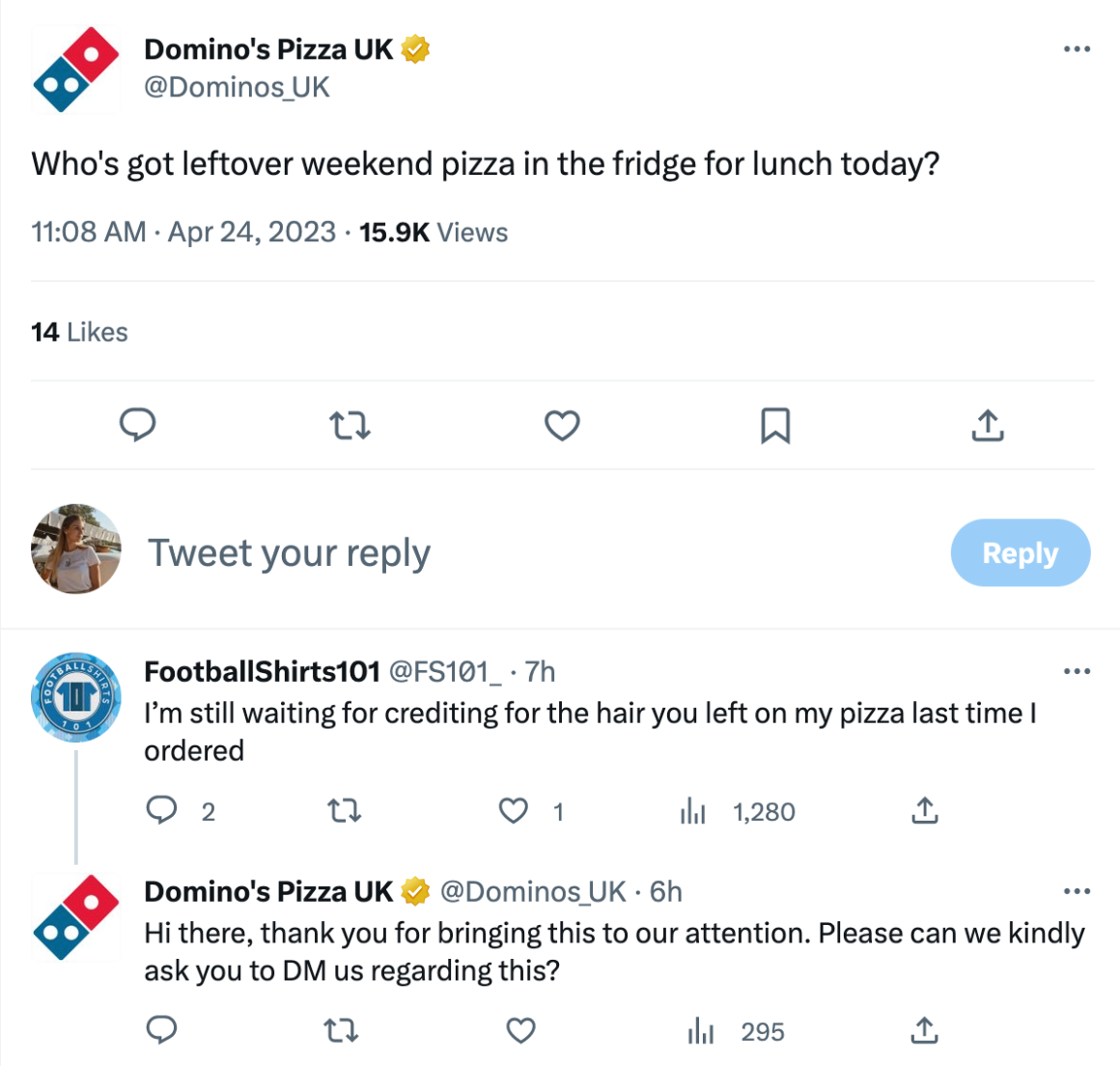 8 Steps to set up social media customer service
You can set up a system for delivering excellent customer service on social media in just eight steps.
Step 1: Choose the right platform based on your audience data
Which platform should you choose for customer service? Don't say "Instagram" right away. To answer this question, you need to run a detailed analysis:
Create customer personas. If you haven't done it yet, create profiles of your ideal customers based on your audience's behavior patterns, shared traits, and pain points. You'll end up with 3-5 profiles of fictional characters that combine your customers' distinctive features. Specify which social media channel(s) each persona might use based on their characteristics.
Analyze your audience's demographics. Do you have a distinctive audience group within a specific demographic? There are tons of reports on the web on social media user demographics that will tell you which channels your audience is most likely to use. For instance, 76.2 percent of Pinterest users are female, and about 30 percent of Pinterest's ad audience are women aged 25-34.
Watch your competitors. Where are your competitors actively building their online presence? Perhaps you need to be there too. You can analyze your competition's social media presence manually or use a competitor analysis tool to gain a comprehensive overview of their strategies in a few clicks.
Watch the brands you're sharing your audience with. There are plenty of businesses that aren't your direct competitors, but they have an audience similar to yours. Go find them and check which social media platforms they use. For example, people that follow sportswear brands are very likely to be interested in home workout equipment.
Run a survey. Lastly, why not talk to your audience directly? Ask your customers what social media platforms they use regularly and where they would like to be able to connect with your brand. The answers may surprise you.
Only when you have an idea of your customers' preferred platforms, you can start investing your time and money in those channels. You'll need to stay consistent for a few months before you can identify the channel(s) that work best and focus on it/them.
Step 2: Delete or archive accounts you aren't present on
The second step is very straightforward but essential.
It can be that you already have accounts on every popular social media platform, but you stopped managing those at some point. If you've figured your target audience is present there (see step 1), just pick up where you left off. If not, you shouldn't let that inactive account hurt your brand image.
When having no luck interacting with your abandoned accounts, people may think you're equally unresponsive across other channels. Delete those accounts to avoid confusion.
Step 3: Consider creating a dedicated customer support account
This step primarily relates to tech companies or businesses looking to split marketing and customer service communications. You don't have to do it if you don't have the capacity to manage several accounts for each social media channel.
But if you have the resources, creating a separate social media account for handling customer support requests may be a good idea.
First off, it gives you a separate channel for all things customer service. You can use it to announce scheduled maintenance, report temporary issues, or share the news about product updates.
Having a dedicated support account also allows you to handle large volumes of incoming questions more effectively. It's easier to route requests when you aren't sharing the channel with a few more departments.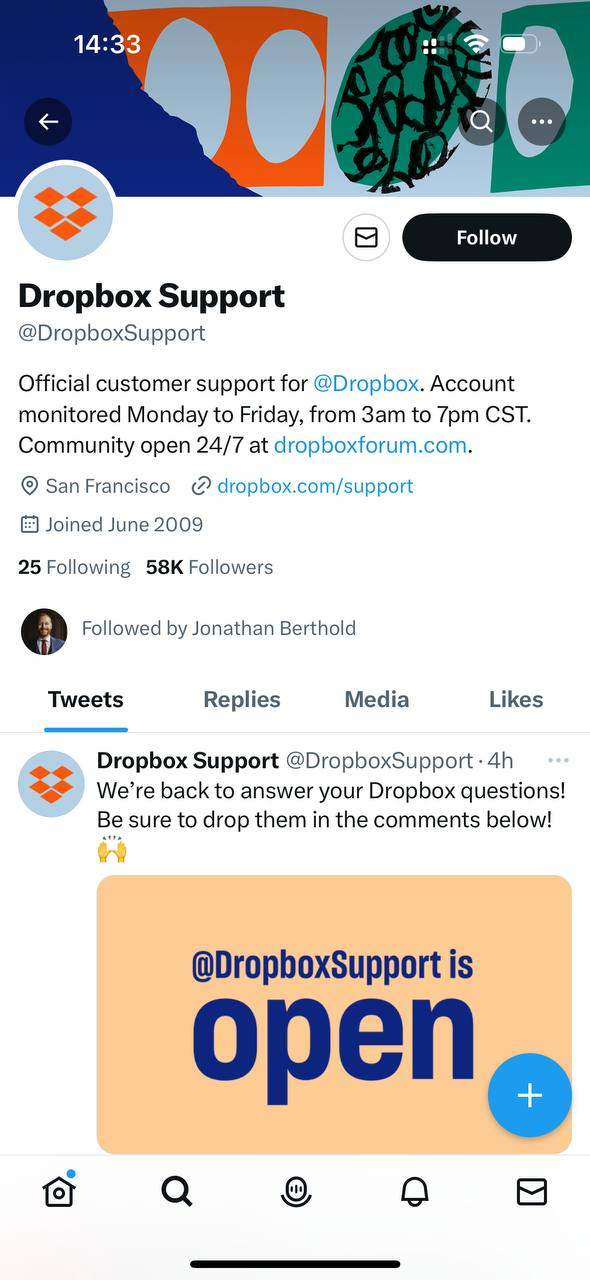 Step 4: Make it easy to contact you
Give your customers a clear idea of how they can get answers to their questions. Add a caption to your profile bio to let users know you can help them with their inquiries in direct messages.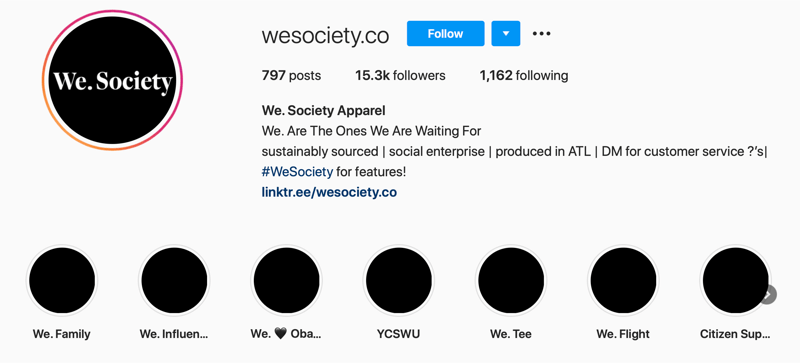 Also, some social media platforms allow you to customize action buttons in your profile. It can be that the messaging feature isn't activated on your account by default. You may need to configure the settings of your social media platform to add the messaging button to the page.
Step 5: Make the most of the platform's messaging features
Popular social media platforms offer different handy features to help you manage customer communications more effectively. Use them to handle customer requests faster and improve your customer service experience.
For instance, Instagram lets you:
Set up a welcome message
Display frequently asked questions (FAQs)
Trigger automated replies
Use saved replies
… all to make it easy for your service agents to resolve customer inquiries.
Facebook and Twitter also offer additional features for business messaging. For example, in addition to custom welcome messages and FAQs, Facebook has recently introduced some advanced features available upon request: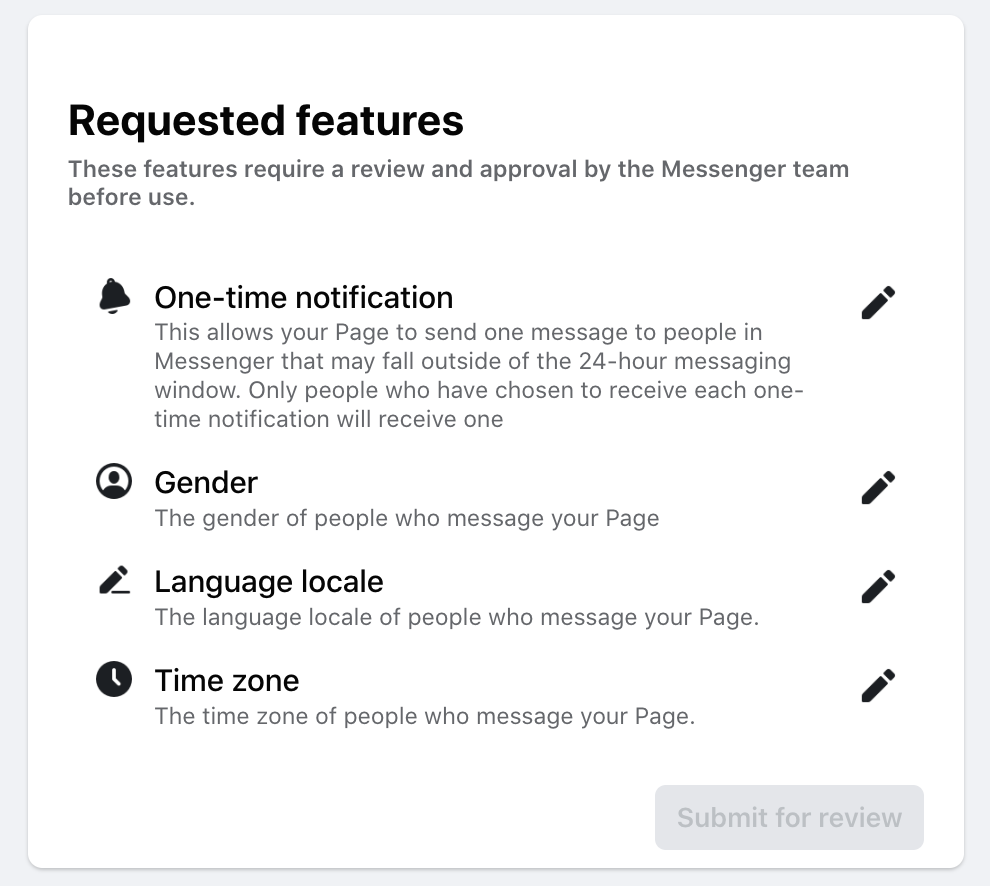 These features should help you offer more personalized customer service.
Step 6: Use a centralized system for managing service requests
You need a centralized customer service system if you don't want your support process to turn into a mess. Whether your agents manage two or twenty-two channels, a centralized system will help them stay on top of customer communications with little effort.
Furthermore, a customer service platform offers features you won't find in any social media platform such as automated routing, conversation tagging, and advanced performance insights.
Helpwise is a customer service system that supports centralized query management for Instagram (both direct messages and comments), Facebook, Twitter (both direct messages and tweets), SMS, WhatsApp, email communications, and live chat. The platform allows your support agents to manage all customer communications from one interface without switching between the platforms. Sign up for free to see for yourself!
By setting up a system that integrates with your chosen social media platforms, you'll save your team a lot of time that they can spend improving service quality and providing more thoughtful support.
Step 7: Develop a response strategy
You're almost ready to provide exceptional social media support! Before you start, you need to develop a response strategy that outlines expected response times, conflict resolution procedures, guidelines for the brand's tone of voice, and the responsibilities of each member of the customer service team.
Easier said than done, huh?
Let's go through each component of your future service strategy to make it easier for you to build one.
First, the response time. It's generally recommended that brands reply to customer requests on social media within 24 hours. However, recent studies show that 40 percent of consumers expect brands to respond within the first hour. Looks like you have a clear response time objective now.
Next, conflict resolution procedures. You should develop messaging that support agents should use to address requests from frustrated customers, especially when those requests can't be resolved.
You may design response templates to make sure agents follow your brand voice, minimizing the human factor in sensitive situations. There should also be a documented process for escalating complex issues to a higher level of support.
To establish a consistent brand tone of voice, you need to create guidelines that include:
The communication style that aligns with your values (formal vs informal)
The words and language that can be used in customer communications
Messaging examples
The kind of personality you want to build for your business
Finally, outlining the responsibilities of each team member should help you improve team collaboration and maximize agent efficiency. You can apply skills-based routing — the approach where each support agent specializes in a specific topic (e.g. troubleshooting, product returns, etc.), and customer requests are automatically routed to the most qualified agents.
Step 8: Measure the success of your social media customer support efforts
You're all set. Now you need to turn your customer service strategy into action and never stop optimizing it. To identify opportunities for improving the quality and speed of your social media support, you should be looking into your actual customer service metrics.
Monitor and analyze the following KPIs to understand the state of your customer service and come up with the next steps for improving it:
Response time — how much time does it take for your agents to get to customer inquiries? (you can measure this metric by agent)
Handling time — how much time do your agents spend resolving conversations?
Resolution rate — what percentage of requests get resolved successfully?
Customer satisfaction score — how do customers rate your customer service?
You can use a customer service platform like Helpwise to generate reports on these KPIs and view your data from different angles.
Once you know your underperforming metrics, dig deeper into the data to understand the reasons behind those issues. For instance, you may break down the insights by agent to see whether the problem exists at the team level or if it's a specific agent that needs more training.
How you can use a customer service platform to improve social media support
No matter what social media channels you choose, it's best to manage your customer queries from a dedicated customer service platform. Software like Helpwise combines all the customer service features under one roof and gives you access to exclusive capabilities you won't find in any social media platform:
Auto-tagging: A customer service platform can automatically tag social media queries with relevant labels, such as "shipping" or "billing," based on the keywords a customer used in the query. This way, relevant requests will go to the right agent or team without being sent back and forth.
Prioritizing urgent queries: You can use customer service software to prioritize urgent social media queries, such as those related to order fulfillment or product defects, for faster response times. You just need to specify the words that might distinguish urgent queries, and the system will prioritize them automatically.
Collaborating on customer support: With a centralized social media customer service platform, it's easy to collaborate on support requests with other agents or bring in people outside your team. You can leave notes for your colleagues, invite them to conversations, or see who's currently viewing a specific thread.
Gathering customer data: A customer service app can collect user behavior insights and customer feedback from social media channels, giving you a 360-degree overview of critical customer experience data. You don't need to manually send customer surveys or collect pieces of data distributed across different channels — all the real-time insights are stored in one place.
Expand your customer service to social media
You may be offering a live chat widget and a very handy contact form embedded on your website, but it's not enough for today's consumers. Your audience expects you to handle their requests on their favorite social media channels.
With a centralized customer service system, it will be easy to add more channels to your customer support mix without the need to expand your headcount or budget. With Helpwise, your agents can still manage all your customer communications from one interface!
Frequently asked questions
What is social media customer service?
Social media customer service is the act of using social media channels to provide customers with prompt support with their inquiries.
How can social media be used in customer service?
Brands can enable messaging on their business pages to allow customers to reach out to them and get support right on social media.
What is social customer service software?
It's software that facilitates communication between customers and brands via social media channels. For instance, Helpwise allows businesses to manage their social media inboxes from one interface.