There was a time when chatbots were for fun. You'd ask things like "Are you a robot?" or "How much wood would a woodchuck chuck?" and get hilariously absurd responses. Oh, how the tables have turned!
Today, chatbots have taken center stage in the customer service revolution. ChatGPT for customer service is lurking around every corner. While we miss the fun ways we used to chat back then with a bot, today's conversations are more helpful.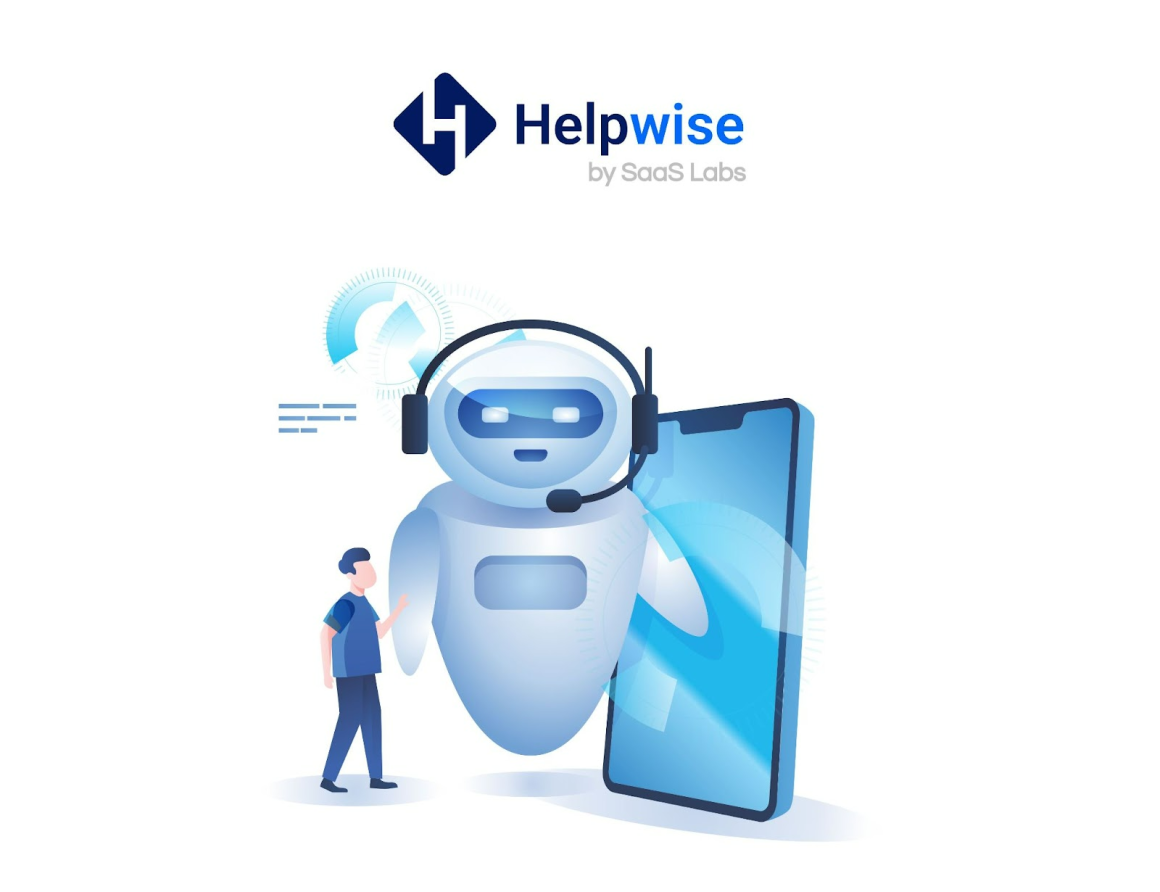 Remember the days of Domino's "30 minutes or it's free" pizza deliveries or the Red Bull Stratos? Customer service was once a necessary evil. But now, it's the means to an end. Business owners are navigating an ever-evolving landscape where they must adapt and innovate to stay competitive.
Customer service goes beyond support
Customer service is a dynamic sword: It serves as an in-house integration tool, a marketing tool, a logistics master, and a relationship builder with customers. Its roots stretch back to the industrial revolution, but the oldest written complaint hails from 1750 BC.
According to Bill Quiseng, customer service is the emotional experience that your customers associate with your brand. To create memorable, positive experiences for them, he suggests you implement the "5 E's of Genuine Hospitality" (Eye Contact, Enthusiastic Greeting, Ear-to-ear Smile, Engage, Educate) and the "3 P's of Customer Service" (Prompt, Polite, Personalized).
In today's world, you can provide customer service in two forms: digital-assisted and agent-assisted support. Digital-assisted methods include chatbots, email, and web self-service, while agent-assisted approaches involve call centers, face-to-face assistance, and social media interaction.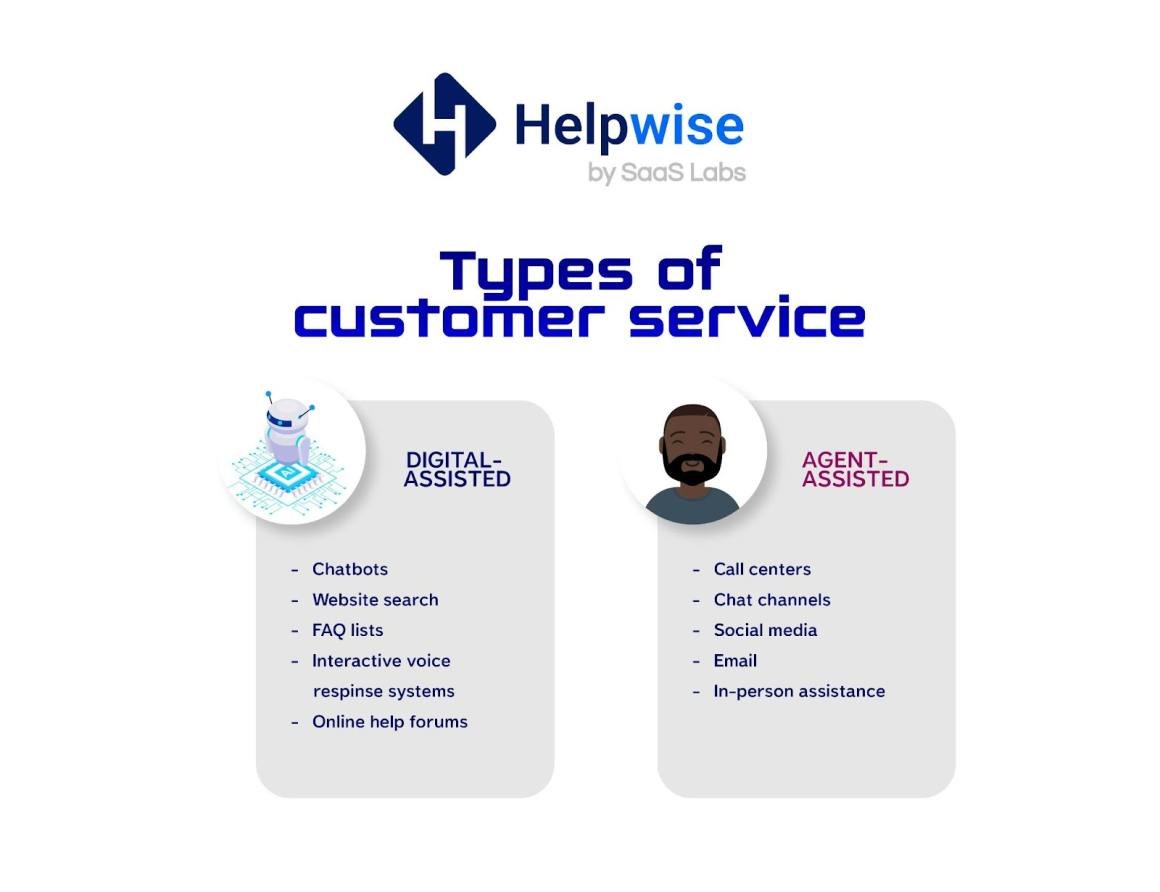 The scope of customer service is like a big, warm hug, wrapping around every aspect of building customer relationships – from product delivery to support services. It's a delightful mix of:
Marketing
Service, and
Management
From the initial purchase to post-purchase support, customer service embraces these principles: care, support, help, quality, friendliness, and reliability.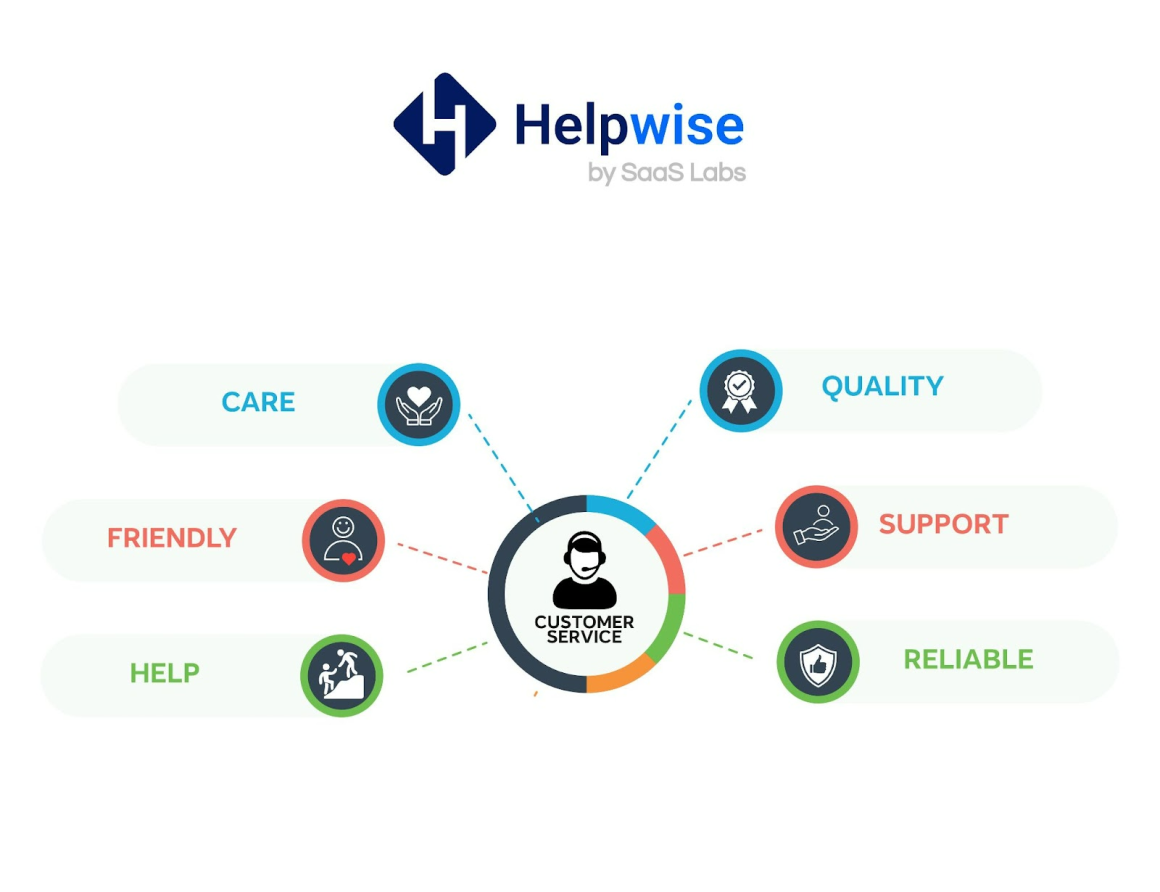 As technology advances, so too does the role of customer service in your business. From the advent of call centers in the 60s to the sophisticated ChatGPT chatbot of today, customer service has consistently adapted to meet changing needs. Now, it's all about delivering fast, insightful, and personable conversations that enrich customer experiences and build lasting connections.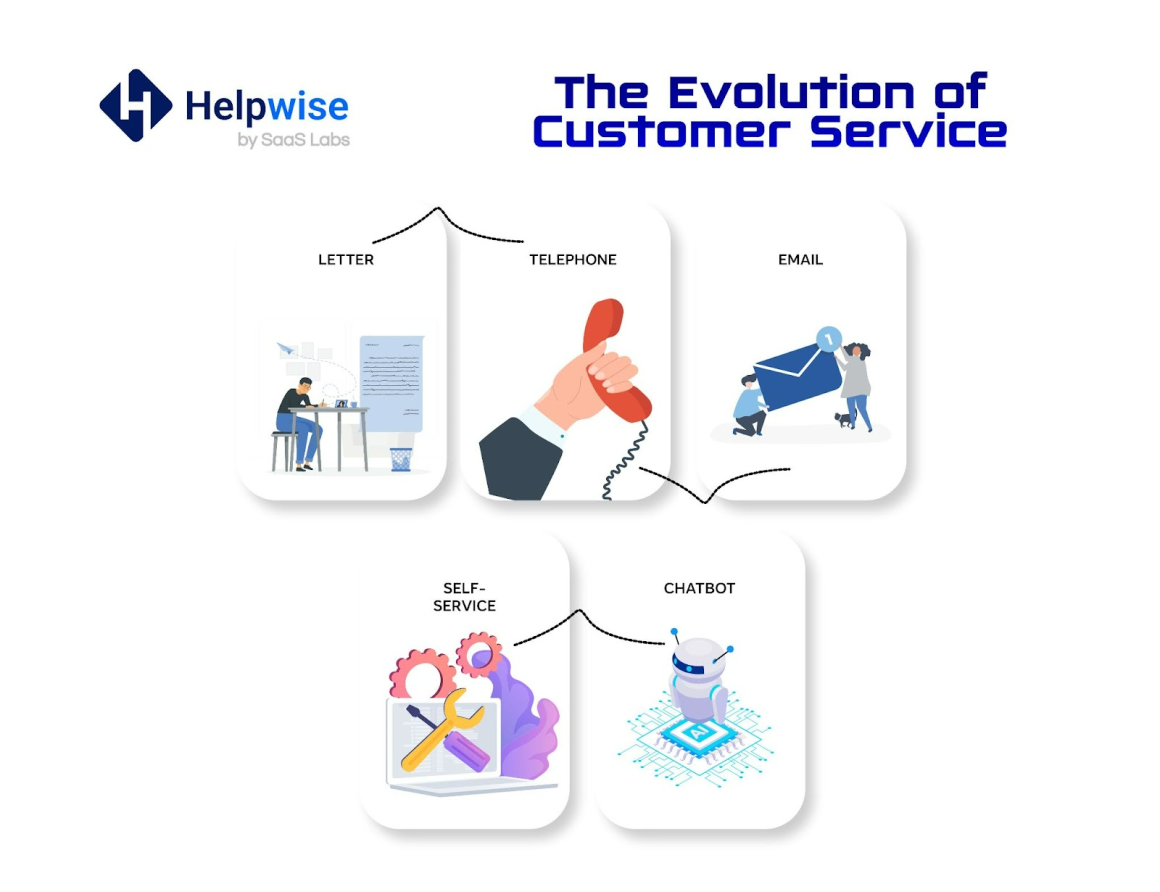 Importance of customer service in 2023 and beyond
Today's customers are incredibly savvy, with 95% of customers reading online reviews before buying a product. The result? A shift towards informed and hyper-personalized customer experiences. So, customer service now shines through new media, hyper personalization, customer relationship management, and AI-driven support.
The new media
The information or computer age marks the rise of digital information. But, you know, with all the pieces of information, we're swimming in a data ocean. It's a bit of an information overload. Forrester research shows that 80% of people think the world will go all-digital in 2023, with our lives grooving along to the techy beat.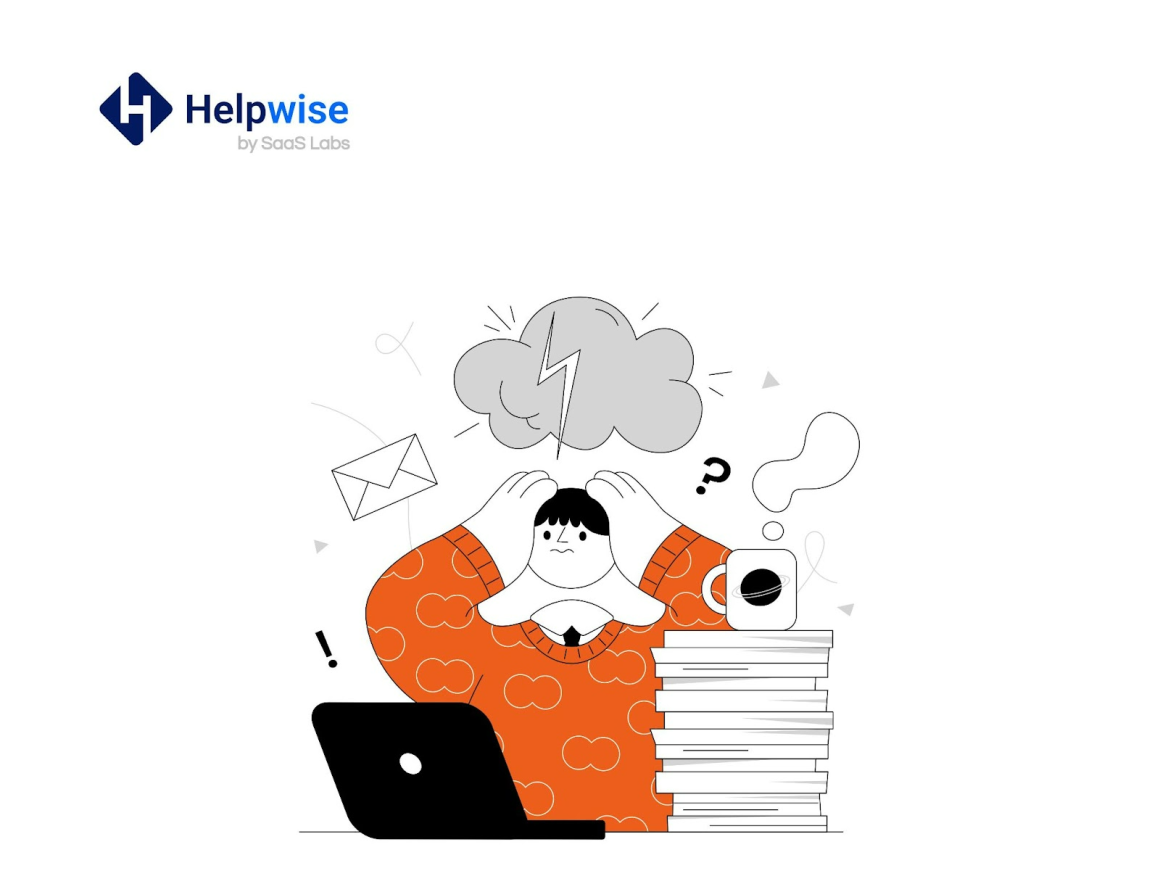 So, here's the scoop: customers today aren't looking for even more information. They just want smooth customer service that uses what's already out there to help them out. They're expecting speedy, top-tier help, and businesses better get their act together.
Personalization vs hyper personalization
Whereas personalization is like giving your customers a friendly, custom-made sweater based on their past purchases and interests, hyper personalization is like taking that sweater and adding all the bells and whistles. The former uses historical data, the latter real-time data. The table below shows the differences between them.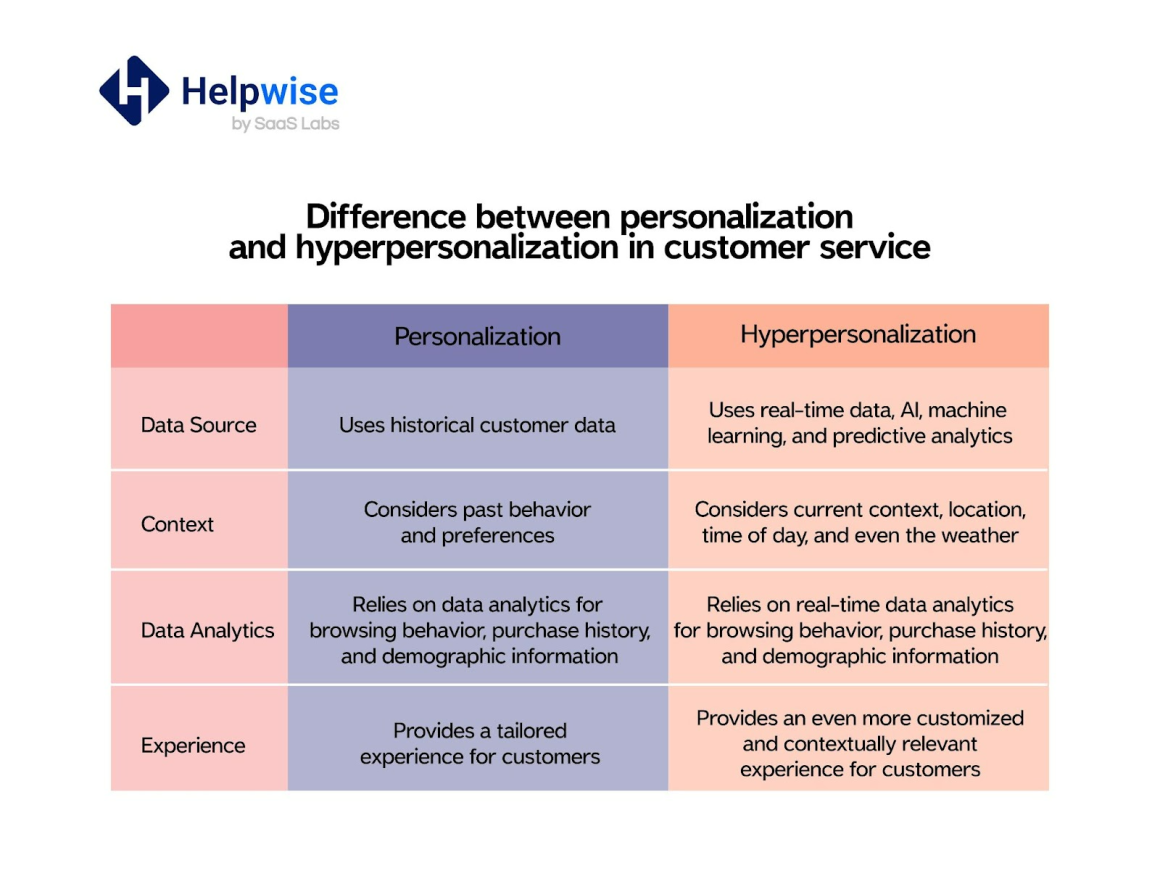 Customer service in today's information age has moved beyond personalization to hyper personalization. Small business owners and leaders that use AI and machine learning can create super-duper personalized experiences, going beyond the one-size-fits-all approach.
Customer service AI
Have you checked OpenAI's ChatGPT plugin page? Small and medium companies like Expedia, Instacart, and Klarna Shopping have joined the chatbot party. Their presence shows ChatGPT customer service will be a big hit with small businesses who are ready to ride the AI wave.
In a survey by Hootsuite, 96% of customers are happy with their bot chats. But AI chat is still young and only 26% of companies focusing on social customer service are using chatbots on social and messaging apps. AI gives small businesses a leg up by offering the best tips, analyzing feelings and intentions, and making it easier to understand customer data.
Navigating current customer service trends
01. The rise of customer experience and journey mapping, personalized approach
Imagine you're running a business and need one winning move. Between price, product, and customer experience, which would you pick? Not to give an answer, Nokia, MySpace, and Blockbuster had products and prices but they flopped when they didn't catch on to changing customer needs – a big part of customer experience.
So, what is customer experience?
Customer experience (CX), according to Anne Hadley, is simply making customers the heroes of your story. And this definition makes sense considering Zoomers (Gen Z + millennials) are a big chunk of US shoppers in 2023, and they're only growing. The rise of these consumers highlights the rise of a better customer experience. These consumers are super informed, love expressing themselves, and believe heroism is derived not earned.
Creating a customer journey map
To make customers your heroes as a small business leader, you need a map. A customer journey map shows your customer's experience from start to finish, covering stages, emotions, touchpoints, personas, pain points, and action plans.
For example, if you're selling handmade jewelry, you can create a map with stages like awareness, consideration, and so on. Here is how your customer journey will look: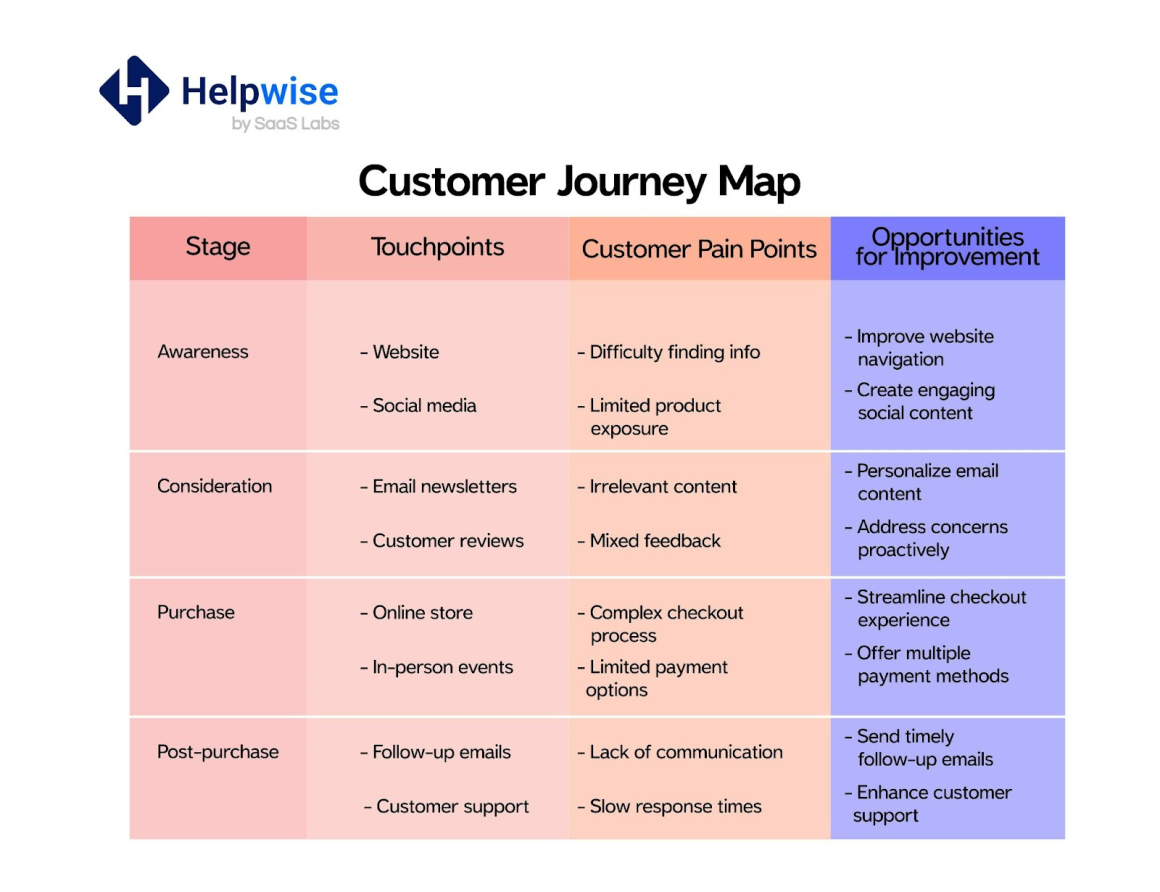 02. The power of omnichannel support and seamless communication 
Omnichannel support is your key to unifying all customer communication channels, creating a smooth and consistent experience. It's essential in today's world where your customers interact with you through various means like email, social media, phone calls, live chat, and in-app messaging.
Since the pandemic hit, single-channel support has become obsolete. A PWC survey discovered that over 80% of people shop using at least three different channels. According to Forrester research, by 2023, 80% of customers will perceive the world as "all-digital," making omnichannel support more crucial than ever. If you ignore this trend, you risk losing customers and seeing a drop in satisfaction levels.
To successfully implement omnichannel support, you should:
Find out which channels your customers prefer.
Use omnichannel helpdesk software to handle customer queries from all channels.
Keep up with the latest offerings and maintain a presence on both new and old channels.
Ensure a unified customer data record across all channels for a seamless customer service experience.
By tapping into the power of omnichannel support and seamless communication, you can stay on top of current customer service trends and cater to the ever-changing needs of your customers.
03. Al and automation, enhancing the human touch in customer service
AI helps machines think like humans, while automation lets them do tasks without you lifting a finger. In customer service, AI bots can answer FAQs and sort queries through chatbots, giving your team time to focus on bonding with customers. But there are questions regarding human touch, remote work, and customer service talent management while embracing AI.
Maintaining human touch
Finding the perfect balance between your customer service and AI means your customers get the best of both worlds. To keep things warm and personal, you can use any of the following ways to enhance human touch in customer service AI:
Use of chatbots to mimic human-like conversations and perform routine tasks
Integration of AI into various aspects of the business to automate repetitive tasks and improve efficiency
You can likewise leverage AI technology such as machine learning, chatbots, and conversational UX to make every touchpoint as efficient and hassle-free as possible.
04. A new era of remote workforce – need for a lighter yet utilitarian stack for productivity 
In 2021, Garner Survey revealed that 76% of customer service teams had most of their staff working from home, and 89% of leaders think the trend will endure. Plus, 62% of workers are loving the 100% work-from-home life, and 45% are all about four-day work a week (McKinsey, 2022).
Remote work is all the rage these days, and it's been a big deal for small businesses too. You can tap into a bigger talent pool, cut costs, and boost productivity. But there are a few issues with poor communication, supervision, and company culture. But no worries, just follow these steps to make the most of it: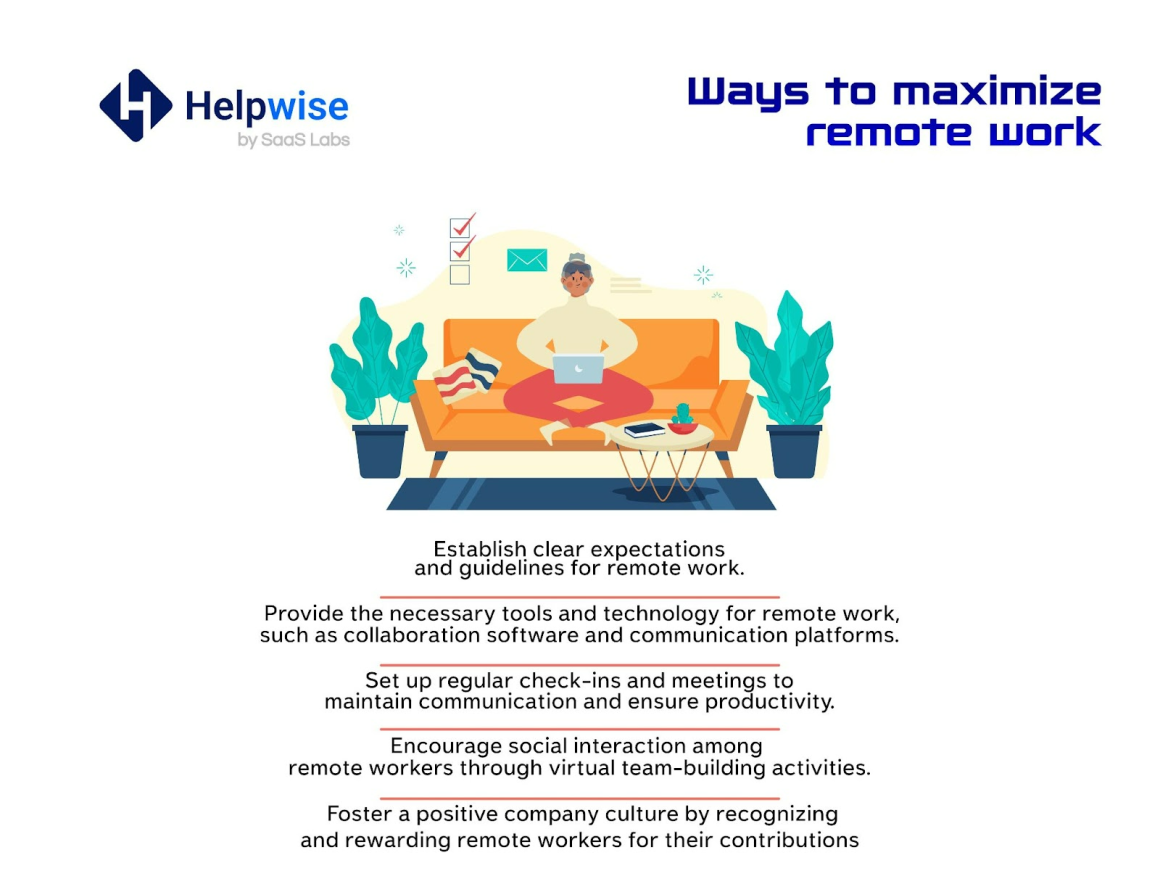 Managing customer service talent
When you look at Trader Joe's and you look at its cult following, there's one reason for it—improved customer service talent management. Aside from giving the best best benefits and promotional opportunities, here are stuff the company do to manage their customer service talent: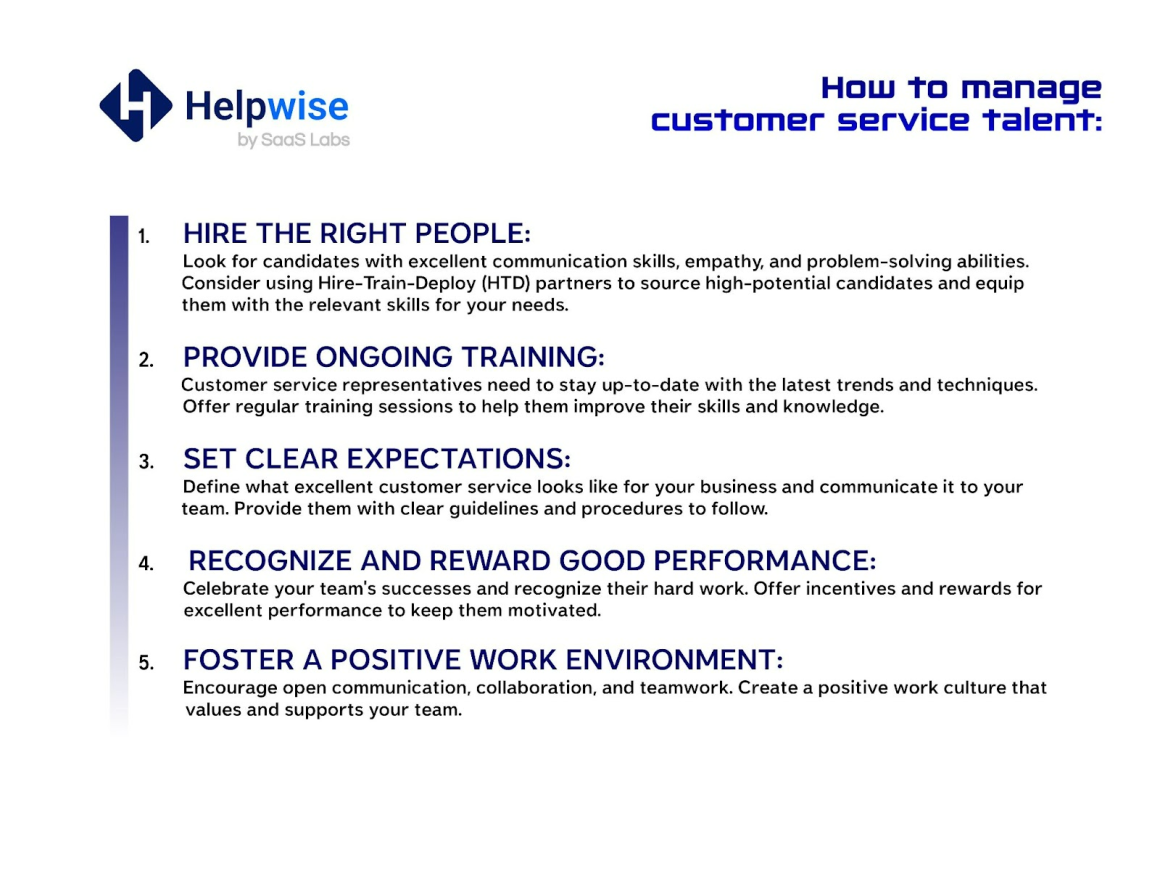 By implementing these techniques and tips, small businesses can manage customer service talent effectively and provide exceptional customer service to their clients.
05. Empowering customers through self-service and knowledge bases
Giving your customers the tools to help themselves can really boost their experience with your small business. It's all about closing that gap between what they expect and what they get.
Take the tasty example of Doughnut Heaven, a small, successful donut shop. They've created a super user-friendly online ordering system and a well-organized FAQ section on their website. This way, customers can easily find answers to questions about ingredients, custom orders, and delivery times without reaching out for help.
By having a great self-service system and knowledge base, Doughnut Heaven keeps their customers satisfied and coming back for more mouthwatering treats.
Preparing for the future of customer service
Advanced AI and machine learning
AI and machine learning, like GPT-4, are revolutionizing customer service led growth through chatbots. Ready to join the chatbot trend? Here are two options:
Rule-based chatbot: Easy to set up without coding, this chatbot follows rules to guide customers to the answers they need.
Intent-based chatbot: More complex, this chatbot uses AI and natural language processing to understand customers' needs and chat like a real person.
For intent-based chatbots, try ready-made solutions like ChatGPT chatbot if you lack technical skills. Integrate the bot with your website or Microsoft tools like Teams and Outlook. Remember, ChatGPT complements human customer support — it doesn't replace it.
Virtual and augmented reality for support
As VR and AR technology keep growing, small businesses can use them to improve their customer support in 2023 in the following ways:
Virtual showrooms and demonstrations: Offer customers a simulated environment to explore products and services, like Vortic Watches' virtual showroom. This way, they can view items from various angles and see how they look when used.
Augmented reality troubleshooting: Help customers fix issues with an AR app that scans the product and gives step-by-step guidance. In the MRO industry, AR software speeds up activities by 15-30%, boosts work quality by 90%, and maintains compliance with industry standards.
Virtual reality training: Develop simulated environments for agents to practice handling customer queries and complaints. Walmart has used VR since 2017 for employee training in customer service, compliance, and management.
VR and AR can make customer service software more engaging and interactive for small businesses. This leads to quicker resolutions, fewer returns, and increased conversions. As technology advances, small businesses can stay ahead by embracing VR and AR for better customer support.
Predictive analytics and proactive support
You can likewise use predictive analytics and proactive support for better customer experience in 2023. Predictive analytics anticipates future trends using data and AI, while proactive support addresses customers' needs before they ask for help.
Collect and analyze customer data for patterns and trends: Gather information through primary or secondary research, such as analyzing online actions and feedback analysis, to identify customer behavior patterns.
Build models to forecast future events: Use machine learning to create customer segments and predict their future actions, such as purchase intent and preferred products.
Use insights to anticipate and provide proactive support: Leverage customer analytics to identify high-value customers and suggest proactive ways to interact with them.
Engage with customers by conducting regular surveys, creating a comprehensive knowledge base, and keeping an eye on online activity. Enhance product interaction with user-friendly technology.
Embracing predictive analytics and proactive support not only enhances your customer service but also fosters long-lasting relationships with them. By staying one step ahead of customer needs, you can create personalized experiences, reduce costs, and improve overall satisfaction.
Data privacy, security, and blockchain
In 2023, the US faces cybersecurity and data privacy challenges like breaches, ransomware attacks, and privacy violations. Small businesses must adopt strong cybersecurity measures, including encryption, multi-factor authentication, and employee training.
01. Blockchain Technology
This decentralized, immutable ledger offers small businesses increased efficiency, lower transaction costs, enhanced security, and transparent decentralized governance. Stay informed about blockchain's benefits and challenges as it evolves.
02. Quantum Computing
This emerging technology threatens current encryption, putting customer data at risk. Implement quantum-safe encryption like post-quantum cryptography, which NIST is evaluating. Also, use multi-factor authentication, employee training, and software updates to stay secure.
03. GDPR 2023
EU's GDPR regulates personal data processing for European Economic Area residents. To comply, small businesses handling EU citizens' data should appoint a data protection officer, conduct impact assessments, implement data security measures, and obtain explicit consent for data processing.
Emotional intelligence, empathy, and sentiment analysis
Emotional intelligence, including empathy, is crucial for customer service agents to create positive customer experience in 2023 and foster customer retention. Sentiment analysis helps understand customer feedback on products or services.
01. Developing Emotional Intelligence
To achieve customer led growth, you should focus on four key skills: self-awareness, self-management, motivation, and empathy. Emotional intelligence training can help agents manage stress and recognize customers' emotions for more effective interactions.
02. Utilizing Sentiment Analysis
Small businesses can use tools like Helpwise to analyze customer speech and text from service calls, emails, and social media. To conduct sentiment analysis, you should collect customer feedback, preprocess the data, choose a tool, analyze the data, and act on the results. This can improve customer satisfaction and loyalty.
03. Setting Customer Service Goals
You should set customer service goals and objectives to measure success and drive service led growth. Goals can include efficient issue resolution, emotional connection, preventing future issues, up-selling, and gathering customer feedback.
Measure goals through customer satisfaction, net promoter score (NPS), and customer effort score (CES). By aligning your goals with these customer-centric metrics, you can improve customer loyalty, increase conversions, and build a strong brand reputation.
Positioning Your Team for Customer Service Success
To position your team for customer service success and future-proof your strategy, follow these key steps:
01. Strategy and action plan
Develop a strategic plan with a clear vision, mission, long-term goals, and short-term objectives. Share this plan with employees and stakeholders to ensure everyone is aligned and informed.
02. Continuous learning and skill development
Align individual, team, and organizational goals for a unified approach. Start by discussing the company vision and strategy with the leadership team, and outline specific goals and benchmarks. Share these goals with the rest of the organization to ensure everyone works towards common objectives.
03. Integrating technology and human-centric support
Combine technology and human-centric support for innovative customer service. Automate repetitive tasks and offer self-service options, but remember to balance this with personalized, human support. Train your team to effectively use technology while maintaining excellent customer service.
04. Collaborative and agile team
Foster a collaborative, agile team that adapts to changing customer needs. Encourage open communication and collaboration among team members, and provide continuous learning and skill development opportunities to stay current with trends and technologies.
05. Innovative customer service platform
Choose an innovative customer service platform that's user-friendly, integrates with existing systems, and offers real-time data and analytics for informed decision-making.
By implementing these strategies, you'll set your team up for customer service success and create a future-proof customer service approach.
Conclusion
The 2023 customer service landscape demands a future-proof strategy to stay ahead of the curve. Embracing innovative solutions such as AI-powered customer service can significantly improve response times and customer satisfaction. Adapting to emerging trends and maintaining a customer-centric focus will ensure your business thrives in the years to come.
The impact of future-proofing your customer service strategy goes beyond immediate improvements; it fosters long-term customer loyalty and a strong brand reputation. By staying in tune with evolving customer expectations and leveraging technology, your business will continue to grow and excel in an increasingly competitive market.
Don't let your business fall behind. Partner with Helpwise today and set your business on the path to a thriving future, leveraging the power of exceptional customer service to create lasting, meaningful connections with your customers. Quickly sign up for a 7-day free trial here.
Frequently Asked Questions (FAQs)
Q. What is the future of customer service?
The future of customer service lies in creating seamless, personalized, and efficient experiences for customers. By embracing conversational AI, businesses can leverage multiple channels to attract and retain customers, ensuring their needs are met promptly and effectively.
Q. What is AI chatbot customer service?
AI chatbot customer service tools, such as ChatGPT, harness the power of artificial intelligence to assist in addressing customer queries. These tools complement human support, enhancing response times and overall satisfaction.
Q. Can I use ChatGPT for customer service?
Indeed, you can use ChatGPT for customer service, allowing for faster response times and improved resolution rates. It helps businesses elevate their customer support by providing prompt and relevant assistance. (link to blog)
Q. Will AI take over customer service?
Although AI is still in its early stages, it has shown great potential in revolutionizing the customer service landscape. Rather than completely taking over, AI is more likely to collaborate with human agents.