In today's highly competitive market, a business communication platform needs to cover more than basic email-sending functionality. It should combine a messaging app, team management capabilities, and automation software in one interface — all to help you resolve customer inquiries fast and effectively.
Luckily, Gmail, Outlook, and Helpwise have the functionalities to help you handle customer communications smoothly. So how do you choose the best one from these three shared mailbox management software?
To help you find the answer, we've compared all three solutions side-by-side from a customer service perspective. Here's what we've learned.
Gmail for Business Communication
Gmail hardly needs an introduction. You must have used this email service for personal communications, but now you're wondering if it's good enough for managing your business inbox.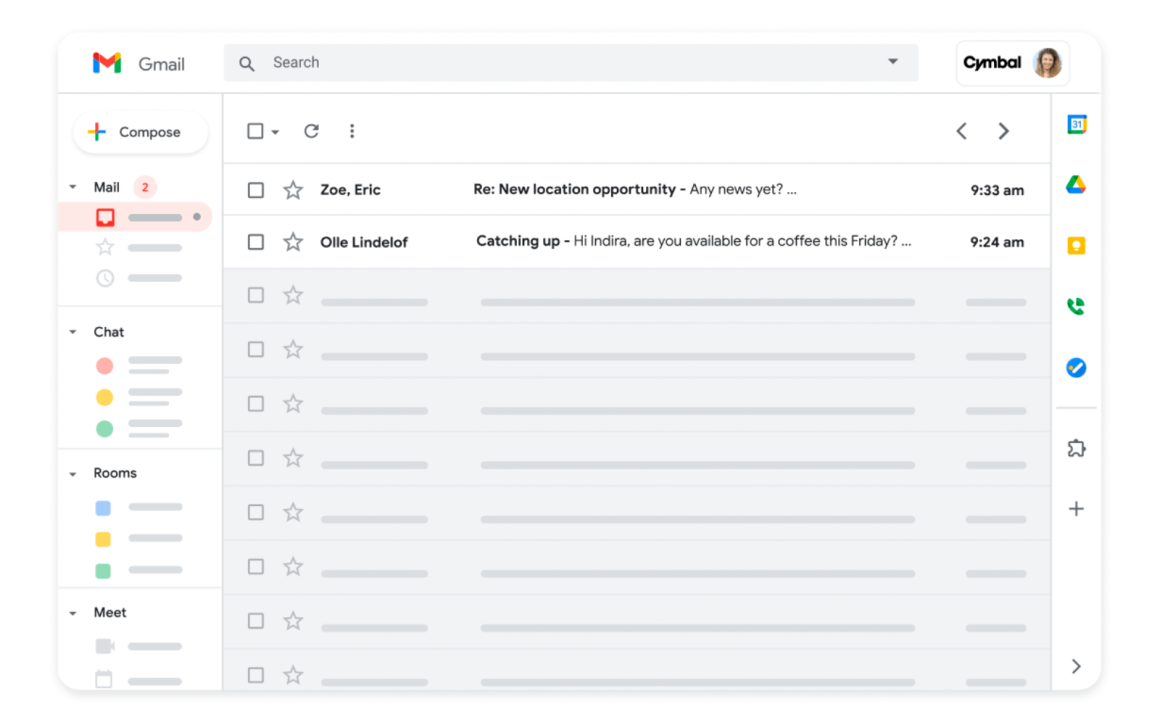 Gmail for Business Interface
Let's review the tool from a business perspective.
Gmail is a free email service powered by Google. But once you decide to create a business account connected to your company's domain and/or enable a shared Gmail account, it's not free anymore. Gmail for Business is a part of Google Workspace, a collection of collaboration and productivity apps for businesses starting at $6/user/month.
Google Workspace functionality
In addition to a professional email address, Google Workspace gives you access to a collection of tools such as:
Google for Business for email sending
Google Chat for team messaging
Google Meet for video conferencing
Google Drive for file management
Google Calendar for appointment booking
Google Docs and Google Spreadsheets for collaborative content creation
Except for collaborative content creation, all these features are available for free. But with the paid Google Workspace subscription you get access to a range of exclusive capabilities:
A professional email address for each user (i.e. instead of name@gmail.com, you get name@yourcompanydomain.com)
Advanced phishing and spam protection
Up to 24h group video calls (in a free plan, you only get 60 minutes per meeting)
Extended storage per user (storage limit depends on your Workspace package)
Increased number of participants per call
Meeting recordings for users of the Business Standard plan and higher (starting at $12/user/month)
Advanced collaboration features such as shared mailbox management software, calendars, team drives, and real-time collaboration in Google Docs, Sheets, and Slides
Admin controls allowing you to manage user accounts and control permissions to sensitive information
Google Workspace pricing
As has been said, Gmail for Business is included in paid Google Workspace packages with a tiered pricing model: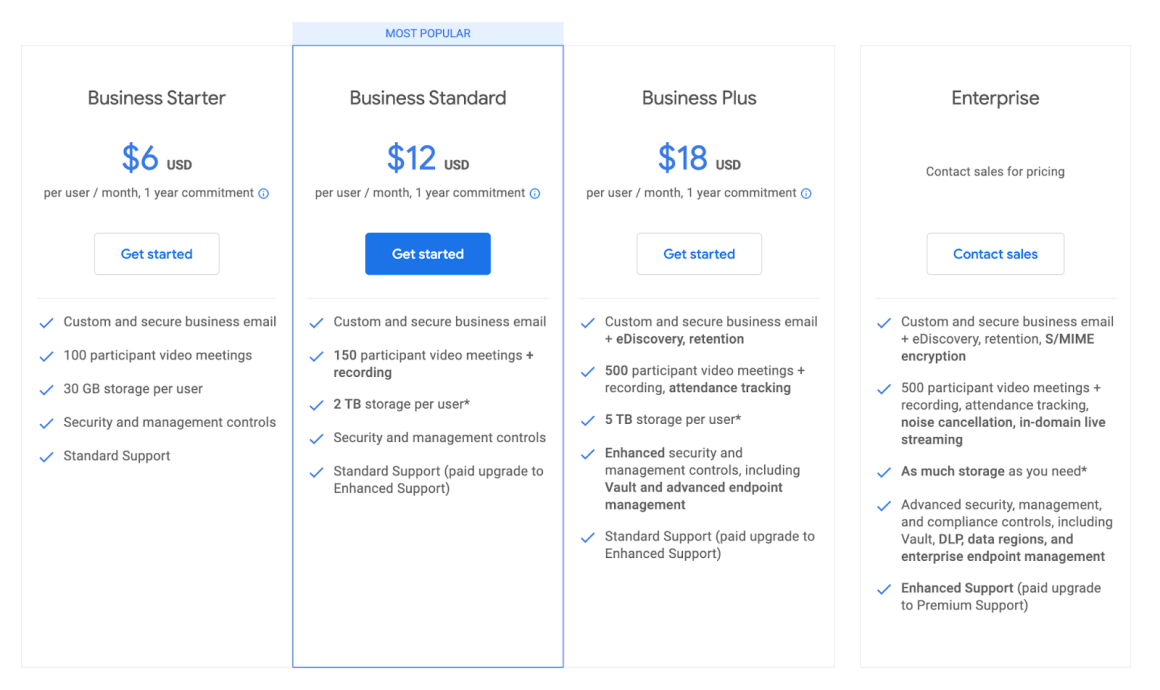 Google Workspace pricing plans
6 Advantages of using Gmail for business communication
It has an intuitive interface
A wide range of third-party integrations
Affordable pricing for small businesses
Seamless integration with a wide range of business tools
All features are accessible from mobile devices
Easy and enjoyable team collaboration
6 Drawbacks of using Gmail for business communication
Built-in functionality is too basic for a growing business
Lack of built-in email data analytics features
No way to manage customer data effectively (e.g. no customer profiles, customer history tracking, etc.)
Limited automation capabilities
No access to multichannel communication
Limited customization options for email design
Outlook for Business Communication
Outlook is a popular email service powered by Microsoft. It allows consumers to manage their emails, contacts, and calendars in one place. What about the app's business use?
To enable business features, Outlook seamlessly integrates with Microsoft 365, productivity and collaboration software that brings all Microsoft's business functions under one roof.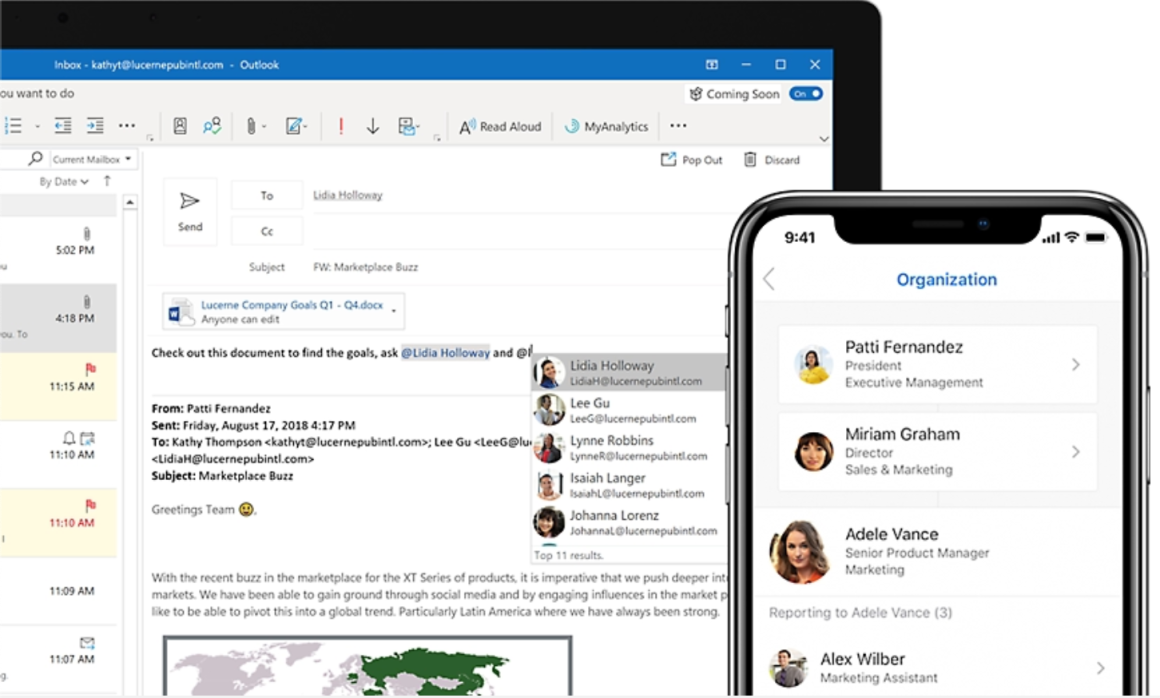 Outlook for Business interface
Microsoft 365 functionality
Here are all the tools that businesses can access in Microsoft 365:
Outlook for Business for collaborative email management
Microsoft Word for creating and editing documents (collaborative editing included)
Microsoft Excel for analyzing and managing data
Microsoft PowerPoint for creating professional presentations
OneDrive for storing and sharing files
Microsoft Forms for creating online surveys and quizzes
Microsoft Lists for tracking information and organizing work
Microsoft Bookings for scheduling business appointments
Microsoft Visio for visualizing data-connected business process flows
SharePoint for managing documents, information, and projects collaboratively.
Microsoft Teams for easy collaboration through chat, audio and video calls, and virtual meetings
Microsoft Exchange for business emailing and team collaboration
You can also use each of these tools for free. The paid versions simply include a custom domain plus higher limits on everything:
Up to 300 attendees in online meetings
50GB of email storage
1TB of cloud storage for files
Advanced phishing protection is available only in Microsoft 365 Business Premium ($22/user/month).
The business version of Outlook is also compatible with Dynamics 365, Microsoft's own suite of enterprise resource planning (ERP) and customer relationship management (CRM) applications. So if you've been looking to establish a seamlessly integrated business suite in Microsoft, choosing Outlook for business communication is the most suitable option.
Microsoft 365 pricing
Just like Google Workspace, Microsoft 365 isn't free. It also starts at $6/user/month, but the packaging is quite different from the one of Google Workspace: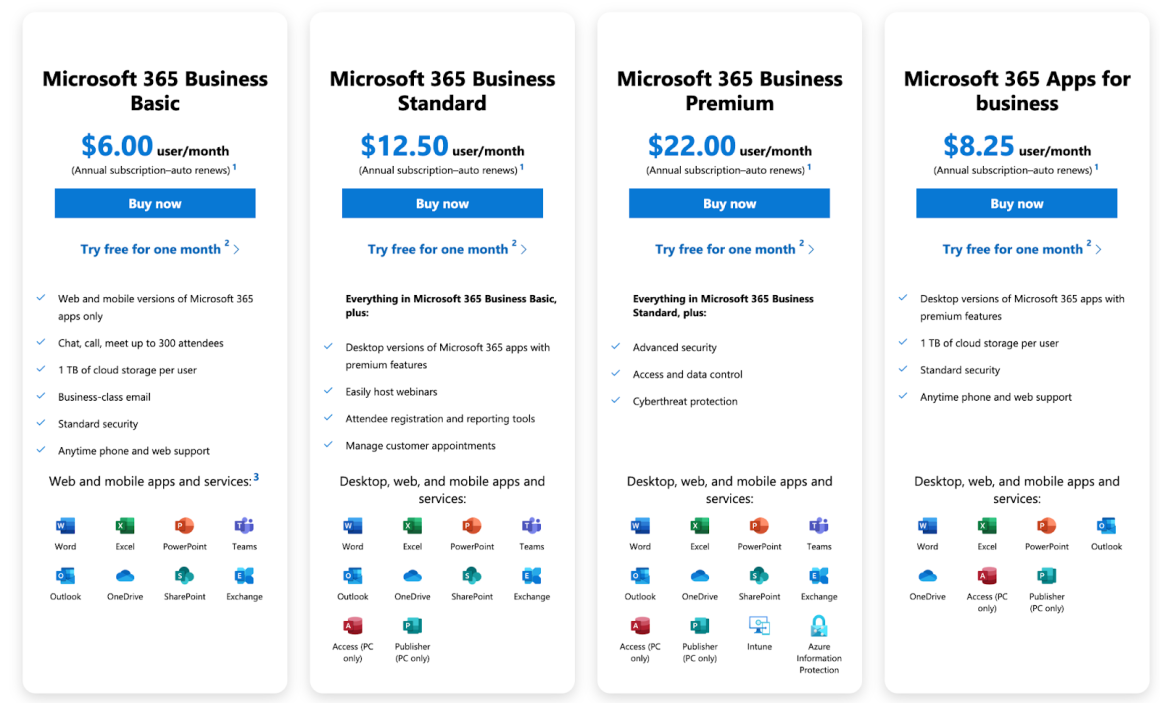 Microsoft 365 pricing plans
For instance, you can see that Microsoft 365 Business Basic includes 1TB of cloud storage per user and allows for up to 300 meeting attendees, while Google's cheapest plan includes only 30GB per user and 100 call participants.
On the other hand, Google Workspace doesn't get as expensive as Microsoft 365 does in top-tier plans.
* Mind that all Microsoft 365 subscriptions require an annual commitment.
6 Advantages of using Outlook for business communication
Familiar interface for Windows users
Tight integration with Microsoft Office tools
Advanced email organization and search capabilities
Powerful automation and reporting features when integrated with Power Automate and Power BI
Comprehensive security features
Compatibility with Microsoft's CRM and ERP software
6 Drawbacks of using Outlook for business communication
A slightly outdated interface
Limited integration with non-Microsoft tools
No access to multichannel communication
Paid subscription requires annual commitment
Limited customization options for email design
Premium subscription can be expensive, provided the toolkit included
Helpwise for Business Communication
The last tool in this comparison guide is Helpwise. What is it, and how does it facilitate business communication?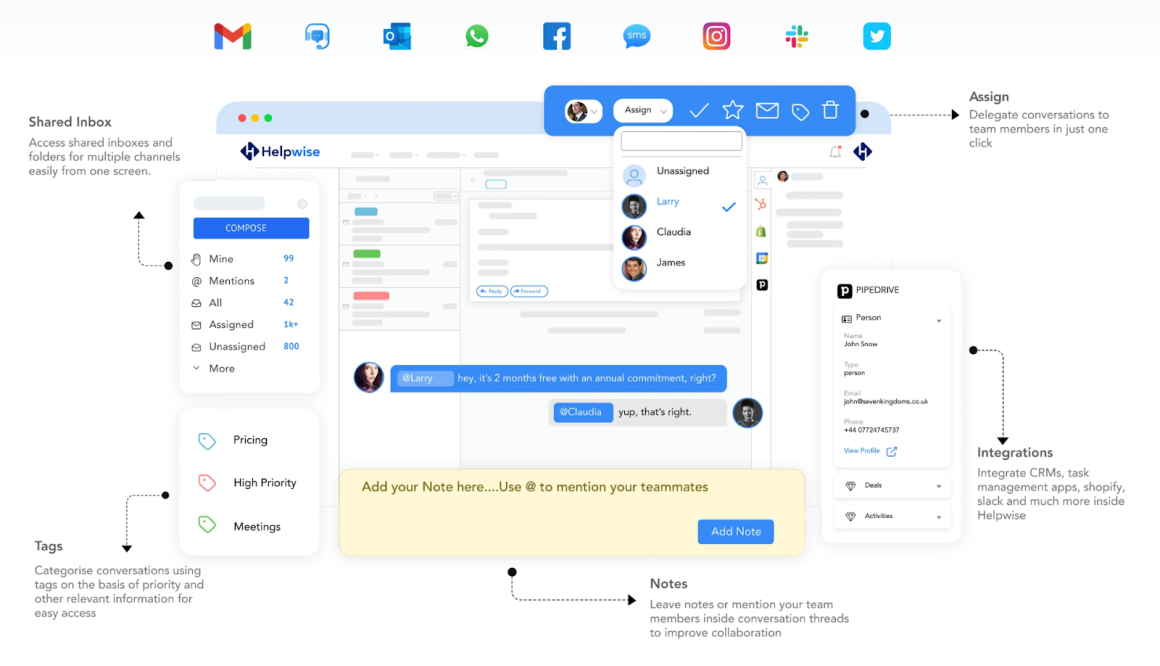 Helpwise interface
Helpwise is customer service software designed specifically for business communication. In Helpwise, you can manage customer emails, maintain omnichannel inboxes, get advanced insights into your customer service performance, and more.
Contrary to the aforementioned platforms, Helpwise doesn't offer its own email hosting but connects to your chosen email service provider (that is Gmail or Outlook) to provide extended customer service functionalities that you won't find in a classic email provider.
Important: With Helpwise, you can access critical customer service functionality, including automation rules and auto-assignment in a forever-free plan. And if you don't use business email accounts of Gmail or Outlook, you can run your business communication with Helpwise completely free of charge.
Helpwise functionality
Helpwise is more than a typical email service. Its features include:
Omnichannel inboxes for managing customer communications across multiple platforms such as Gmail, Outlook, Instagram, WhatsApp, and others
Self-serve help center for sharing knowledge with customers
Forms and CSAT surveys for gathering sales leads, collecting customer feedback, and other forms of customer data
Automation workflows for handling repetitive processes automatically
Data analytics and reporting for monitoring customer service performance across channels
Live chat and rule-based conversations for supporting your customers in real-time, day and night
VoIP call system for seamless call recording, call forwarding, waiting, and conferencing
Helpwise focuses on enabling teamwork with each of its features. A shared inbox is one example of collaboration made easier in Helpwise. The feature allows multiple team members to access and work on the same email inbox simultaneously, without worrying about duplicate responses or conflicting actions. You can also assign emails to specific team members, add notes, and see who is working on which email.
Helpwise pricing
Helpwise is a paid tool with a 7-day free trial. Its pricing plans start at $15/user/month. You can save 20% off the package cost by selecting an annual subscription: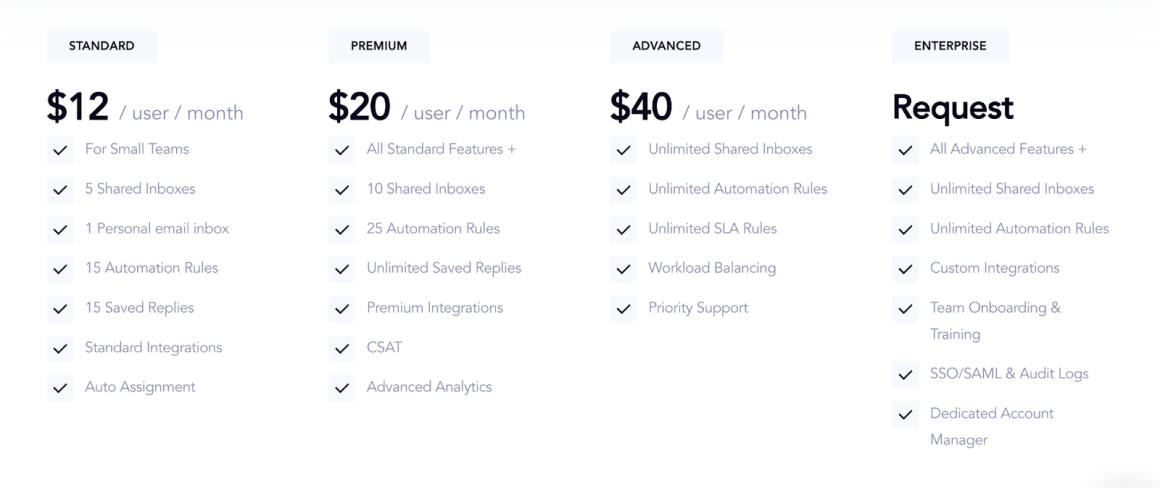 Helpwise pricing plans, if billed annually
Users get access to automation rules, a shared email inbox, live chat capabilities, task management, and other collaboration features in all plans. Advanced features like VoIP phone integration, advanced security measures, and forms are accessible in the Premium plan and higher.
6 Advantages of using Helpwise for business communication
A comprehensive toolkit for sales and customer service teams
Easy team collaboration through collaborative inboxes
Workflow automation
Team email performance insights through analytics and reporting
Multichannel customer communication
Live chat and chatbot functionality for real-time customer service and support
6 Drawbacks of using Helpwise for business communication
To have a custom email address, businesses still need to pay for a basic subscription in Gmail or Outlook
No forever-free plan
Advanced security measures applied only in the Enterprise plan
No desktop app for email management
Limited email design customization opportunities
Chatbot is only available as an add-on and comes at an extra cost
Side-by-Side Comparison: Gmail vs Outlook vs Helpwise
Each of these platforms is a reliable email service provider.
Gmail and Outlook offer stable email delivery and hassle-free team management with affordable pricing tags. Gmail's modern interface makes it a beginner-friendly business communication tool while Outlook's advanced features and automation capabilities definitely outperform Gmail's.
On the other hand, Helpwise provides advanced collaboration and shared inbox capabilities designed specifically for customer service teams. Additionally, Helpwise stands out with its advanced automation and customer service functions, as well as its ability to handle multichannel communication.
| | | | |
| --- | --- | --- | --- |
| | Outlook | Gmail | Helpwise |
| Free plan | Yes, for non-business use | Yes, for non-business use | No |
| Ease of use | Medium | Easy | Easy |
| Email management | Yes | Yes | Yes |
| Email hosting | Yes | Yes | No |
| Omnichannel communications | No | No | Yes |
| Collaboration | Yes | Yes | Yes |
| Shared mailbox | Yes | No | Yes, with advanced collaboration features |
| Ticketing & routing | No | No | Yes |
| Analytics & reporting | Limited | No | Yes |
| Automation | Limited | Limited | Advanced |
| Integrations | Yes | Yes | Yes |
Choosing the Right Platform for Your Business Needs
It's time to choose the right platform for business communication. Before you make a decision, consider the following factors:
Functionality requirements. What features does your business require? Do you need a platform that allows for seamless collaboration among team members? Are you looking for a platform that can handle high volumes of emails and customer inquiries? Do you manage omnichannel communications? Think about what features are most important to your business and check for the necessary functionality in each of these three platforms.
Compatibility with your business toolkit. If you already have business tools in your tech stack (e.g. a CRM system, team communication platform, etc.), make sure your email software is compatible with it. For instance, Gmail and Outlook have a wide range of native apps, but Helpwise may be a better alternative to Outlook and Gmail in terms of third-party integrations.
Cost and value for money. The pricing for Gmail, Outlook, and Helpwise doesn't differ much at first sight. However, each platform sets different limits in similar pricing tiers and gives access to a different range of tools.
Scalability. As your business grows, your requirements for the communication platform may change. Where do you see your customer service team by the end of the year? Choose a platform that supports your ambitions and allows you to scale without breaking the bank.
The verdict: which platform is right for you?
Summing up, each platform is good for a specific use case. Here's our recommendation if you need one:
Gmail for Business is a solid solution for small or very young businesses that haven't built a large customer base yet. Since it's easy to transfer customer data to a more sophisticated solution as your business grows, Gmail is a good place to start.
Both Helpwise and Outlook are great for businesses of all sizes with more complex business communication needs. Outlook offers robust email and calendar automation capabilities, while Helpwise automation workflows and shared inboxes help teams reduce manual tasks and streamline their communication.
Helpwise is the best choice if you're looking to handle a high volume of customer inquiries across multiple channels through an intuitive interface.
Conclusion
Choosing the right platform is critical to the success of customer service. It can make or break your customer communications and team collaboration. So, take your time, do your research, and test out different options to make an informed decision.
After a thorough review of all three platforms, we can conclude that Gmail for Business may be the best email platform for small businesses with simple communication needs for its affordable pricing and easy-to-use interface. Businesses facing larger volumes of customer inquiries will benefit more from the advanced features of Outlook or Helpwise.
This is a rough summary of our detailed review, but the final decision is yours. Request a free demo of Helpwise today to learn more about the platform and discover how it will boost your customer service performance.